Roasted Tomato Soup – rich in flavor creamy soup that is the best served with thick grilled cheese. This tomato soup recipe is healthy and made with a handful of ingredients.
You can easily make rich and flavorful soups with just a few ingredients. Our favorite One Pot Lasagna Soup or the creamy Chicken Pot Pie Soup are absolutely delicious!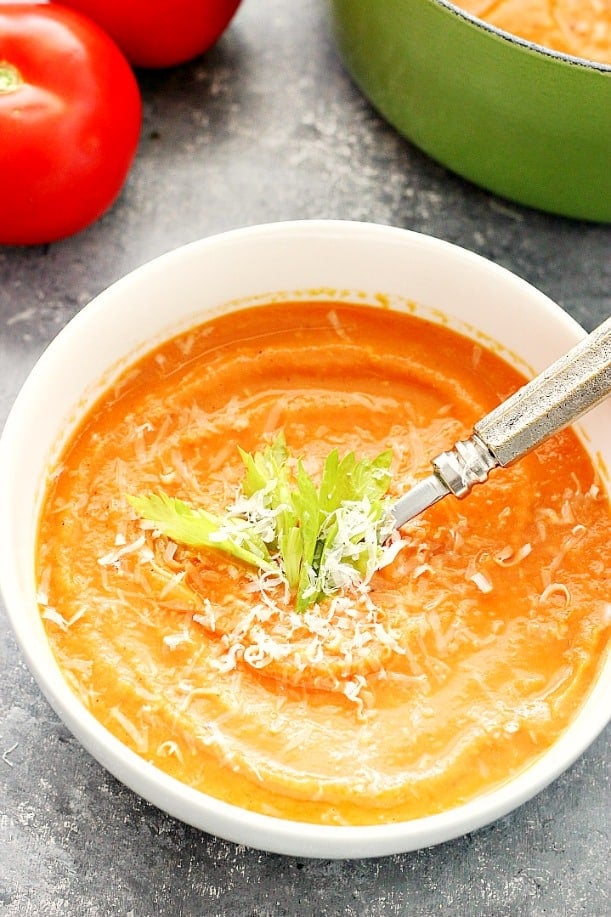 A big bowl of thick and creamy soup with a side of thick grilled cheese is total comfort food and for many, a go-to lunch or even dinner. This time, the vegetables were roasted to create the base for the soup. You may already know, I am a huge fan of roasting vegetables. The best way to bring out the flavors and deepen and enrich them is to drizzle vegetables with a little bit of olive oil, sprinkle with salt, pepper and spices of choice and roast in the oven until they start to caramelize. Once done, blend until smooth and serve.