Roasted Tomato Soup - rich in flavor creamy soup that is the best served with thick grilled cheese. This tomato soup recipe is healthy and made with a handful of ingredients.
You can easily make rich and flavorful soups with just a few ingredients. Our favorite One Pot Lasagna Soup or the creamy Chicken Pot Pie Soup are absolutely delicious!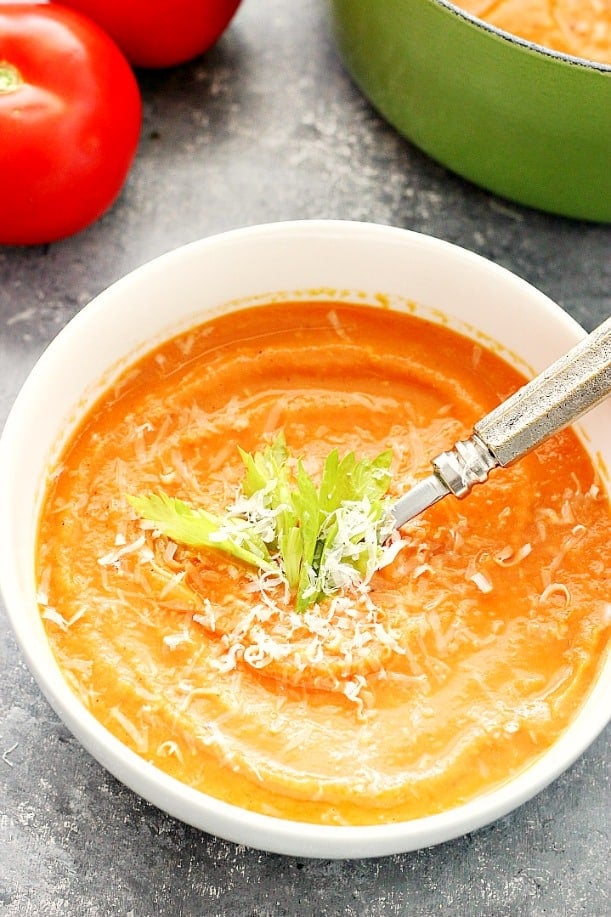 A big bowl of thick and creamy soup with a side of thick grilled cheese is total comfort food and for many, a go-to lunch or even dinner. This time, the vegetables were roasted to create the base for the soup. You may already know, I am a huge fan of roasting vegetables. The best way to bring out the flavors and deepen and enrich them is to drizzle vegetables with a little bit of olive oil, sprinkle with salt, pepper and spices of choice and roast in the oven until they start to caramelize. Once done, blend until smooth and serve.
Did I mention this soup is healthy? There is no sugar, canned ingredients or dairy added (unless you add grated Parmesan). It also needs only a handful of ingredients. You have to try it!
Ingredients:
ripe tomatoes
onion
olive oil
spices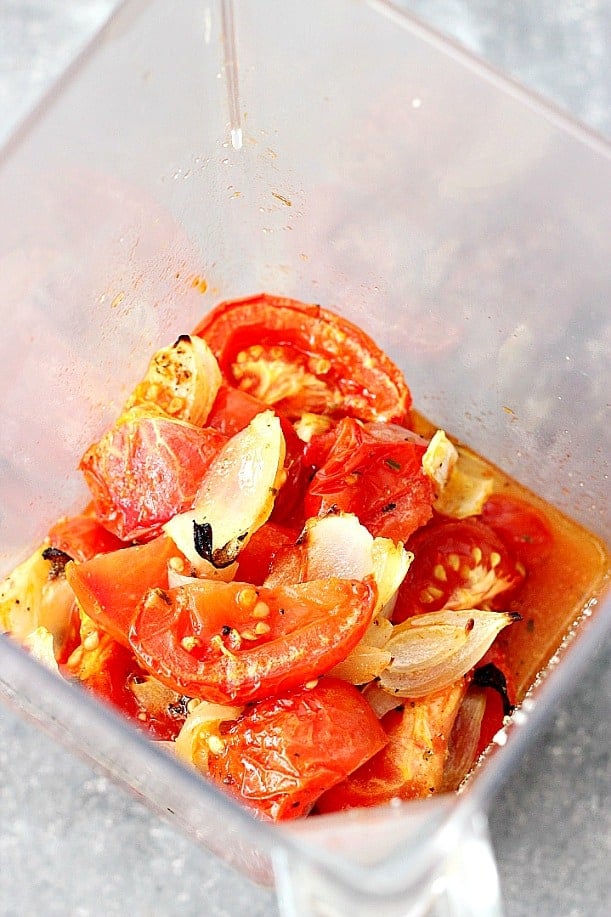 Instructions
Arrange tomatoes and onions on a baking sheet. Drizzle olive oil and sprinkle spices over vegetables.
Roast until fragrant and the onion slices are brown on the ends. You don't want to completely dry out the tomatoes, so about 30 minutes should be enough to roast them.
Once done, cool slightly, then place everything (juices from the bottom of the baking pan too!) in a blender and blend until smooth. The soup will be thick and very fragrant. You can add a cup or two of chicken or vegetable broth or stock to make more. The soup straight from the blender has a very creamy texture and I didn't need the addition of cream but if you are welcome to add some.
What tomatoes are the best for soup?
I used on-the-vine tomatoes as that's what I had on hand but any kind of tomatoes will work. The best would be straight from your garden of course!
What other vegetables can I use to make this soup?
I think this soup would be absolutely fantastic with carrots and butternut squash in place of tomatoes. Delicious!
Freezing and storing
After cooking, cool the soup completely, then place in a freezer-safe container. Freeze for up to 6 months. This recipe does not contain cream so no worries of change in texture.
Any leftovers should be stored in a container with lid, in the fridge for up to 4 days.
Serving
A classic garnish for a tomato soup would be grated Parmesan cheese, a handful of my buttery Homemade Croutons and a sprinkle of chopped parsley. I absolutely love and recommend using chopped celery leaves. They have a delicious flavor that fits the roasted tomatoes.
More soup recipes:
For more delicious soup recipes, feel free to browse our Soup Category.

If you like this recipe and make it, snap a photo and share it on INSTAGRAM! Tag me @crunchycreamysweet so I can check it out and leave a comment! 😀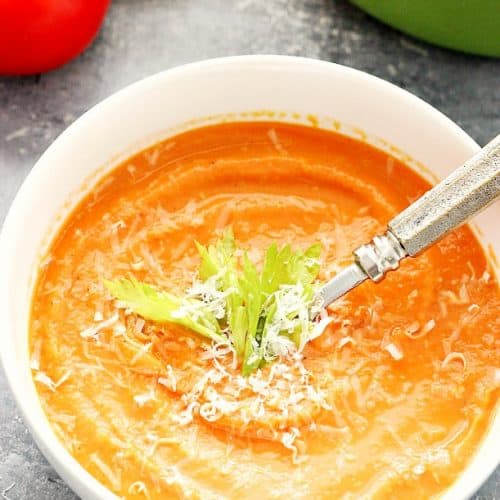 Roasted Tomato Soup
Rich in flavor creamy soup that is the best served with thick grilled cheese. This tomato soup is healthy and made with a handful of ingredients.
Ingredients
1.5

lbs

tomatoes

about 6 tomatoes

1

medium yellow onion

2

tablespoon

olive oil

½

teaspoon

salt

¼

teaspoon

black pepper

¼

teaspoon

dried oregano

grated Parmesan

optional garnish

chopped celery leaves

optional garnish
Instructions
Preheat oven to 400 degrees F. Line a 13" x 9" rimmed baking sheet with parchment paper.

Quarter tomatoes, thick slice the onion. Arrange all on prepared sheet.

Drizzle with olive oil. Sprinkle salt and pepper over tomatoes. Toss gently to coat.

Roast tomatoes for about 30 minutes OR until there is juice on the bottom of pan and onion slices are brown at the edges. Do not over bake or they will dry out.

Remove pan from oven and let cool slightly, about 5 to 7 minutes.

Place tomatoes, onion along with all of the juices from the bottom of the pan into a blender. Blend until smooth. Stop and scrape the sides of blender with spatula if needed.

The soup will be thick and creamy.

Pour into bowl, garnish and serve with grilled cheese or croutons.
Notes
I used on-the-vine variety of tomatoes. Any kind will work. You can use carrots and butternut squash in place of tomatoes. The roasting time may be longer. You can add chicken or vegetable stock or broth to the soup to make a larger amount.
Please note, that the nutrition value can vary depending on what product you use. The information below is an estimate.
Nutrition
Calories:
103
kcal
|
Carbohydrates:
9
g
|
Protein:
1
g
|
Fat:
7
g
|
Saturated Fat:
1
g
|
Sodium:
300
mg
|
Potassium:
443
mg
|
Fiber:
2
g
|
Sugar:
5
g
|
Vitamin A:
1415
IU
|
Vitamin C:
25.3
mg
|
Calcium:
23
mg
|
Iron:
0.5
mg
This recipe was originally published on May 5th, 2019 and updated on October 7th, 2019.