Instant Pot Black Beans - the easiest way to cook black beans without soaking, right in your pressure cooker. Use in salads, main dishes and soups!
Black beans are so easy to make in the pressure cooker. You can also make delicious Refried Beans or Beans and Rice.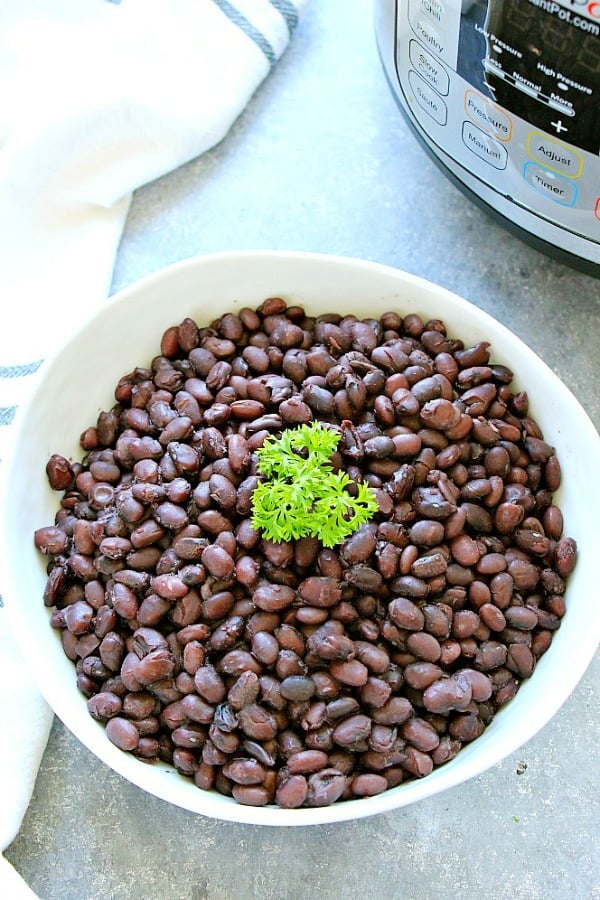 I have a lot of reasons to love my Instant Pot and being able to cook beans in minutes instead of hours, and all of that without soaking might just be my favorite thing. No more cans of beans needed! Now, I can add black beans and water to the insert of my IP and cook them in 30 minutes, ready to be used in tacos, salads and casseroles. There are no toxins, no additives added, the beans are freezable and this method is very budget-friendly.
Ingredients:
dry black beans
water
salt
apple cider vinegar
Instructions:
I tested the recipe with various amounts of water and 2 cups of black beans. The myth is that cooking beans requires a lot of water. The pressure cooker method allows you to cut the amount. A lot of recipes call for up to 8 cups of water for 2 cups of beans. I use 5 and the results are great.
Simply add beans and water to your IP insert, add salt and apple cider vinegar.
Set to cook on high pressure.
Release pressure naturally.
Drain beans and use right away or divide into portions and store for later.
Cooking time:
I tested this recipe with various times of cooking. The longer the time, the more broken down the beans were. I had the best results when the beans were cooked for 30 minutes for 2 cups of dry black beans. They were perfectly cooked and soft yet not mushed. Great for salads, soups, tacos and burritos. I also tested this recipe with QPR (Quick Pressure Release) and NPR (Natural Pressure Release). If you let the Instant Pot release the pressure naturally, the beans will keep their shape better and won't burst as much. If you are short on time, wait 5 minutes then switch the valve to "venting" position to release the pressure quickly. The beans will still be great, but the skin might burst a little. Natural pressure release is the best.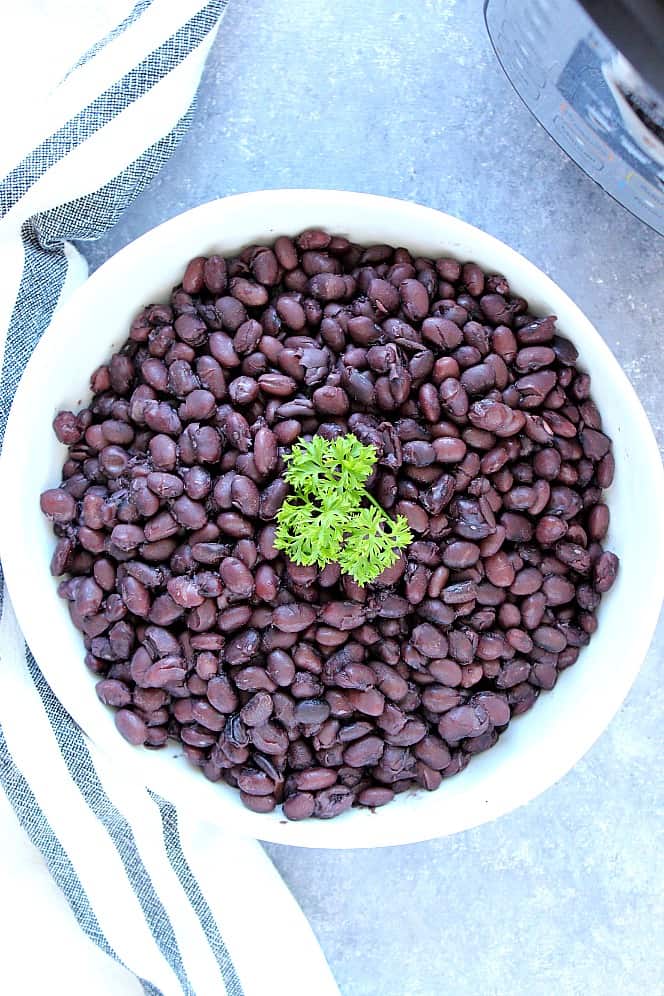 How many beans does it make?
For reference, 1 pound of black beans is about 2 cups. Cooking them in the IP will result in 5 cups of beans.
One 15 ounce can of black beans equals to about 1,5 cups.
How to de-gas black beans?
After some research, I found that adding vinegar to cooking beans helps to de-gas them, which can prevent the unpleasant effect of consuming beans. I add 1 and ½ of a tablespoon of apple cider vinegar (keep the white vinegar for cleaning!) to each batch.
Freezing
I store them in 1,5 cup portions (equal to 1 can of beans, which most recipes will call for), perfect for tacos, burritos, salads and casseroles for our 5-people family.
What to make with black beans?
More Instant Pot recipes:
For more recipes like this one, feel free to browse our Instant Pot Category.
Check out my Instant Pot Guide for Beginners, filled with all the info you need to get started with your new appliance! Seeing BURN message on your IP? Read my Instant Pot Burn Message post to learn why and how to save your dish.

If you like this recipe and make it, snap a photo and share it on INSTAGRAM! Tag me @crunchycreamysweet so I can check it out and leave a comment! 😀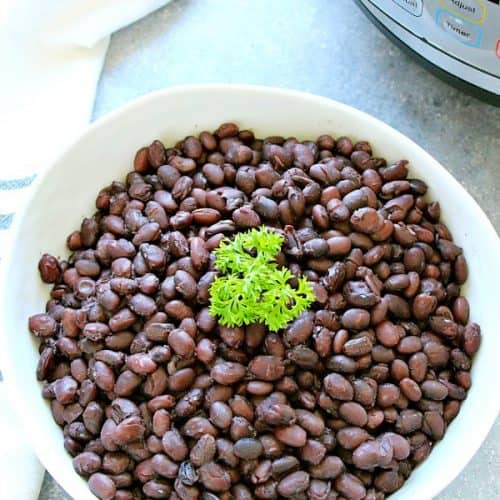 Instant Pot Black Beans
The easiest way to cook black beans without soaking, right in your pressure cooker. Use in salads, main dishes and soups.
Ingredients
2

cups

dry black beans

5

cups

cold tap water

1

teaspoon

kosher salt

1.5

tablespoons

apple cider vinegar
Instructions
Make sure the stainless steel insert is inside the Instant Pot.

Add beans and water to the insert and stir. Add salt and vinegar and stir.

Close the Instant Pot with lid, turn the valve to "sealing" position.

Set to "manual" and adjust the timer to 30 minutes. Make sure the IP is set to high pressure.

The Instant Pot will beep and start coming to pressure. It takes about 12 minutes for my IP to do that.

When the timer is done, the IP will beep. Press "cancel/off" button and let the pressure cooker release the pressure naturally. If you are short on time, wait 5 minutes, then switch the valve to "venting".

When the pressure is released, carefully open the lid away from your face.

Drain the beans. Discard the liquid or use as a base for soups!

Divide the beans into 1,5 cup portions and store in ziploc bags in the freezer or fridge, if using throughout the week.
Notes
If you want add flavor to the beans, you can saute garlic and onion (and even peppers!) before adding beans and water to the Instant Pot. Also, season with cumin, bay leaves and of course, salt and pepper. 

Please note, that the nutrition value can vary depending on what product you use. The information below is an estimate. Always use calorie counter you are familiar with.
Nutrition
Calories:
265
kcal
|
Carbohydrates:
48
g
|
Protein:
16
g
|
Fat:
1
g
|
Sodium:
484
mg
|
Potassium:
1150
mg
|
Fiber:
12
g
|
Sugar:
1
g
|
Vitamin A:
15
IU
|
Calcium:
104
mg
|
Iron:
3.9
mg
This post was originally published on June 4th, 2018 and updated on September 24th, 2019.