10 Snacks to Snack on While Watching Christmas Movies - easy and delicious snacks to make for Christmas movie nights this season!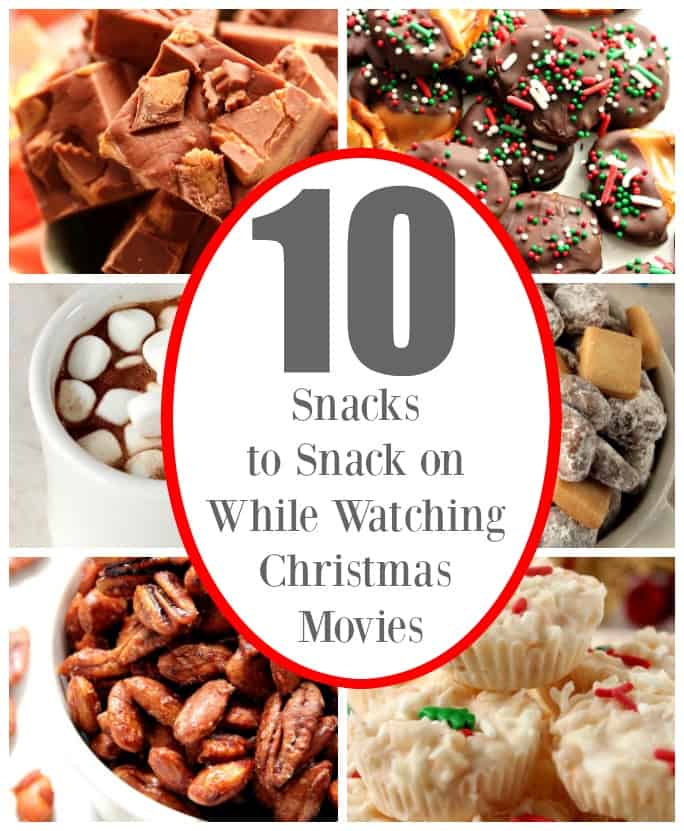 Good snacks are a must for any movie night at home. But when it's the holiday season and our favorite Christmas movies are on every night, the snack game has to be on point! I compiled a collection of 10 easy and delicious snacks that are perfect to enjoy while watching The Christmas Story, Christmas Vacation, Elf, Home Alone, Meet the Kranks, Santa Clause and others!
Enjoy, friends!
1.  Coconut Crunch Chocolate Cups
These cups take almost no time to make and you can make so many variations! White chocolate and coconut lovers will go crazy for these cups!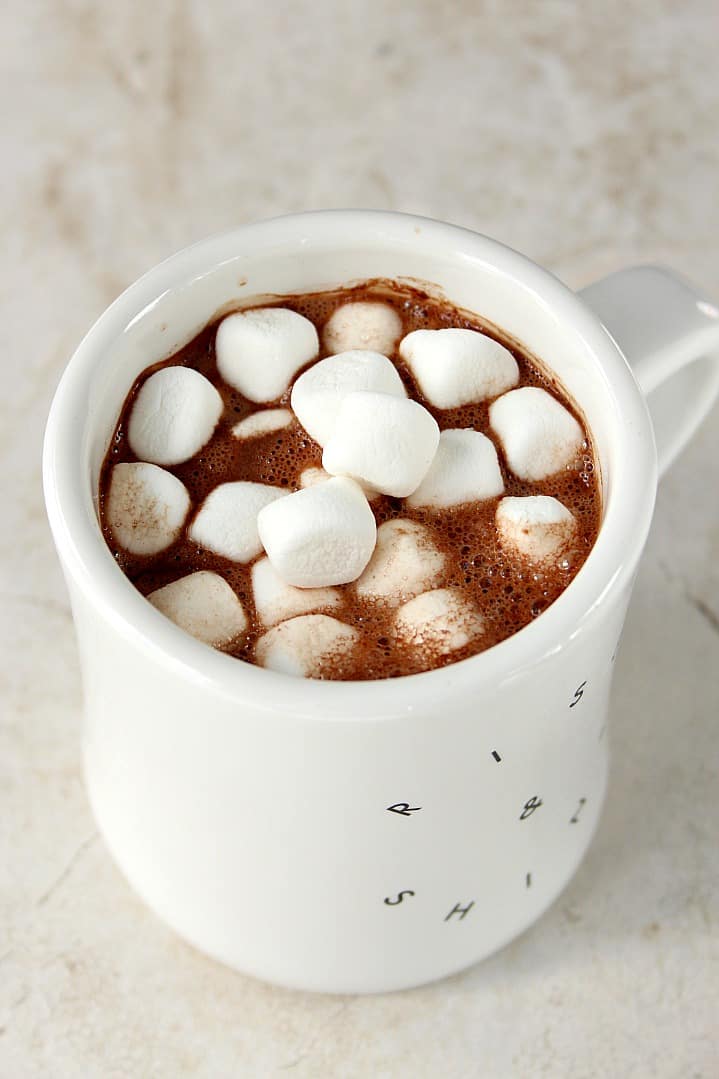 Hot chocolate or any hot sweet drink is a must for a movie night in winter, if you ask me. This Homemade Hot Chocolate Mix is not only perfect to mix up and keep on hand this season but also great to make a big jar of for friends and family. Top with mini marshmallows and an optional drizzle of chocolate sauce and you are all set.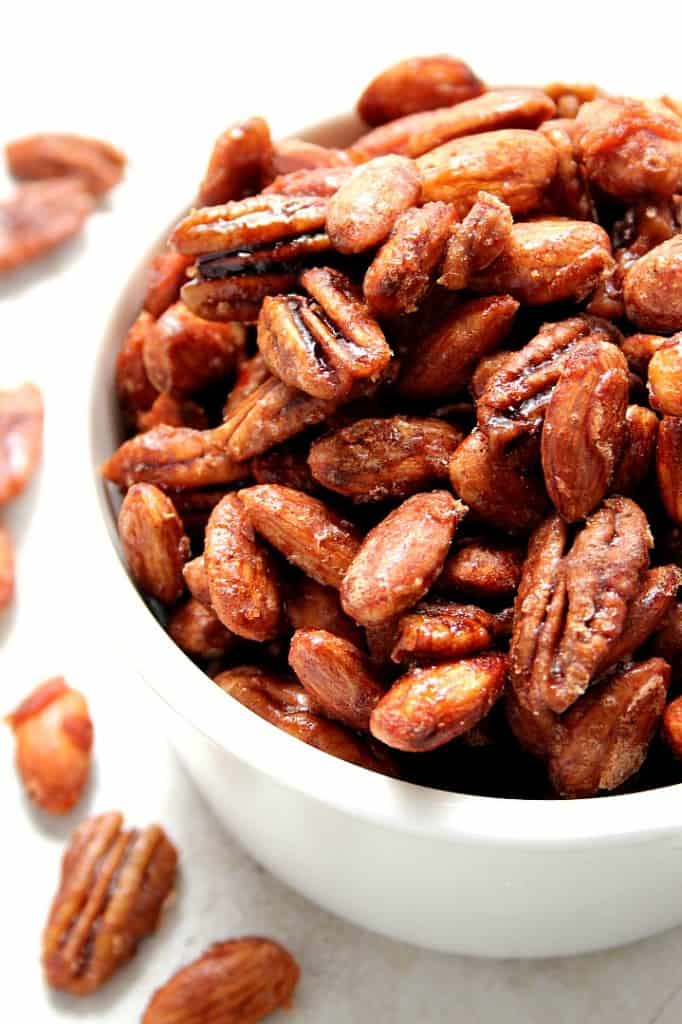 Nuts are almost our to-go snack for any occasions. I made an egg-free version of candied nuts that's made in a slow cooker which makes them a must-try this season! Sweet, crunchy, spiced (you will LOVE the cloves here!!) and delicious!
4. 3-Ingredient Pretzel Turtles
Easy treats that require only a few ingredients are always a hit! These turtles from Jaclyn at Cooking Classy blog look absolutely fantastic! As a huge fan of the Rolo candies, I will be making a double batch.
5. Muddy Buddies Shortbread Bites
Shortbread is a classic to make for Christmas. Why not make it into small bites, then coat with chocolate and toss in powdered sugar for a fun twist on Muddy Buddies aka Puppy Chow! This is one of our favorite new treats this season. The shortbread bites are buttery and melt in your mouth delicious!
6. Pretty Easy Peppermint Bark
Another easy treat that involves chocolate! Christi from Love From the Oven blog shared this beautiful bark and I couldn't resist but had to make it. Besides chocolate and pepperming just screams the holidays!
Fudge is a must treat for the holidays. I love this Easy Peanut Butter Fudge recipe from Simply Recipes blog! It's creamy and delicious!
8. Reese's Peanut Butter Cup Fudge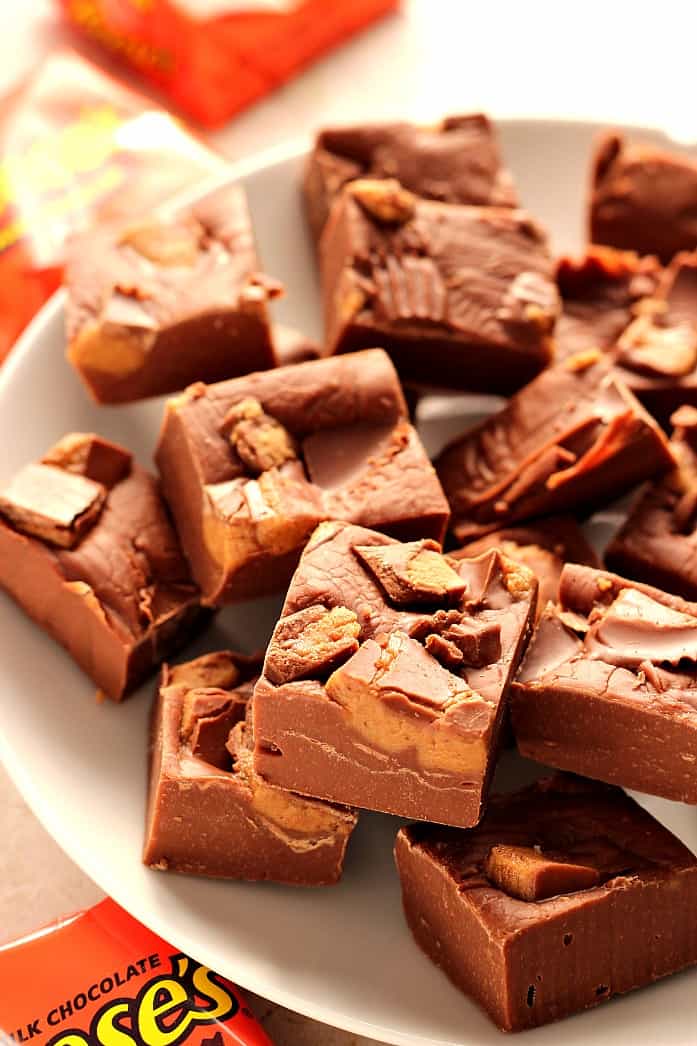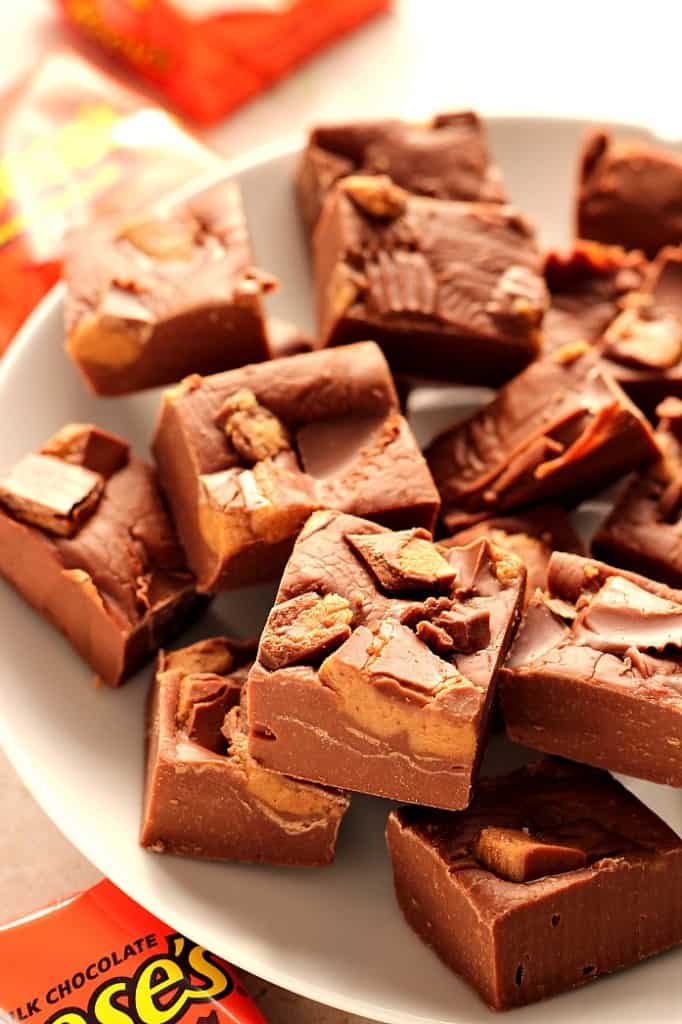 Peanut butter and chocolate fans will be reaching over and over for bites of this fudge! Super easy (only 3 ingredients needed) this fudge makes an appearance every year on our holiday treats platter.
9. Easy Chocolate Caramel Pretzel Bites
These highly popular pretzel bites have almost everything you need in a good treat: chocolate, caramel and salty pretzels. Dress them up with festive sprinkles and they will be gone in no time!
10. OREO Cookies and Cream Fudge
Oreo cookies fans, this one is for you! Easy fudge with crushed Oreo cookies makes for one delicious treat. My kiddos always have a ton of fun crushing the cookies and stirring them into the fudge. So good!
So many of these treats can be easily made ahead of time. You can also pack them in jars or gift bags and share with family and friends. Everyone will love a good sweet treat while snuggling under a cozy blanket, with the Christmas tree lights on and watching their favorite Christmas movies.
If you make snacks these season to enjoy while watching Christmas movies, snap a photo and share it on INSTAGRAM! Tag me @crunchycreamysweet so I can check it out! 
MERRY CHRISTMAS!!