Top 10 Recipes of 2018 - the most popular recipes on Crunchy Creamy Sweet this year!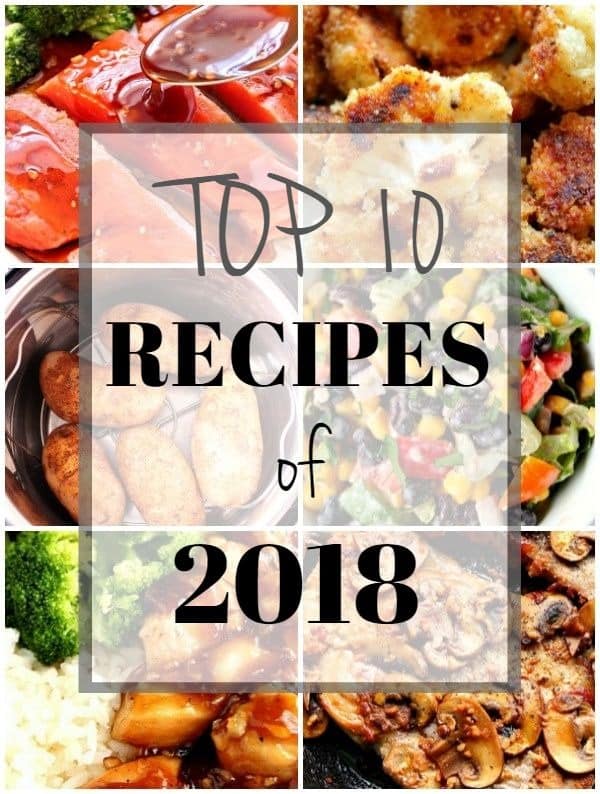 It's the end of the year and time to look back and reflect. I gathered top 10 most popular recipes on my blog that you made and love. I am so happy to see my own personal favorites on this list! My goal is to make and share easy recipes that make dinnertime a breeze and keep the stress away. I hope in 2019 you will cook at home, from scratch even more and my dishes will show up on your dinner table.
TOP 10 RECIPES OF 2018
Quick & Easy Teriyaki Chicken Rice Bowls - better than takeout and made with just a few ingredients, this Asian chicken dinner idea is on our weekly rotation! Sweet, garlicky chicken served with rice and steamed broccoli comes together in just 20 minutes.
Instant Pot Chicken Noodle Soup - the fastest and easiest way to make a big pot of chicken noodle soup! Perfect for the cold and flu season!
Roasted Garlic Parmesan Cauliflower - crispy cauliflower bites with garlic Parmesan breading, baked in the oven instead of fried. So tasty!
Instant Pot Baked Potatoes - perfectly fluffy potatoes cooked in a digital pressure cooker. No foil needed!
Cheesy Spinach Dip Chicken Pasta - your new favorite dinner! Spinach dip and pasta get together to create one cheesy and creamy dish! You need to make it!
Garlic Butter Mushroom Pork Chops - tender and juicy chops seared and simmered in garlicky butter and mushrooms. Quick dinner with a ton of flavor!
Instant Pot Chicken Thighs - the best and easy way to cook bone-in and skin-on chicken thighs in your pressure cooker. Bonus: you can also make a delicious gravy!
Homemade Teriyaki Sauce - the best and easiest sauce for Asian dishes! You only need a few ingredients to make it. Great with chicken, shrimp, salmon and vegetarian stir fry!
The Best and Easy Sweet Potato Casserole - classic Thanksgiving holiday side dish made easy! The praline topping is irresistible!
Black Bean Taco Salad - a lighter version of the classic taco salad. Packed with vegetables and black beans in place of chicken for protein. The dressing is simply irresistible!
Thank you so much for stopping by my blog this year, trying my recipes, leaving comments with your feedback and for sharing your own twists on the recipes you made! Cheers to 2019! Let it be even more delicious!