Festive crumb bars for the holidays: White Chocolate Cranberry Crumb Bars! So so good, you have to try them!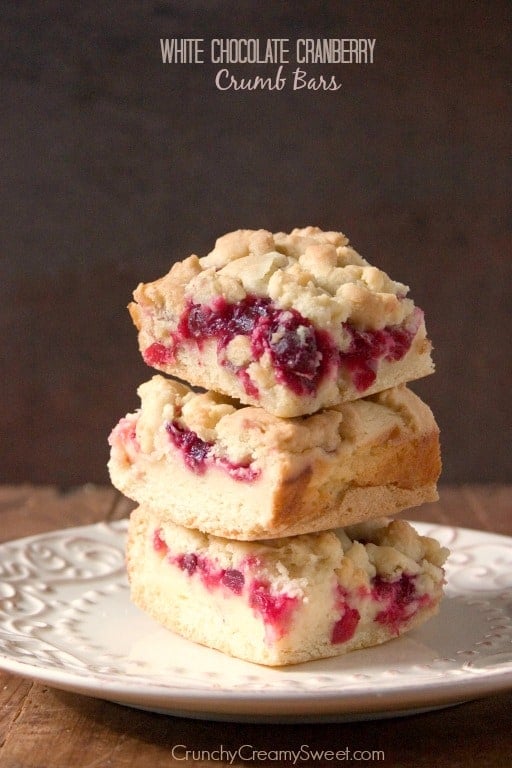 I have been super anxious to share this recipe with you! They are my favorite bars of late! White chocolate and cranberry jam sandwiched together between my very favorite crumb bars crust and topping. They are so easy to make and so festive that I think they would be a great addition to your Thanksgiving or Christmas dessert platter.
I adapted my Sour Cream Crumb Bars recipe to make this holiday version. I swapped granulated sugar for the brown sugar, added melted chocolate to the filling and added my Homemade Cranberry Jam. The result was fantastic! I think I really nailed the amount of white chocolate in the filling. It is so easy to over do it with this type of chocolate and make the dessert too sweet. But the filling in these bars is just right! Perfectly sweet to cut the tart flavor from the cranberries.
I noted in the recipe that you should refrigerate the bars before cutting. This helps with getting perfect squares. However, you can just cool them to room temperature and eat while still slightly warm. They are so scrumptious this way!
For condensed instructions and a printable recipe, please click the button below.

My other crumb bars recipes:
Strawberry Pie Sour Cream Crumb Bars
Frosted Chocolate Chip Yogurt Crumb Bars