Caramel Swirl Pumpkin Cheesecake Bars – sweet and creamy cheesecake bars with pumpkin, spice and caramel swirl! A must make dessert this season!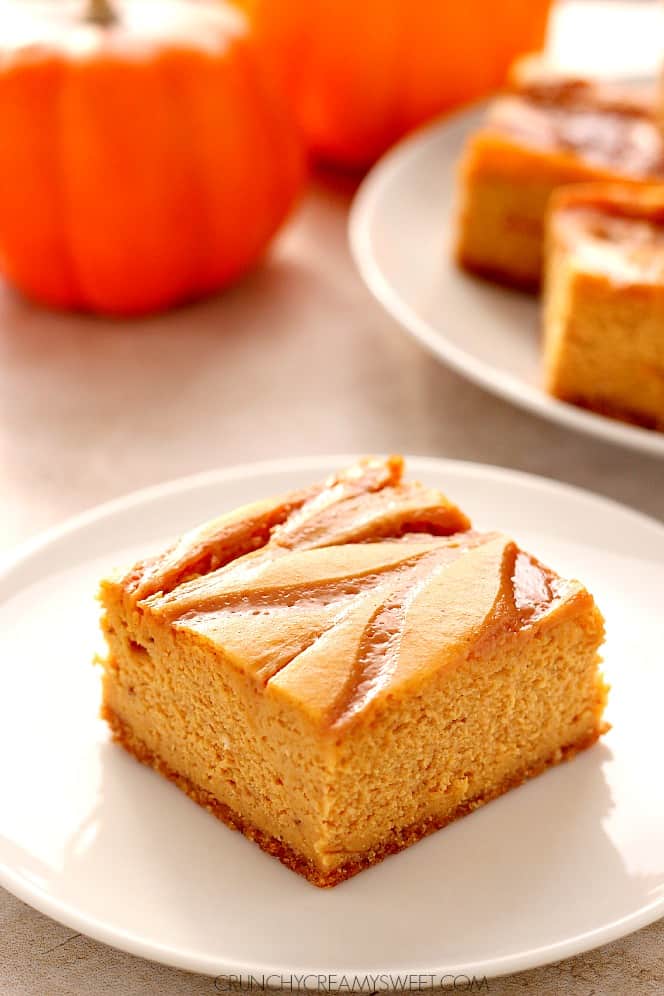 Recently, I have been obsessed with everything fall. Sweaters, boots, home decor, even makeup! Nail polish is one of the first things I like to change when new season arrives. I went from bright coral to deep mauve and love it! My daughter and I even got a little crafty and made orange ombre vase from a Mason jar. It's currently in the middle of our dinning table and filled with fall flowers brought by my Hubby. We also have pumpkins of all sizes here and there and I am on a hunt for pine cones to fill my decor bowls. Fall is our favorite season of them all and we always try to enjoy it as much as possible!
That's why, every year, on the first Sunday of October, we celebrate our Annual Family Day. We have been doing it for 9 years now. Each year the kids get more involved and this year our little boy is totally aware of it and super excited! All three of our kids got to pick their pumpkins that will be carved with their own designs about a week before Halloween. We make a big feast (think Thanksgiving style), watch Charlie Brown and start decorating for Halloween. It's a kick off of the holiday season in our family!
For this special day, I am in charge of food and my Husband is in charge of the activities. He decides what games we play, what movies we watch and leads the pumpkin design brainstorming. I get to play in my kitchen and make delicious food. One of my favorite things to make for this day is, of course, the dessert! It has to have seasonal flavors and be decadent. Cheesecake is usually what I will go for because it's our favorite and always a hit. And that's what I am looking for. Pumpkin cheesecake bars are really high on our list of top cheesecake desserts and I know you guys love them too! I see your comments on social media and in emails you send. They are so easy to make, much faster than a whole big cheesecake and always come out sweet and creamy. This year I got caramel sauce involved in the fun and swirled it on top of the bars. Crazy good decision!
If you decide to drizzle additional caramel sauce over the bars – I won't judge. I did it myself!
PIN THIS RECIPE TO YOUR PINTEREST BOARD!
SHARE ON FACEBOOK
CARAMEL SWIRL PUMPKIN CHEESECAKE BARS RECIPE
Caramel Swirl Pumpkin Cheesecake Bars
Caramel Swirl Pumpkin Cheesecake Bars - sweet and creamy cheesecake bars with pumpkin, spice and caramel swirl! A must make dessert this season!
Ingredients
for the crust:
3/4

cup

crushed graham crackers

4

Tablespoons

unsalted butter

melted

1

Tablespoon

granulated sugar

1

teaspoon

ground cinnamon
for the filling:
16

oz

packages cream cheese

softened

1

cup

granulated sugar

3/4

cup

pumpkin puree

not pie filling!

2

teaspoons

pure vanilla extract

3

Tablespoons

all-purpose flour

1 and 1/2

teaspoons

pumpkin spice

see note

1/4

teaspoon

salt

2

large eggs

slightly beaten

5

Tablespoons

heaping of caramel sauce

not from the ice cream section - see notes below
Instructions
to make the crust:
Line an 8" square baking pan with parchment paper or aluminum foil. Set aside.

Preheat oven to 350 degrees F.

In a food processor or blender, crush crackers until fine. Add sugar and cinnamon and pulse few times. Add melted butter and process till combined.

Press the crust into the bottom of the prepared pan.

Bake in the oven for 7 minutes.
to make the filling:
In a large mixing bowl, beat the cream cheese for 30 seconds until creamy.

Add sugar and mix well.

Add pumpkin and mix in well.

Add vanilla, flour, pumpkin spice and salt. Mix well.

Add eggs and mix until just incorporated. Do not overmix.

Pour the filling over the baked crust. Tap the pan against the counter to release the air and get rid off air bubbles on the surface.

Using one tablespoon of caramel sauce at a time, make 5 straight lines on top of the batter. They don't have to be perfect, it's just a help to make the swirls.

With a knife, make 5 lines in the batter, in the opposite direction that the caramel lines, creating swirls. One line with knife should go from top to bottom and the second line from bottom to the top. Repeat to make 5 lines.

Bake the cheesecake for 35 to 38 minutes.

Remove from the oven and let sit in room temperature until completely cool. Refrigerate for at least 2 to 4 hours. The longer the better.

Remove the cheesecake from the pan. Slice and serve. To make pretty cuts, heat up your knife under a hot tap water and dry with paper towel. Make cuts, cleaning the knife between each slice you make.

Refrigerate any leftovers for up to 2 days, in an air-tight container.

topping:

If desired, top the bars with whipped cream, a dash of ground cloves and a drizzle of caramel sauce.
Recipe Notes
Notes: I highly recommend a thick caramel sauce for this recipe. The one you can find at the ice cream section in your grocery store is thin.
Nutrition Facts
Caramel Swirl Pumpkin Cheesecake Bars
Amount Per Serving
Calories 401
Calories from Fat 216
% Daily Value*
Total Fat 24g 37%
Cholesterol 105mg 35%
Sodium 330mg 14%
Potassium 147mg 4%
Total Carbohydrates 42g 14%
Protein 5g 10%
* Percent Daily Values are based on a 2000 calorie diet.
 Are you excited for fall? What is your favorite thing about this season? Leave your reply in the comments! 
~~~~~
If you like this recipe and make it, snap a photo and share it on INSTAGRAM! Tag me @crunchycreamysweet or #crunchycreamysweet so I can check it out! xoxo
Related Recipes: