Mini Chocolate Layer Cake with Blackberry Cream Cheese Frosting - decadent mini dessert that's baked with love. It is easier to make than you think!
What do you do, when Cake Boss invites you to celebrate Valentine's Day and create a recipe with their baking products?
You freak out! Because, hey! It's Cake Boss! The master of gorgeous cakes for special occasions, that you only watch on TV and wish you had those skills!
Then you freak out some more because you do not have those skills! And quickly realize that you are not the only one here and with a little bit of brainstorming you can come up with an idea for a sweet Valentine's Day treat that anyone can make at home.
That's what I did. I got my inspiration from the Mini Springform Pan set I received from Cake Boss. It is perfect for baking mini cakes, cheesecakes, flans, etc.
I also knew that I wanted berries in the recipe. They just fit with the theme. I know strawberries come to mind quickly but for thinking a little out side of the box, I decided to go with blackberries. They are gorgeous and a little bit sexy. Perfect to pair with chocolate for a romantic holiday dessert!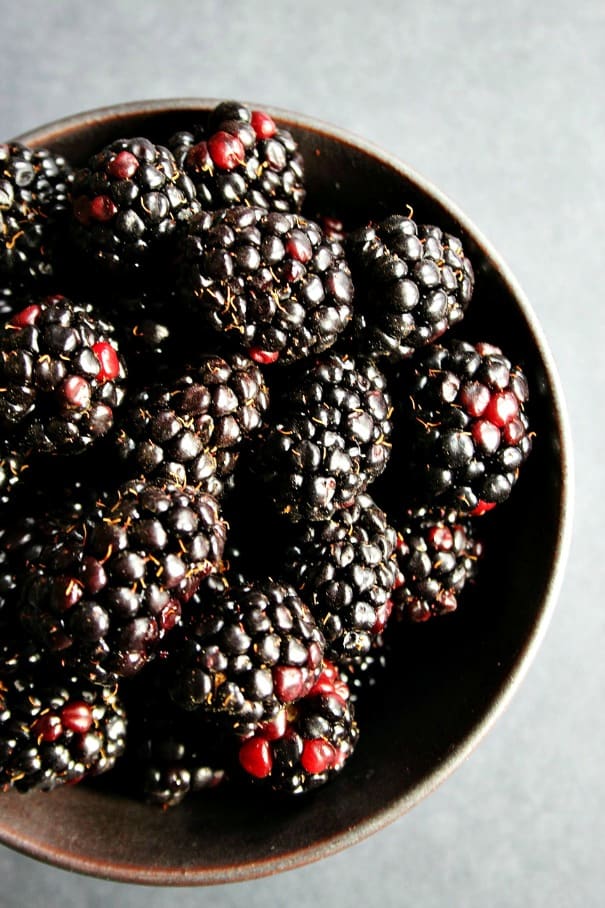 I used my go-to chocolate cake recipe that bakes up beautifully and has a rich, reddish hue. It's moist, delicate with a perfect balance of sweetness. The cake doesn't dome too much, so there was no need to trim the tops for even layers. Score! All I had to do was stack them up and decorate with frosting. I infused my favorite cream cheese frosting with a blackberry puree and frosted the cake. Fresh berries are always great for an additional decoration!
But that would not be enough to present to the Cake Boss! I had to come up with something that was still easy but would take the cake to a whole new level. I brainstormed for weeks and tried a few things but ultimately decided on a chocolate wrap. After a few tries and keeping in mind that it should be easy for anyone to make at home, I was able to make a smooth chocolate wrap to go around the cake. A few scraps were used to decorate the top of the cake along with fresh berries.
This cake is so easy yet so elegant and absolutely delicious! It's perfect to share with your loved one on a special occasion!
To get the ingredient list and learn how to make this cake, please hop on over to Cake Boss Baking site, HERE!!
You can follow Cake Boss Baking on Facebook, Twitter and Pinterest.
For more inspiration, check out the "Love is in the Baking" Pinterest board.
Giveaway!!!!
Celebrate with Cake Boss and bake up something delicious! Because "Love is in the Baking"!!
Giveaway open to U.S. residents only. No P.O. boxes, please. Must be 18 or older to enter.
One winner will receive:
Heart Cakelette Pan
2-piece icing spatula
Mini Springform Pans, set of 4 (the same I used to make my cake!)
To enter the giveaway, use the Rafflecopter widget below!
a Rafflecopter giveaway

Disclaimer: This post and the giveaway are sponsored by Cake Boss. All opinions are 100% my own.