Homemade Pepperoni Pizza and the value of face-to-face conversations in the kitchen.
When my Husband and I were expecting our first child, we had many conversation about how we will parent and what kind of parents we want to be. What values we want to bestow upon our child and eventually more children. Some of them changed with time but some of them remained as our initial goals. We strive every day to make them happen and continue it.
One of my goals as a mom and a homemaker was to make home cooked meals and involve our kids in the preparations. I want my girls to know how to cook and bake and not rely on store-bought or take-out meals.
Communication is so important in raising kids. Face-to-face communication in the kitchen is also fun. Children watch us even when we don't know it. They watch and learn. They soak the knowledge like sponges. It's amazing to watch them learn. Sometimes, they will surprise you by showing you what they know. My two-year old knows how to place pepperoni on a pizza. He knows not to crowd the slices and to place it all in a circle motion. He loves doing it and we always make sure to praise him for it.
Many cookie recipes I share here on the blog, especially the cut-outs, were made with my kids helping. If it's whisking the dry ingredients or helping scoop out the dough – they want to and love to do it!
Our favorite family meal is pizza. It may sound boring but it's our favorite because it's so easy to have everyone involved in making it. Even the youngest one (our son is 2 years old) can do simple things like placing toppings. But the memories we all create together are precious. Kids love to help. They love being included. Making dinner is one of the easiest ways to let them do it. It also creates bonds in the family that only strengthen it.
My Husband makes the best pizza dough. I wrote about it here. He has it down to a "t" and it always comes out perfect. There is something about strong hands kneading the dough that makes the magic happen. Besides, I love watching him in the kitchen. 🙂
I remember when I was 10 years old, I didn't want to be anywhere near the kitchen. All I wanted was my books. My 7 year old daughter ALWAYS asks if she can help with dinner.  It amazes me every single time and I am so grateful for this.
The girls will always help placing the toppings on the pizza. With the help of their 2 year old brother, who has to stand on the table to reach the counter – they make it a group effort. We love it!
So what's my part in all of it? Chopping veggies. Yep, apparently I have some serious knife skills in the kitchen or so I have been told. 🙂 I am also the one who does the dishes afterwards, but that's because of my goal of having a clean kitchen in the morning. Nothing can turn the day into a bad one quickly as getting up to a pile of dishes in the sink.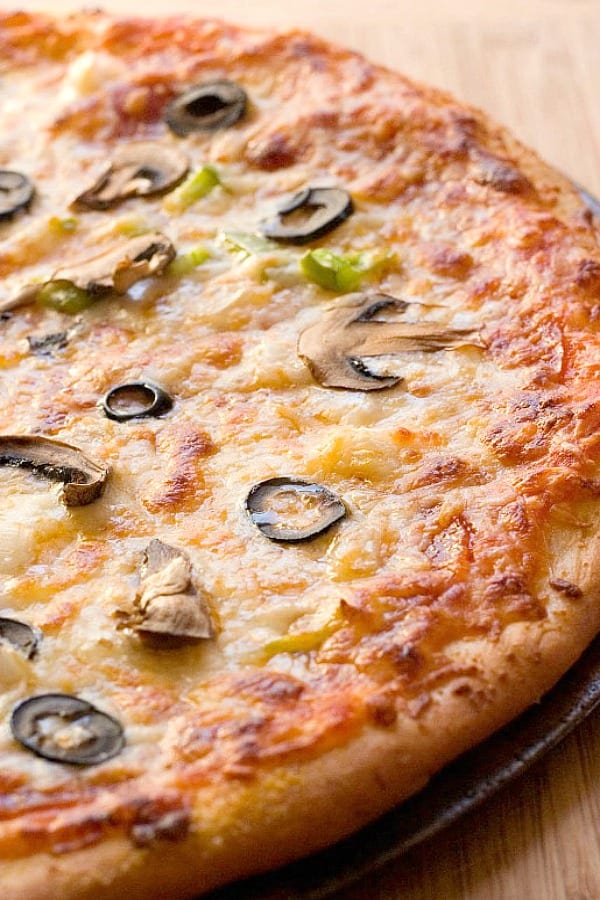 This pizza recipe is nothing extraordinary. It's just simple pepperoni pizza with some of our favorite veggie toppings. But the fact that we all made it together makes it very special meal for us. Our kids choose their toppings and my Husband and I have our favorites. This recipe makes 2 large pizzas, so there is lots of room for everyone's favorite toppings.
Homemade Pepperoni Pizza
Homemade Pepperoni Pizza - learn our tricks to make the best pizza at home and how to involve the whole family in making it!
Keyword:
homemade pepperoni pizza
Ingredients
1.5

c

warm tap water

1.5

tsp

granulated sugar

1.5

tsp

active dry yeast

I used Red Star Yeast

1

Tbsp

vegetable or canola oil

4

cups

all-purpose flour

oil for greasing pans

cornmeal for dusting pans

2

c

pizza sauce or spaghetti sauce

2

c

shredded mozzarella cheese

1/2

c

chopped green peppers

1/2

c

chopped yellow onion

25

slices

pepperoni

1/2

c

sliced mushrooms

2

Tbsp

butter

melted

2

Tbsp

yellow cornmeal
Instructions
to make the dough:
Place water and sugar in a large mixing bowl. Stir until sugar dissolves.

Sprinkle yeast over the water and stir few times. Let sit until foamy ( about 5 minutes).

Add 2 cups of flour and salt. Mix in with a wooden spoon until combined.

Add oil and mix well.

Add third cup of flour and stir it in with a wooden spoon.

Place dough onto a floured surface and knead it the last cup of flour.

Knead the dough until smooth and no longer sticky. It should be smooth.

Place the dough into a oiled large bowl, cover with a kitchen towel.

Place in a warm and draft-free place until doubles in size, about 1 hour.

In the meantime, prep the pizza pans by lightly greasing them and sprinkling with cornmeal.

Punch the dough down. Transfer back onto the floured surface. Smooth out into a ball.

Divide into two equal pieces.

Roll out one piece into a circle, about the same size as your pizza pan. Place on the pizza pan, stretching the sides.

Preheat the oven to 420 degrees F.

Place the pizza dough in the oven and bake for 7 minutes.
assembly:
Brush the sides of the pizza with melted butter and sprinkle with 1 tablespoon of cornmeal.

Spread one cup of pizza or spaghetti sauce over the dough.

Top with pepperoni, onion, pepper, cheese, mushrooms and olives.

Bake for 12 to 15 minutes, or until the cheese is melted and bubbles and the sides are golden.

Repeat with the second pizza dough.
Recipe Notes
This recipe makes 2 large size pizzas.
Nutrition Facts
Homemade Pepperoni Pizza
Amount Per Serving
Calories 420
Calories from Fat 126
% Daily Value*
Fat 14g22%
Cholesterol 36mg12%
Sodium 636mg28%
Potassium 373mg11%
Carbohydrates 56g19%
Protein 15g30%
Vitamin A 580IU12%
Vitamin C 12.6mg15%
Calcium 164mg16%
Iron 3.9mg22%
* Percent Daily Values are based on a 2000 calorie diet.
Related Recipes: