Stuffed Crust Pizza Tutorial – a step by step photo tutorial on making a stuffed crust pizza. So much cheese in every bite!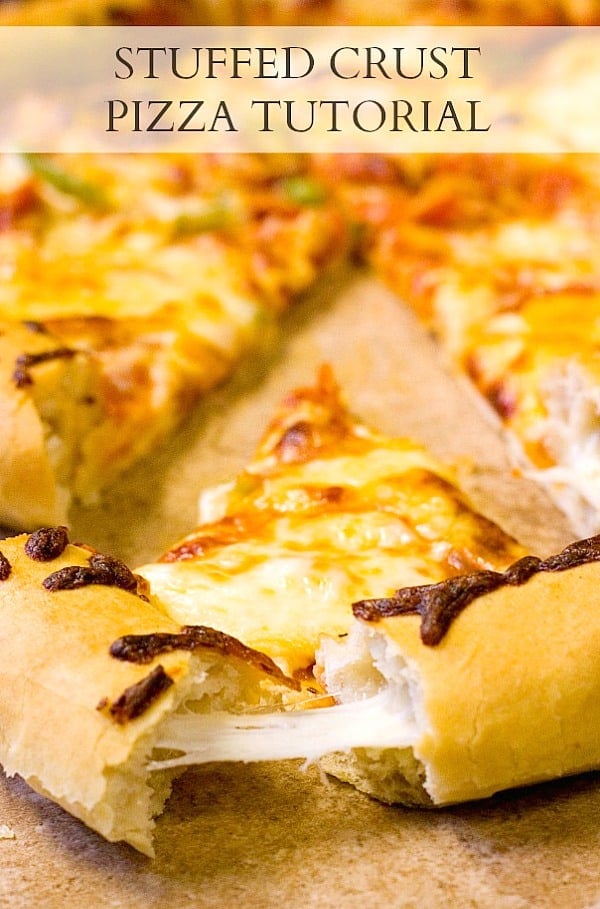 Every time I think about stuffed crust pizza, this particular movie scene comes to mind. My kids know it well and we were telling them "I'll stuff you all in the crust" so many times while making this tutorial, because they were watching us and constantly asking: are you done? can we eat the pizza now? 🙂
Okay, now that I got that out of the way…..
Guess who's back!!
Yep, my Hubby is at it again and he is back with a new photo tutorial on how to make a stuffed crust pizza. He is sharing his tips and tricks to make this uber cheesy pizza so you can make it at home!
Bread and cheese is a match made in heaven and I cannot imagine not enjoying these two at least twice a week. The stuffed crust pizza is like a step up from a regular crust, because you are filling the edge crust with cheese that will melt and create a gooey surprise! Now, who wouldn't like that?
For this crust, we tried few types of cheese. The shredded cheese didn't work well as it was creating problems while we tried to fold the crust over it. It was also time consuming. String cheese seemed like a better idea. But there is a trick to it. If you want a super cheesy crust, use whole sticks. However, they might expand in the dough so much that they will leak a little bit over the crust. Now, that's not a bad thing at all! As long as it seeps onto the center of the pizza and not under the crust and from the pan (place a drip catch pan underneath the pizza pan, just in case). You can slice each cheese stick in half, if you want to prevent that, but the gooeyness won't be as pronounced. Either way, it will be one cheesy crust pizza!
Because the cheese sticks are quite stiff, you need to make notches with a knife along one side of each stick, so it will bend. Otherwise, it will shape the dough awkwardly.
Roll out your pizza dough about one inch bigger than your pizza pan. You need enough dough to fold over the cheese.
Place the dough on the crust. Using the edge of your pizza pan as a guide is quite helpful. Notice how the notches we made allow the sticks to form a circle.
Gently, fold the dough over the sticks. Make sure to seal it or the whole cheese will melt out of the crust. You may need to wet your fingers with water to glue the dough together. After you fold all of the crust, sprinkle a little bit of flour over the wet places.
Check if there is no holes where the cheese can get out during baking. Especially, on the outside edge. If you are worried, you can place a drip pan under the pizza pan in the oven.
We always proof our pizza crust for 6 to 10 minutes, before baking it with toppings. We do that to prevent the soggy unbaked dough. After that, we spread the pizza sauce (we have a killer recipe coming up for that!), pepperoni, sliced peppers, onions, olives and more cheese! You can butter the cheese-stuffed edge and sprinkle with just a little bit of cheese (we find Parmesan is great for it) or cornmeal.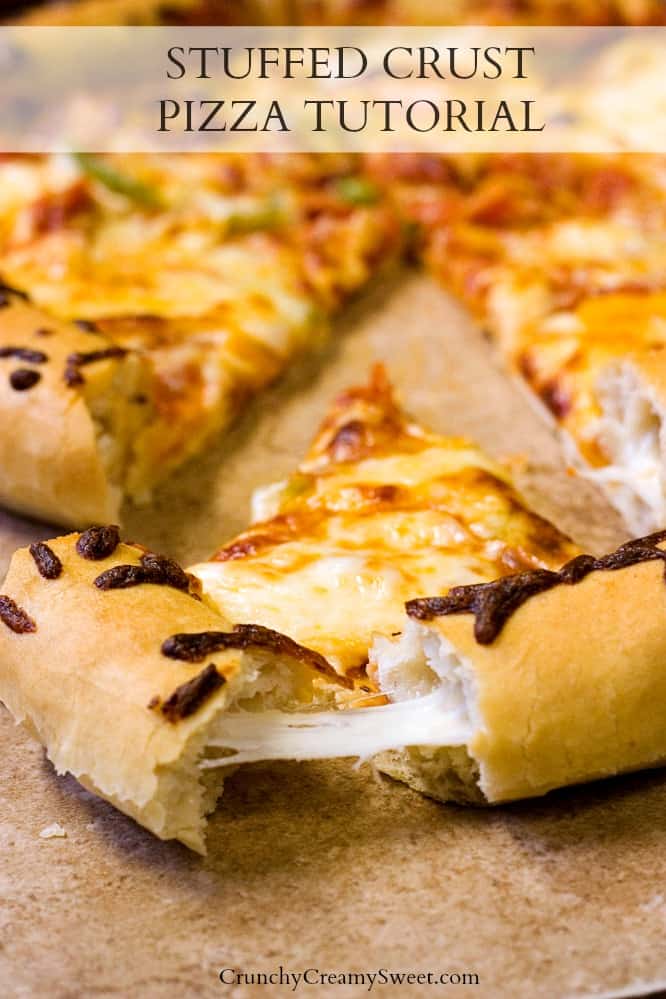 If you make pizza with a help of our tutorials, please leave a comment! We love to hear you guys make pizzas using our tips!
Enjoy!
Related Recipes: