One-Hour Skillet Focaccia – the best recipe for focaccia!  Easy yeast bread that's baked in a skillet and takes only 1 hour to make! Check out our tips and video on making a perfect focaccia every time! 
Baking with yeast is very easy, you just need to practice. This Focaccia is very simple, just like my No-Knead Bread or the popular Best Easy Dinner Rolls.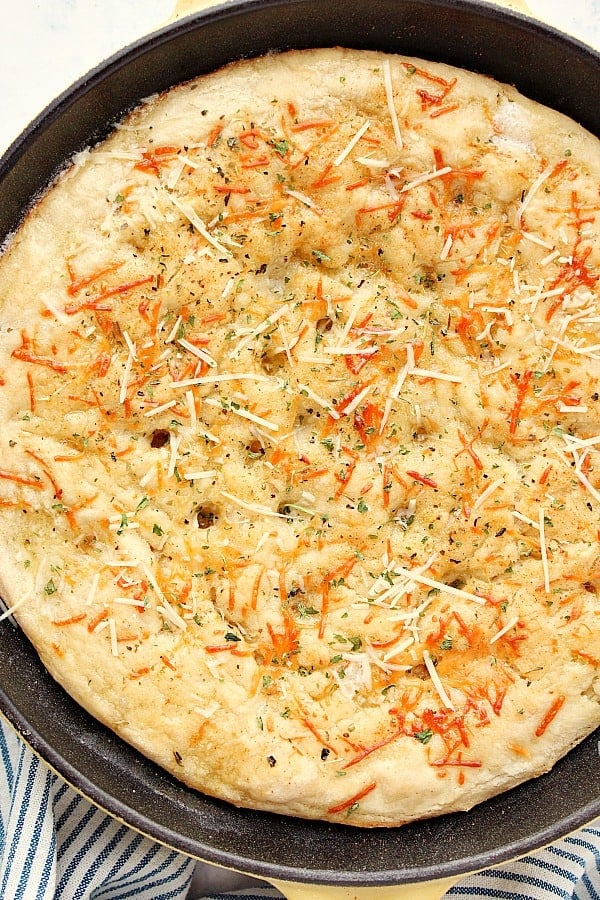 ONE-HOUR SKILLET FOCACCIA
This One-Hour Skillet Focaccia is super easy to make even though it requires yeast. You can make it in 1 hour: 20 minutes to prep, 20 minutes to let the dough rise in the pan and 20 minutes to bake. Center is flaky and light. The buttery and crunchy top is the perfect finish. The focaccia slips right out of the pan with ease. Slice it into wedges or squares and enjoy dipped into marinara sauce or along with a pasta dish. So how can we make an easy and fast focaccia based on a yeast dough? Well, there are two tricks to it. One, we place the dough in the pan and let it rise there. No need for a second bowl and more kneading and shaping. Two, we create a warm environment for the dough to rise by preheating the oven to 220 degrees F, turning it off and letting the covered skillet sit in there for 20 minutes.