Whole Wheat Skillet Focaccia - a healthier version of my skillet focaccia. Super easy and comes together under 1 hour.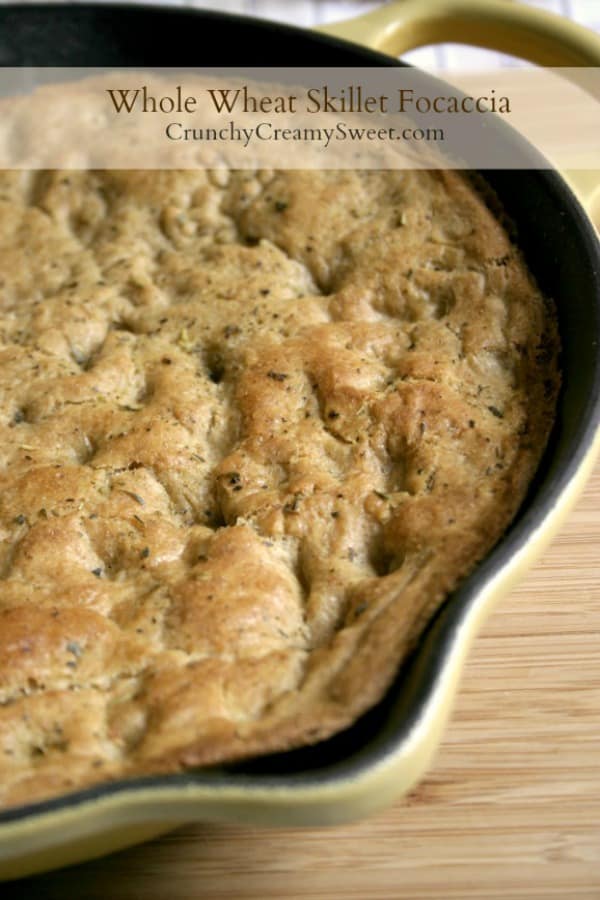 WHOLE WHEAT SKILLET FOCACCIA
A healthy version of my One Hour Skillet Focaccia. I even decreased the amount of butter. This healthier version is as delicious as the original and as easy to make. You only need one bowl and one skillet to make it. My warm oven trick to rise the dough faster is a must-try.
WHAT DOES IT TASTE LIKE?
If you ever wondered if this can work, I am here to tell you: yes, it does! It's not dense or tough. Oh no! It's soft and fluffy on the inside. The bottom crust is perfect: thin and slightly crunchy. The top, due to the decreased amount of butter, is softer than in the original focaccia. The dough rises perfectly using the same warm-oven technique. All you need is one hour from start to finish to enjoy this healthy version of skillet focaccia.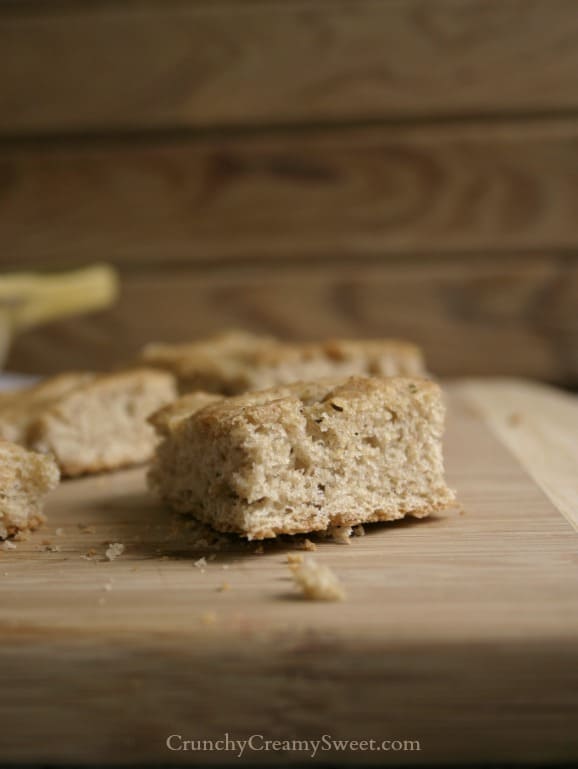 HOW TO BAKE WITH WHOLE WHEAT FLOUR?
I used white whole wheat flour and all-purpose flour in 1 to 1 ratio. This change requires two notes:
the dough will be tougher in the end of kneading; most likely you will end up having about 1/4 of a cup of whole wheat flour left before your mixer will show that it's getting a workout kneading the dough. This, however, doesn't affect the rising time or the rising itself. The dough will puff up in 20 minutes and bake perfectly into a fluffy on the inside focaccia.
The focaccia acquired more earthy, almost nutty flavor with a more grainy texture by the addition of whole wheat flour. Now, if you have texture issues (like my Hubby), you may not like this version. It's not overwhelming, I promise. But you can definitely tell the difference. I love it but then I love oatmeal with cold milk. 🙂  I brushed the dough with melted butter before baking, just like in the original recipe. But I decreased the amount of butter to 1 1/2 tablespoon and skipped the Parmesan cheese and mixed the melted butter with a dash of pepper, a 1/2 teaspoon of garlic powder and 1/2 teaspoon of Italian seasoning.
WHITE WHOLE WHEAT FLOUR
Why white whole wheat instead just whole wheat? This type of flour is milder in taste while still providing more protein and texture. It's great to start with if you are looking to healthify your baked goods. I made over the original recipe without sacrificing the flavor. Win-win!
MORE RECIPES WITH WHOLE WHEAT FLOUR:
Whole Wheat Chocolate Chip Cookies
WHOLE WHEAT SKILLET FOCACCIA RECIPE:
Whole wheat skillet focaccia
A healthier version of my skillet focaccia. Super easy and comes together under 1 hour.
More focaccia recipes:

www.crunchycreamysweet.com
Ingredients
3/4

c

warm water

1/2

tsp

granulated sugar

1.5

tsp

active dry yeast

1

c

all-purpose flour

1/4

tsp

salt

1

Tbsp

olive oil

1

c

white whole wheat flour

1.5

tbsp

unsalted butter

, melted

1/8

tsp

ground black pepper

1/2

tsp

garlic powder

1/2

tsp

Italian seasoning
Instructions
Place water and sugar in a large mixing bowl of a stand mixer. Stir until sugar dissolves.

Sprinkle yeast over the water and stir few times. Let sit until foamy ( about 5 minutes).

Turn the mixer on low speed and add the all-purpose flour and salt. Mix until combined.

Add oil and mix well.

Gradually add as much of whole wheat flour as you can ( it can be only 3/4 of it) and mix until the dough pulls away from the sides of the bowl.

In the meantime, preheat the oven to 220 degrees F and when it's ready turn it off. Keep the door closed.

Grease the skillet.

Place dough onto a floured surface (use the remaining whole wheat flour) and fold the dough few times until you feel it's smooth and not sticky anymore. Shape into a ball.

Roll out the dough into a size of your skillet.

Place in skillet. Stretch up the sides. Cover with a kitchen towel and place in the oven for 20 minutes.

Take the skillet out of the oven and preheat the oven to 400 degrees F. Make indentations in the dough with your fingers.

Mix melted butter with pepper, garlic powder and Italian seasoning in a small bowl. Brush the dough.

Place skillet with dough in the preheated oven and bake 20 minutes, or until golden brown. Let cool until safe to the touch and slice. Serve.
Nutrition
Calories:
194
kcal
|
Carbohydrates:
30
g
|
Protein:
5
g
|
Fat:
5
g
|
Saturated Fat:
2
g
|
Cholesterol:
7
mg
|
Sodium:
100
mg
|
Potassium:
53
mg
|
Fiber:
2
g
|
Vitamin A:
90
IU
|
Calcium:
19
mg
|
Iron:
1.5
mg