Whole Wheat Yogurt Banana Bread with Cinnamon - healthier version of your favorite quick bread! This banana bread is so good, it will be devoured quickly! Great way to use those overripe bananas!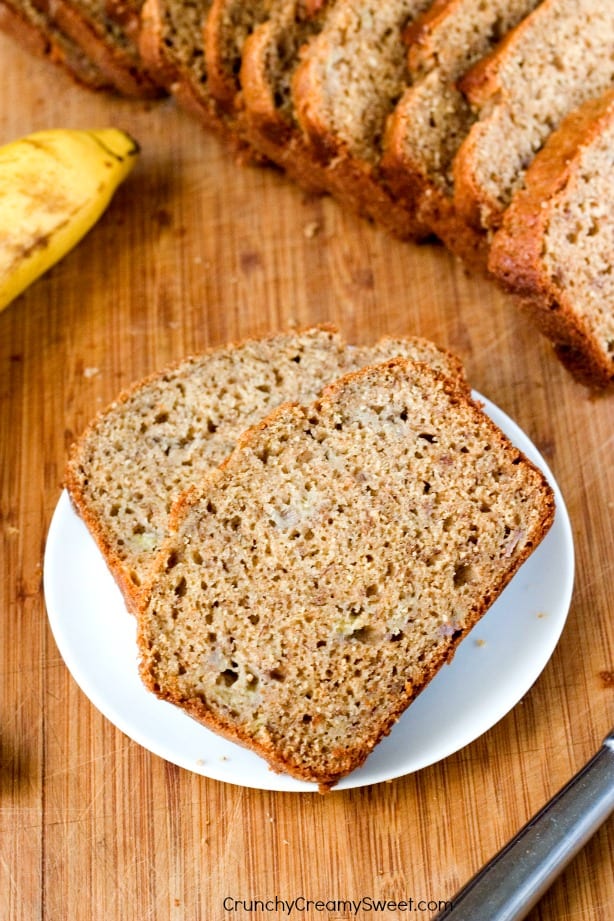 I can't go to a grocery store without buying bananas. My kids love them, especially our 3-year-old son. He asks for a banana at least once a day! 🙂 That means it's not that easy for me to save some for my baking projects. During our last grocery shopping, I made sure to get some extra so I could finally make this bread for the blog.
This may look like a plain banana bread but let me tell you, there is nothing plain about it! It's a healthier version of the most popular quick bread. It's made with whole wheat flour and plain yogurt! I love making healthier versions of our favorite food! Especially when there is no sacrifice in flavor and texture.
In this recipe, I used a mix of regular (all-purpose) flour and whole wheat flour. it gives the bread more texture which I love. I cut down the fat by half and used plain yogurt instead. I used canola oil but you can use coconut oil as well. The only sugar in this recipe is the brown sugar, which makes the bread more moist and gives it a nice brown hue. You can also add chocolate chips or nuts to this bread (about ¾ to 1 cup) and get fantastic results. I've made the chocolate version and it was perfect.
Also, you can make this recipe in a muffin pan and get the most gorgeous banana muffins you've ever had! The whole recipe makes about 12 muffins.
My family absolutely love this bread! I've made it into muffins for our recent road trip and the kids love it as a snack. My Hubby, who prefers salty over sweet, said it's the best banana bread he ever had, which means a lot! 🙂
This recipe is really easy: whisk dry ingredients, mix wet ingredients and combine everything just until incorporated. Then bake for 45 to 50 minutes. You will get perfectly domed and absolutely delicious banana bread.
For condensed instructions and a printable recipe, please click HERE.
For more banana recipes, check out my round up of over 50 recipes! 
What to do with overripe bananas.
Healthy Chocolate Chip Banana Muffins