Healthy Banana Chocolate Chip Muffins - made with whole wheat flour, coconut oil and Greek yogurt, these banana muffins are so good for you and so easy to make! Perfect use for ripe bananas! 
Usually this time of year, I take to here, my little space on the internet to complain about the freezing cold weather. If you live in the Midwest, you know what I mean. The winters here can be horrible. But this year, I really can't complain. For the last week, we have been enjoying unusually warm temperatures here in Kansas. It's been around 60 degrees almost every day. And this week is supposed to be above average as well.
This past weekend it was so warm, that we went for a walk in the park and stopped by a large field to fly kites. Yes! We were flying kites in the middle of January! It sounds so crazy but it was so fun!
So, I am not complaining about the weather. But, because it's January and we all are trying to eat healthier and make better choices everyday, I am sharing a healthy recipe today.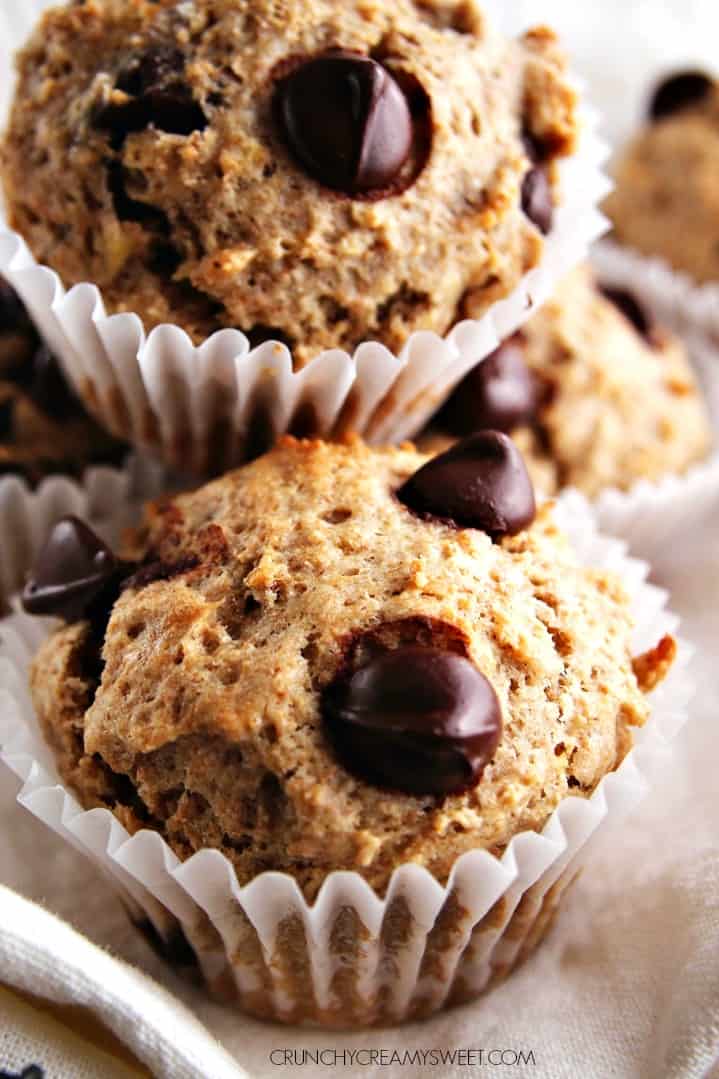 You will love these Healthy Banana Chocolate Chip Muffins. For starters, they are made with an equal mix of whole wheat and all-purpose flour, coconut oil, Greek yogurt and mashed bananas which let me cut the sugar amount. They bake up into domed perfection!
I took my Skinny Pumpkin Chocolate Chip Muffins recipe and improved it. I used coconut oil (I am obsessed with it, btw!) instead of canola, I cut down the sugar amount from 3/4 of a cup to 1/2 a cup since bananas are already sweet, I kept the Greek yogurt and the whole wheat and all-purpose flour mix.
Also, check out my new Healthy Pumpkin Muffins Recipe (Gluten-Free, Vegan)Healthy Pumpkin Muffins recipe. They are made with oat flour, no dairy and eggs!
And check out the melty dark chocolate chips! It's the indulgence without the guilt! I baked these muffins one morning and by noon, they were all gone!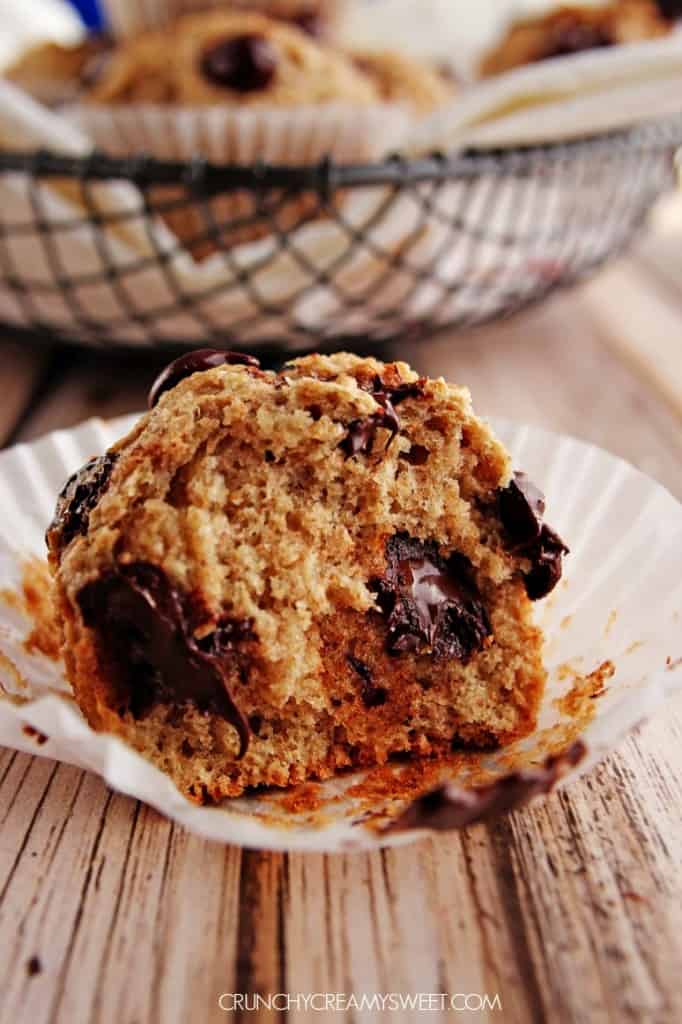 The muffins came out better than I expected! They are perfectly domed (no flat tops here!) thanks to a little trick that I highly recommend using when baking muffins. They are baked at a higher temperature for the first 7 minutes and then the temperature is lowered to finish the baking. It works for me every time!
So, if you have two ripe bananas and want to make a healthy treat, I highly suggest this recipe. You will love it!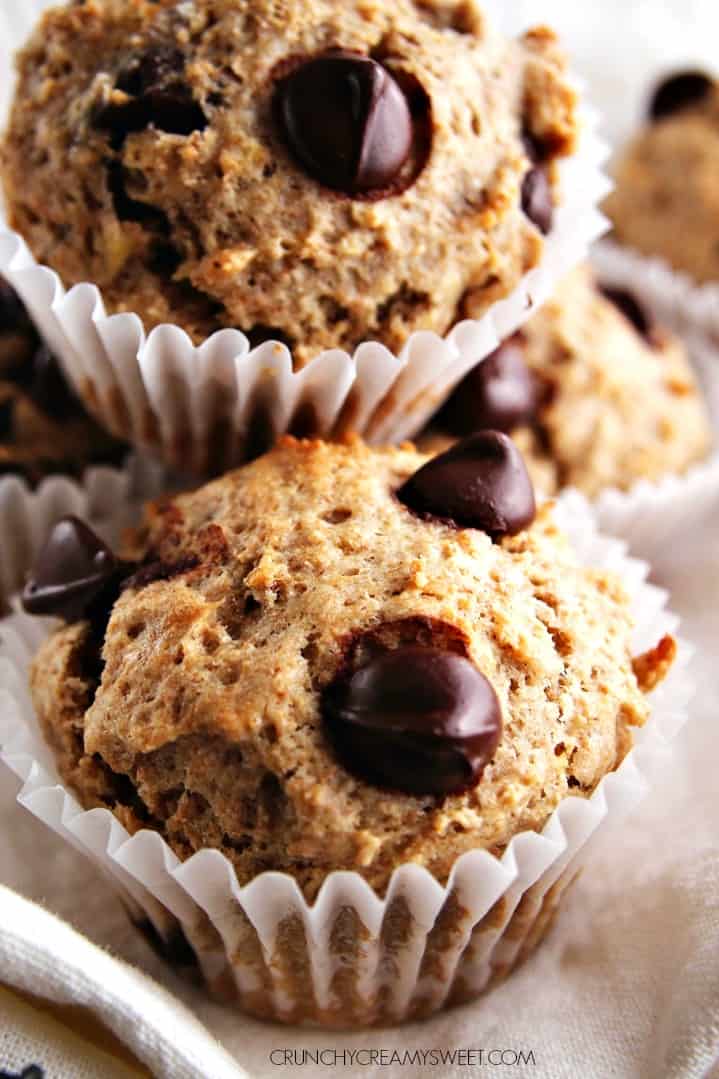 Healthy Banana Chocolate Chip Muffins
Made with whole wheat flour, coconut oil and Greek yogurt, these banana muffins are so good for you and so easy to make! Perfect use for ripe bananas! Recipe source:
CrunchyCreamySweet.com
Ingredients
1

cup

all-purpose flour

1

cup

whole wheat flour

3/4

teaspoon

baking powder

1/2

teaspoon

baking soda

1/2

teaspoon

salt

1

cup

bananas

mashed

1

teaspoon

vanilla extract

1/4

cup

Greek yogurt

1/4

cup

coconut oil

see note

2

large eggs

1/2

cup

brown sugar

1/2

cup

dark chocolate chips
Instructions
Preheat the oven to 400 degrees F.

Line a muffin pan with paper liners or spray with a non-stick baking spray. Set aside.

In a medium mixing bowl, whisk together both flours, baking powder, baking soda and salt. Add chocolate chips and stir in. This will prevent the chips from sinking in the muffins.

In another medium mixing bowl, mix together mashed bananas, vanilla, Greek yogurt, coconut oil, eggs and brown sugar.

Add the wet ingredients to the dry ingredients and stir until combined. Do not overmix.

Scoop the batter with a regular size ice cream scoop, into the prepared muffin pan.

Bake the muffins for 6 minutes in 400 degrees F. Without opening the oven, lower the temperature to 350 degrees F and bake the muffins for 12 to 14 more minutes, or until a toothpick inserted in the center of each muffin comes out clean.

Cool to room temperature before serving.
Notes
Scoop out 1/4 cup of solid coconut oil into a heat-proof small bowl and melt in a microwave. Cool the oil to room temperature before adding to the wet ingredients.
Nutrition
Calories:
217
kcal
|
Carbohydrates:
33
g
|
Protein:
4
g
|
Fat:
8
g
|
Saturated Fat:
6
g
|
Cholesterol:
27
mg
|
Sodium:
165
mg
|
Potassium:
215
mg
|
Fiber:
2
g
|
Sugar:
14
g
|
Vitamin A:
50
IU
|
Vitamin C:
1.7
mg
|
Calcium:
56
mg
|
Iron:
1.2
mg