Homemade Hot Chocolate Mix recipe – a handful of ingredients mixed in a blender make this homemade hot chocolate mix irresistible! Our whole family loves it! 
This post has been updated with new images November 2016.
Weather you are here for the Hot Chocolate Mix recipe or to read my review of the Blendtec Blender, this post is quite fun. First, we are making a super easy hot drink mix to enjoy through out this season. Second, we are talking blenders which for me as a passionate home cook and baker is a fascinating subject. I love kitchen appliances that are smart and can do some serious work for me.
MY LATEST VIDEOS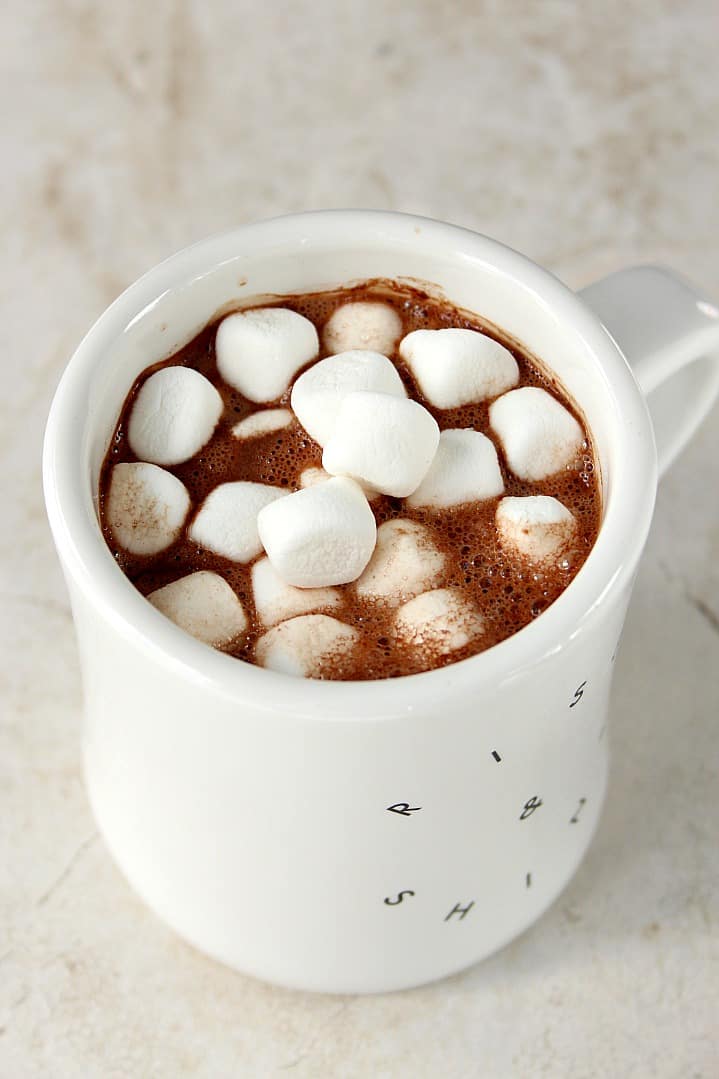 But before we make the hot chocolate mix to enjoy with these homemade peppermint marshmallows (just a little suggestion 🙂 ), let's talk about this blender.
This blender is as modern as you can get in the world of kitchen appliances. First of all, there is no dials or buttons. Until you plug it in. The LED Information Center with Touch Area will appear and your jaw will drop. The power of this blender is unquestionable. You may have heard already that it can turn an iPhone into a pile of dust. You can see a whole collection of videos that show the power of this machine. I am looking forward to making my own freshly ground coffee.
The Designer Series™ is very elegant and sleek. I love how it looks on my black granite countertops.
I tried the blender in many recipes, some of them already appeared here on the blog: Apple Butter, Apple Bread. I use it very often as our kiddos love smoothies. It literally takes only a few seconds to make the smoothest of smoothies in this blender.
Afterwards, you wash the blender by adding a cup or two of water and a couple of drops of dish soap into the blender and turn it on for few seconds. All the food residue comes off. Then just rinse and dry and the blender is ready to use again.
The Blendtec developed blend cycles that are matched to your needs. For example, if you are blending ingredients for a smoothie, there is cycle for that; if you are crushing ice – there is a cycle for that; same with soups, batters, ice cream and juice. Every task has been thought of and analyzed to create cycles that help you achieve the best final result.
The blender speeds up and slows down during cycles.
The icons of the touch pad not only show you which cycles are available, but also if the blender overheats or if you need to call the service representative. Highly appreciated.
It's a one super smart machine.
The Blendtec blender is not only for making healthy smoothies. It will grind grains for homemade almond, quinoa or spelt flour. It will grind meat for a homemade breakfast sausage, knead doughs for whole wheat breads and mix batters for gluten-free pumpkin quick bread. Don't forget ice cream, sorbets and frozen cocktails; dips, salsas and spreads. I know that this machine will never be stashed away in my cabinets. It has it's own spot on my countertops since the day it arrived. We made (my Blendtec kitchen assistant and me :)) sweet potato bisque, granola bars, apple muffins with streusel topping, homemade oat flour, pancake batter and so many others. I think I can say I tried every cycle and whipped up something delicious.
You can also purchase the Twister Jar for your Blendtec. It's created for making small amounts of food, like fruit and veggie purees for babies, small serving of ice cream, quick dips and smoothies. It comes with a Twister Lid and Spectacula, a specially designed spatula to get every last bit of the food from the blender jar.
The Twister Jar is great for small quantity recipes. I needed oat flour for one of my recipes and I easily made the needed amount in the Blendtec Twister Jar.
When you purchase the Blendtec Blender, you will receive the Fresh Blends cookbook that contains tons of easy and fun recipes. Few to mention: Tropical Sea Breeze smoothie, Tomato Vegetable Juice, Frozen Mojito, Cashew Milk, Baked French Toast, Hummus, Bloody Mary Dressing, Mango Mustard, Tomato Basil Soup, Gluten Free Chocolate Chip Cookies, Berry Sorbet, Blueberry Ice Cream, baby food, an exfoliating mask and many, many more.
So now that we have the blender covered, let's make some hot chocolate mix!
Simply place all ingredients in the blender and swipe your finger across the speed bar. I blended the ingredients on speed 4 and it took me about 7 seconds. You should hear when the blender chopped the chocolate as the sound will be smoother.
Transfer the mix into jars with lids and use this season. It's also a great gift idea for family and friends for this holiday season!
Homemade Hot Chocolate Mix
Easy homemade hot chocolate mix to enjoy during the cold months or to give away as a gift this holiday season.
Ingredients
1

c

nonfat dry milk powder or non dairy coffee creamer

1/2

c

powdered sugar

1/4

c

white chocolate chips

1/2

c

semi-sweet chocolate chips

1/2

c

unsweetened cocoa powder

1/4

tsp

salt
Instructions
Place all ingredients in the blender.

Blend for 7 seconds or until the ingredients and well blended, especially the chocolate.

Transfer into a jar with lid.

Place 3 tablespoons of the mix in the bottom of a 12oz. mug. Fill up with heated up milk. Serve.
The Blendtec Total Blender Designer Series™ blender is available on the Blendtec website or any major retailers.
It retails for $454.95.
Disclosure: I have been provided with factory reconditioned Blendtec blender for the review and to keep. I have not been compensated for this post. All opinions are 100% my own.