Organizing my Kitchen with OXO Pop Container - tips on organizing your kitchen or pantry with OXO's fantastic containers with POP lids!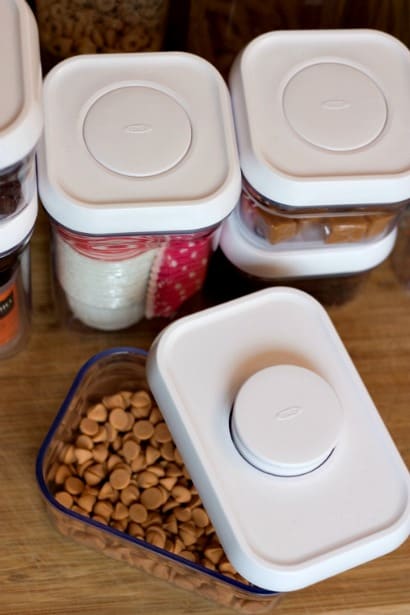 Today we are changing October to Poptober! OXO is helping bloggers organize their kitchens and pantries with their POP lid containers. The whole line is available at The Container Store.
You probably already assumed that I bake a lot. And I do. Everyday. I love it and I am so happy to turn this passion into a job. But baking everyday means I use my baking supplies all the time and that easily leads to a mess on the counter and in my cabinets. That's why I love OXO and their POP lid containers! They are the answer to my messy cabinets and scattered supplies. No more wasting time on trying to find the bag with chocolate chips only to discover that they spilled all over the cabinet. No more looking for the small spice containers. And no more pasta in cardboard boxes.
All of the POP containers are created for stacking. Meaning they all stack up nicely and make your cabinet or pantry looking clean and organized. Their square and rectangular shapes make them space efficient. Love it!
I created a Pinterest board with all of the organization tools from OXO you can buy in The Container Store. Check it out!
Follow Anna | Crunchy Creamy Sweet 's board Poptober with OXO on Pinterest.
You also have a chance to makeover your kitchen by entering the giveaway! The prize pack is worth $500, including your choice of OXO Storage & Organization tools (up to $250), as well as a $250 elfa gift card. The giveaway starts today, October 13th and ends on Friday, October 31st. Enter the giveaway, HERE.
Disclosure: I received the containers from OXO. I was not compensated for this post. All opinions are 100% my own.