Nutella and Pumpkin Granola baked in a Slow Cooker - your new favorite way to make delicious granola! You will love the combination of pumpkin and Nutella!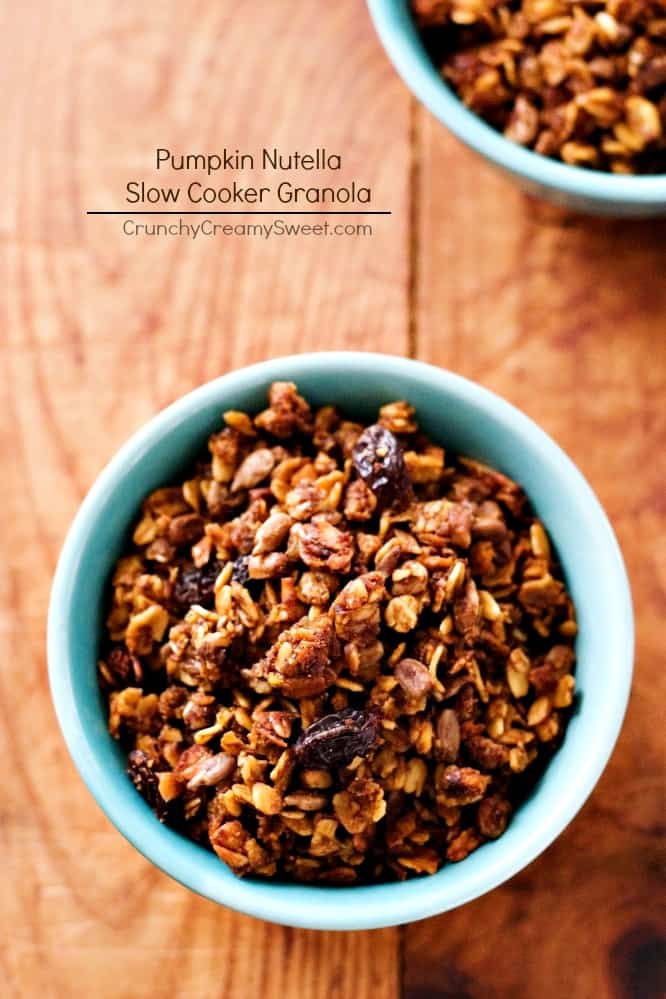 Few months ago, my friend Kristen from Dine and Dish shared a recipe for granola made in a slow cooker. It totally blew my mind. You are telling me I can bake my granola in a slow cooker? Woah! That needed to happen! Then Hamilton Beach sent me their new slow cooker to try and I knew that I wanted to try the granola as soon as possible. (By the way, read on to learn how you can enter to win one for yourself!)
Friends, this is crazy good and incredibly handy! I can't tell you how many times I burnt my granola in the oven. The slow cooker way is truly ideal! I can set it and know it will be perfect in the end. In the meantime, I can use the oven to bake muffins or a cake.
Since then, I made few batches with different flavor combos and my granola jar is never empty. I love granola with my morning yogurt or simply as a snack. For today's recipe I am sticking with my new obsession: pumpkin and Nutella combo. So good! These muffins are proof!


Chocolate and pumpkin go so well together! It's a perfect seasonal dish and has a ton of flavor. Besides, it's chocolate for breakfast!
Yes, you have my permission. 🙂
I gave the slow cooker a little break from all of the fall soups I have been making these past few weeks and made this granola. It's safe to say that it's one of my favorites so far. Besides the fact that it's all-just-mix-in-a-bowl recipe and it makes a great amount that will last you for a while, depending on how often you will eat it. It is also a great way to use up the leftover pumpkin puree that we happen to always have. Most pumpkin recipes use a cup of the puree. Before you know it, you end up with leftover that you don't want to waste. This recipe uses 1/4 cup so it's perfect! The pumpkin pie spices are where the flavor lays and of course, the chocolaty and sweet Nutella.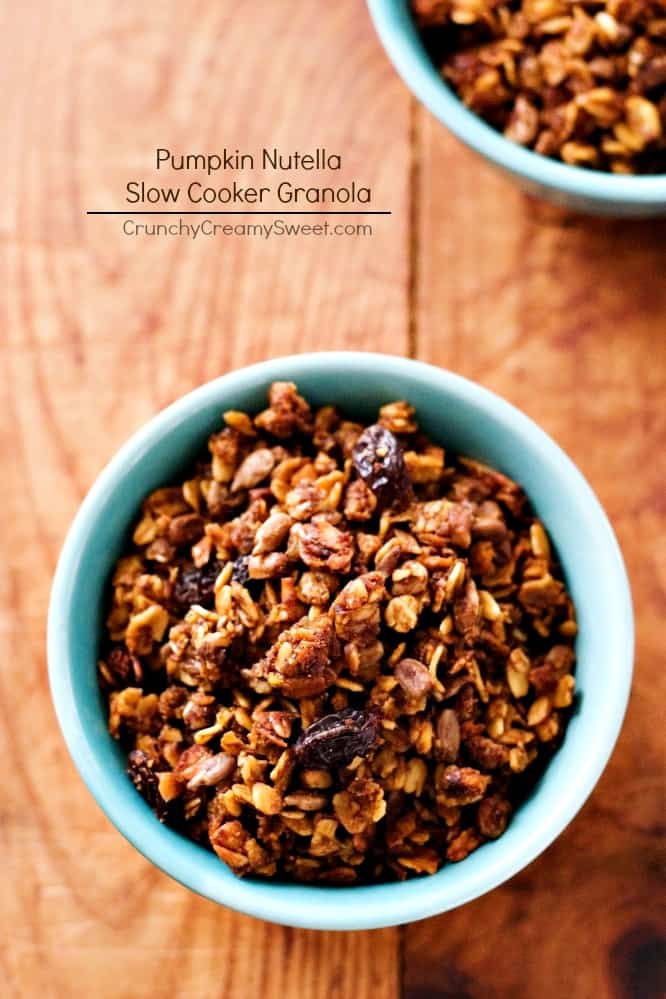 Slow Cooker Nutella and Pumpkin Granola
Nutella and Pumpkin Granola baked in a Slow Cooker - your new favorite way to make delicious granola! You will love the combination of pumpkin and Nutella!
Ingredients
3/4

cup

honey or maple syrup

1/2

cup

pumpkin puree

not pie filling

1/4

cup

vegetable oil

1/4

cup

Nutella

3/4

teaspoon

ground cinnamon

1/2

teaspoon

ground ginger

1/4

teaspoon

ground cloves or nutmeg

2

teaspoons

pure vanilla extract

4

cups

old-fashioned oats

1

cup

Rice Krispies cereal

1/4

cup

sunflower or pumpkin seeds

1/2

cup

raisins

1/4

teaspoon

salt
Instructions
Grease the slow cooker with a non stick baking spray or canola or vegetable oil.

In a medium mixing bowl, whisk together maple syrup, pumpkin puree, vanilla, oil and Nutella.

In a large mixing bowl, stir together oats, rice cereal, seeds, cinnamon, ginger and cloves.

Pour the wet ingredients over the cereal and toss together to coat.

Place the granola in the slow cooker.

Set on high for 2 and 1/2 hrs. Stir every half an hour.

Place the granola on a aluminum foil or parchment paper lined baking sheet until dry.

Store in an air-tight container on the counter or in the fridge. In room temperature the granola will keep for about a week. In the fridge, it will keep longer.
Nutrition
Calories:
312
kcal
|
Carbohydrates:
44
g
|
Protein:
6
g
|
Fat:
12
g
|
Saturated Fat:
8
g
|
Sodium:
101
mg
|
Potassium:
291
mg
|
Fiber:
5
g
|
Sugar:
6
g
|
Vitamin A:
2615
IU
|
Vitamin C:
3.4
mg
|
Calcium:
40
mg
|
Iron:
3.7
mg