This Homemade Teriyaki Sauce is the best and easiest sauce for Asian dishes! It's thick, sweet and savory, and delicious used as a marinade, glaze, or as main sauce. Great with chicken, shrimp, salmon, and vegetarian stir fry!
Homemade condiments are so easy to make! Make a bottle of this sauce, the Sweet and Sour Sauce or Homemade Hoisin Sauce, and never go back to the store-bought kind again.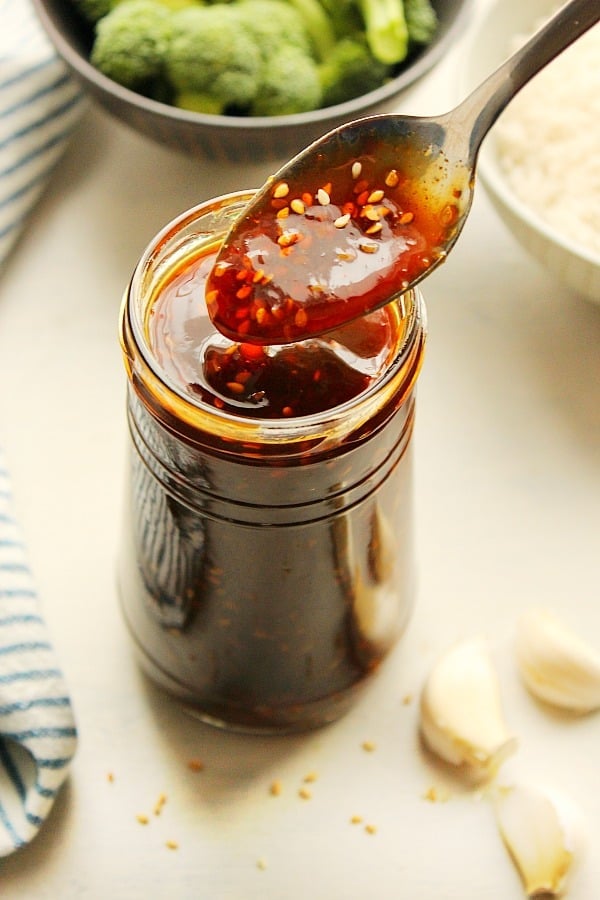 Jump to:
Why You'll Love This Sauce
After so many requests, I am finally sharing my recipe for the best, thick Teriyaki Sauce! It's one of the easiest condiments I've made in my own kitchen. I use it in cooking or pour it over a finished dish to add Asian flavor. It only requires a handful of ingredients that I always have in my pantry.
I made it for the first time for my popular Quick Teriyaki Chicken Rice Bowls. I've since had many readers ask if it can be made ahead and stored so it's always ready for this dish. Best idea ever! When I have this sauce on hand, all I need to do is add it to the chicken! It's simple and so tasty!
This Homemade Teriyaki Sauce recipe is the best and easiest and will save you time in the kitchen! Forget the store-bought stuff and make a jar or your own homemade teriyaki sauce!
Ingredients: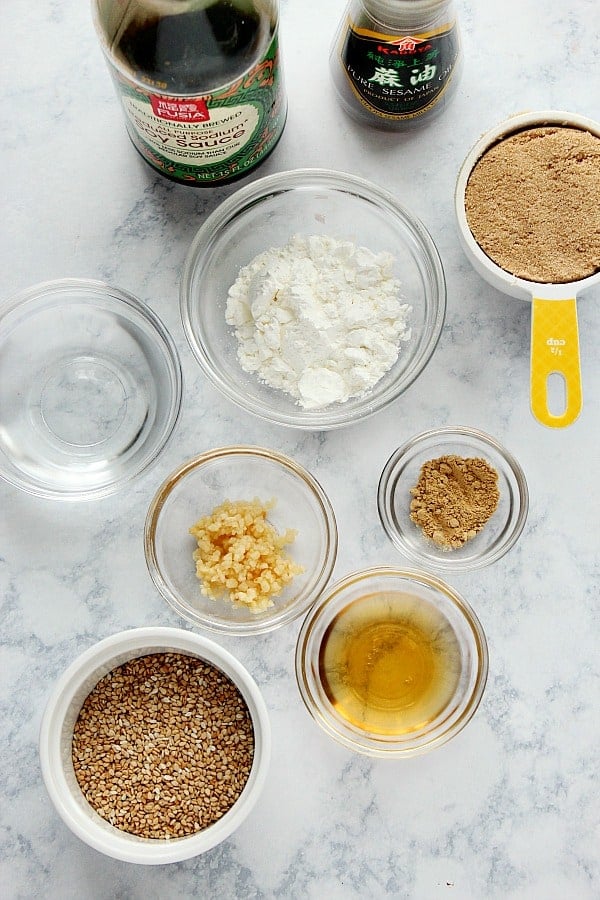 soy sauce: I only use low-sodium to control the flavor; this ingredient is the base flavor for the sauce;
sesame oil: adds that specific flavor to the sauce; it's very potent so don't go overboard;
brown sugar: sweetens the sauce which has that perfect balance of sweet and savory flavors;
garlic: I prefer fresh, minced garlic for this recipe but garlic powder works too;
ginger: it's not often that I have fresh ginger on hand so I use ginger powder for this sauce;
cornstarch: this will thicken the sauce
water: the base for the sauce;
apple cider vinegar: adds a sour flavor to balance the sweetness.
How to make homemade Teriyaki Sauce?
Whisk all ingredients in a saucepan.
Simmer over medium-low heat for about 3 minutes.
Make a quick cornstarch slurry with water and add to the sauce. Cook just until it thickens. Done!
You can use the sauce right away by adding it to cooked chicken in a skillet or pour over salmon, shrimp, or chicken tenders and bake.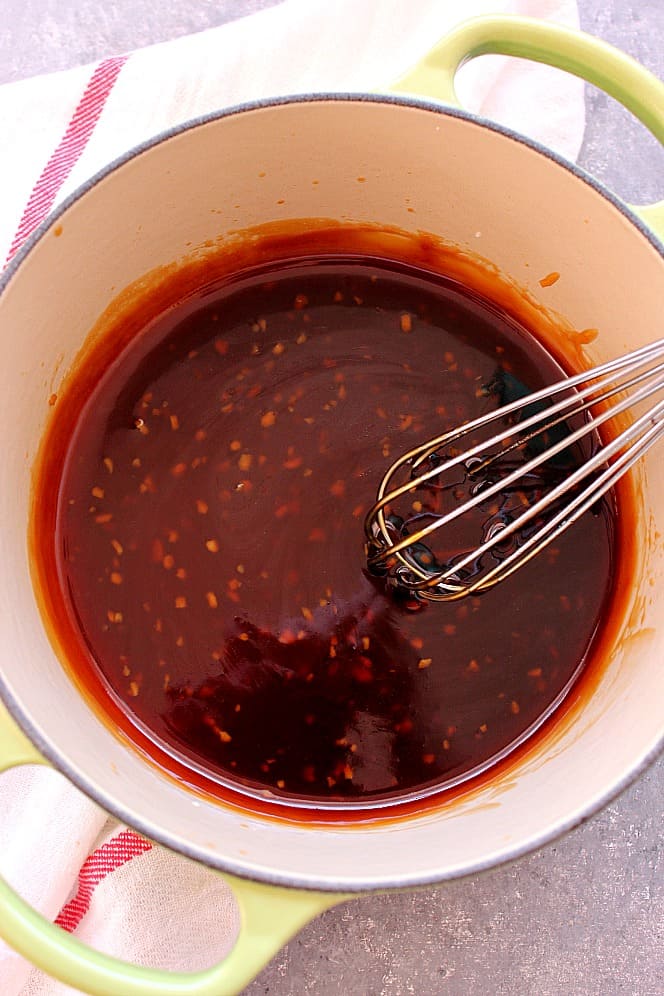 Helpful Tips!
Cornstarch: it is my go-to thickener for sauces as it will make a smooth and clump-free sauce every time. I almost completely stopped using flour in my sauces and just keep it for baking. Cornstarch will also make this sauce gluten-free, for those with gluten allergies. You can use flour in place of cornstarch in this recipe, just keep in mind that it will not be as clear in appearance.
Soy sauce: I recommend using low-sodium soy sauce to control the flavor.
sesame oil: if you don't have it on hand, skip it but I highly recommend this ingredient for the recipe since it will give it that characteristic Asian flavor. You can use olive oil as a substitute.
sesame seeds: not necessary but we enjoy them.
Substitutions:
Instead of soy sauce, use coconut aminos. The sauce will be gluten-free and less salty.
Skip the sugar and use honey.
If you don't have fresh garlic and ginger, use the powdered spices.
While I keep white vinegar for cleaning and use apple cider vinegar in cooking, white vinegar will work here too.
Recipe FAQs:
What can I use instead of cornstarch?
Flour can be substituted for cornstarch. We had readers use tapioca or potato starch as well.
Can I use this sauce as a marinade?
Yes! Simply place cubed raw chicken or salmon fillet into a Ziploc bag, add sauce, seal tightly, and freeze OR place in the fridge for 30 minutes to overnight. When you are ready, thaw out and bake or cook in a skillet. So easy and saves time! Just remember to use all of the marinade and cook it with the meat.
How to thicken teriyaki sauce?
My go-to mixture to thicken any sauce, but especially this teriyaki sauce, is a cornstarch slurry. I mix water with cornstarch and add it to the sauce while cooking it over low heat and stirring constantly.
How to store it?
If you keep the sauce in a jar with a lid and store it in the fridge, it will last for up to 2 weeks.
How to use teriyaki sauce?
This sauce is perfect in many Asian dishes. Here are my favorites: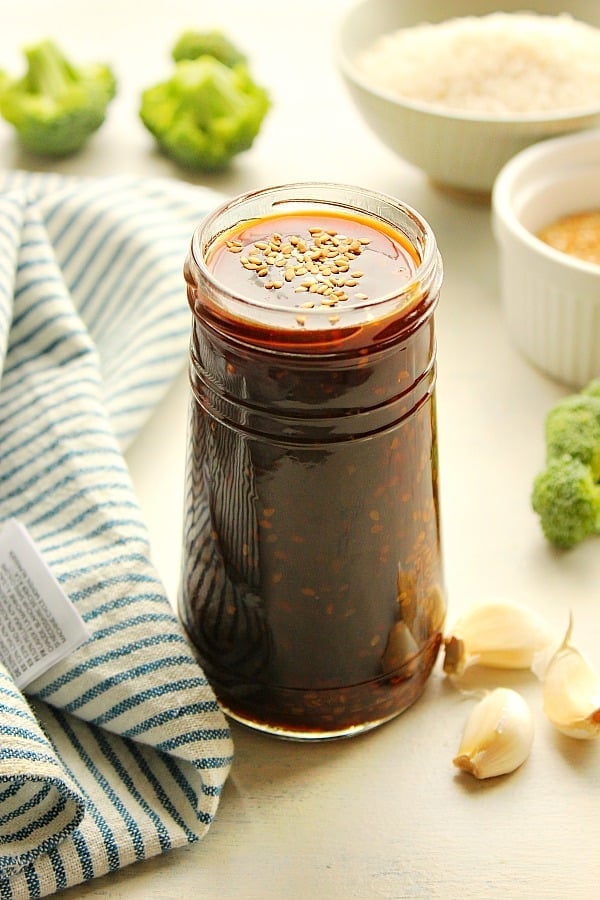 More homemade Asian sauce recipes:

If you like this recipe and make it, let me know in the comments below! Don't forget to rate it if you enjoyed it!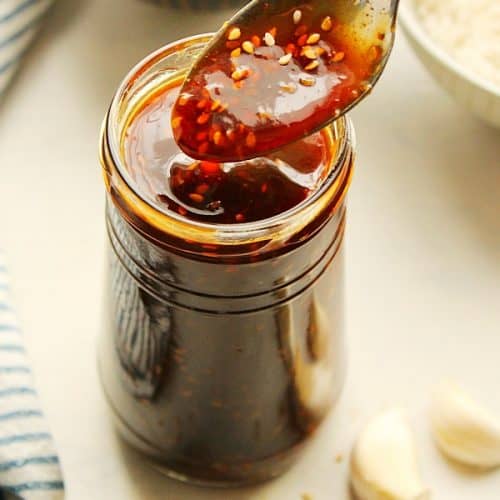 Homemade Teriyaki Sauce
This Homemade Teriyaki Sauce is the best and easiest sauce for Asian dishes! It's thick, sweet and savory, and delicious used as a marinade, glaze, or as main sauce. Great with chicken, shrimp, salmon, and vegetarian stir fry!
Ingredients
½

cup

packed brown sugar

1

cup

low-sodium soy sauce

2

tablespoons

apple cider vinegar or rice vinegar

½

teaspoon

ground ginger optional

4

teaspoons

minced garlic

3

teaspoon

sesame oil

3

tablespoon

cornstarch

4

tablespoons

water
Instructions
In a medium saucepan, whisk together brown sugar, soy sauce, vinegar, ginger, garlic and oil. Heat up until it starts to simmer.

½ cup packed brown sugar,

1 cup low-sodium soy sauce,

2 tablespoons apple cider vinegar or rice vinegar,

½ teaspoon ground ginger optional,

4 teaspoons minced garlic,

3 teaspoon sesame oil

Reduce heat to low.

In a small bowl, whisk together water and cornstarch. Add to soy sauce mixture and whisk constantly until the sauce thickens.

3 tablespoon cornstarch,

4 tablespoons water

Remove from heat and let cool. Use right away or store for later.
Notes
Keep in glass jar with lid in the fridge for up to 2 weeks.
This recipe can be halved to make a smaller amount, good for one meal for 4 people.

Please note, that the nutrition value can vary depending on what product you use. The information below is an estimate.
Nutrition
Calories:
97
kcal
|
Carbohydrates:
19
g
|
Protein:
1
g
|
Fat:
1
g
|
Sodium:
1067
mg
|
Potassium:
81
mg
|
Sugar:
13
g
|
Vitamin C:
0.5
mg
|
Calcium:
20
mg
|
Iron:
0.8
mg
This recipe was originally published on April 25th, 2018 and updated on October 28th, 2019.