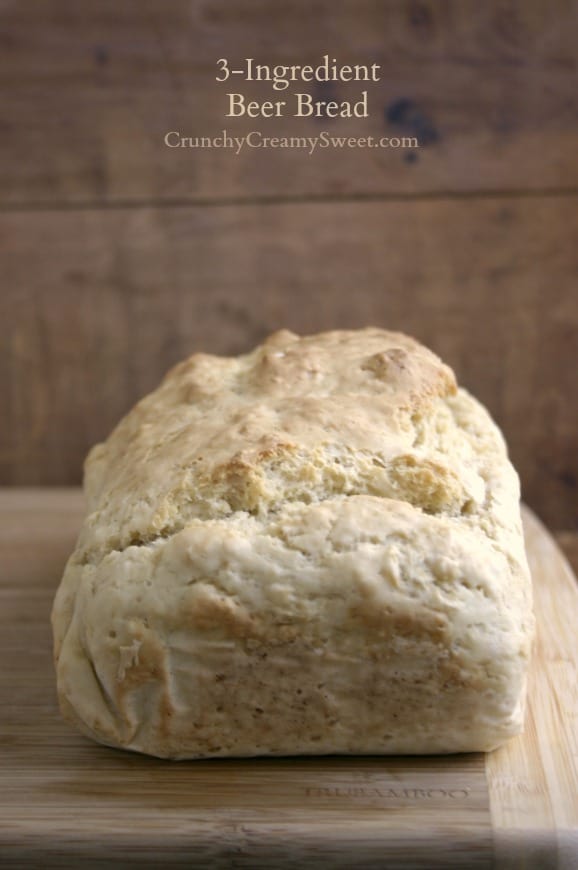 TGIF! I made you a bread! 🙂
As you may probably know, April is the National Grilled Cheese Month. Sandwiches took over the internets. You can spot them everywhere. Most likely in your kitchen too!
So I combined my love for homebaked bread and the fact that we all celebrate one of the best food holidays for today's post.
Three Ingredient Beer Bread and a list of 30 great sandwich recipes from food blogs around the web.
Let me tell you right quick about this bread. It's super easy to make as it requires only 3 ingredients to make: self-rising flour, sugar and beer. And even if you don't have self-rising flour on hand, you can easily make your own.
How to make self-rising flour at home:
1 c all-purpose flour
1 and 1/4 tsp baking powder
1/4 tsp salt
Mix all.
It will technically make it a 5 Ingredient Beer Bread but it's still easy and fast.
The bread is quite pale in the appearance as we are using light beer in this recipe. I would be very interested how using a dark beer would affect the looks, texture and taste!
It is great for grilled cheese sandwiches, open face sandwiches or any kind you want. It does taste like beer so be ready for that. If you don't like the taste of beer, this recipe is probably not for you even though the taste decreases when grilling stuffed with meat, cheese and veggies.
I used it to make grilled cheese using my trusted panini maker.
And to get your creative juices flowing, here is a list of 30 Great Sandwich Recipes.
1. Caprese Grilled Cheese from Closet Cooking
2. Cobb Salad Sandwich from Two Peas and Their Pod
3. Hot Roast Beef Sandwich from The Pioneer Woman
4. Chicken Zucchini and Ricotta Sandwich from Simply Recipes
5. Chicken and Arugula Sandwich from RecipeGirl
6. Caprese Grilled Cheese with Arugula from Feasting at Home
7. Challah Grilled Cheese with Onion Confit and Balsamic Glaze from Savory Simple
8. Caprese Grilled Cheese from Diethood
9. Slow Cooker Peach BBQ Chicken Sandwich from Sprinkled with Flour
10. Green Apple Bacon Gouda and Havarti Grilled Cheese from Becky Bakes
11. Chicken Cordon Bleu Sandwich from Chef In Training
12. Bloomin' Onion Grilled Cheese from Cinnamon and Spice
13. Jalapeno Popper Inspired Grilled Cheese from Beantown Baker
14. Tomato Pesto Cheddar Pretzel Sandwich from Bake Your Day
15. Spinach and Artichoke Grilled Cheese Sandwich from Joy the Baker
16. Roasted Portabella Mushroom Grilled Cheese from Sarah's Cucina Bella
17. Chipotle and Avocado Grilled Cheese from Bakeaholic Mama
18. Cobb Grilled Cheese from FoodieCrush
19. Grilled Cheese with Chicken Cheddar and Grapes from Family Fresh Cooking
20. Avocado and Jalapeno Grilled Cheese Sandwich from Namely Marly
21. Wine and Cheese Grilled Cheese from BS in the Kitchen
22. Strawberry Grilled Grilled Cheese from An Edible Mosaic
23. Bacon Portabello Mushroom and Habanero Grilled Cheese on Homemade Pretzel Bread from Foodness Gracious
24.Mushroom Onions Gouda Grilled Cheese from She Wears Many Hats
25. Grilled Cheese Sandwich with Brie Pear and Hazelnuts from Cookin' Canuck
26. Cheddar Apple Pie Grilled Cheese from Hungry Couple
27. Balsamic Brussels Sprouts Grilled Cheese from How Sweet It Is
28. Springs Bounty Sandwich from Cured by Bacon
29. Grilled Buffalo Shrimp Sandwiches with Spicy Avocado Ranch from Half Baked Harvest
30. Grilled Cheese Sandwich with Garlic Confit and Baby Arugula from Food and Style
~~~~~~~~~~~~~~~~~~~
Have a fabulous day!
Come back tomorrow for a fun giveaway!!!!
xoxo,
Anna
Disclaimer: This post may contain affiliate links. If you follow the link I may make few dollars, which always helps with buying ingredients for more sweet treats like this. Thank you!
 Thanks for reading and please keep in touch. Subscribe to Crunchy Creamy Sweet and follow me on  Twitter, Facebook and Pinterest.
Reader Interactions