Raspberry Focaccia Recipe – my favorite focaccia recipe improved by doubling the size and the addition of fresh raspberries! It's so fluffy – you won't be able to stop eating it!
One of the most popular recipes on my blog is the One Hour Skillet Focaccia. I received a lot of comments and emails from readers who made it. Pinterest is filled with pins with comments from people who made it, loved it and made it many times more! Whole families are enjoying this focaccia and it makes me so happy to know that! It;s my favorite bread side to make and I make it almost every week.
There were few comments saying that the reader had to make it twice in one day, because it was not enough and too good! So I set out to improve the recipe by doubling the size and making it even better for the families that love to have it next to their dinner plate.
This version is larger and fluffier. You do not need a cast iron skillet for it, just a large 13″ x 9″ baking pan. It's still easy and comes together in the same time! YES! No additional time is required. All thanks to my very favorite yeast: the Platinum Yeast from Red Star Yeast. (I am not being paid for saying that, btw.) It includes dough enhancers that help produce a fluffier, taller bread in short time. I absolutely love using this yeast whenever I make a yeast dough. I can't wait to make my favorite cinnamon rolls with them! Can you imagine how big and fluffy they will be? Yum!
I also happened to have some leftover fresh raspberries from this recipe and I decided to add them to this focaccia. What a delicious decision this turned out to be!
This focaccia is absolutely perfect for summer! The fresh raspberries add slight tartness to the flavor and fun, bright color to the bread. Make it to go with your salad or BBQ dinner. With this size you can bring it to a get-together and it will be a hit!
PIN THIS RECIPE TO YOUR PINTEREST BOARD!
SHARE ON FACEBOOK
Raspberry Focaccia Recipe
Raspberry Focaccia Recipe - my favorite focaccia recipe improved by doubling the size and the addition of fresh raspberries! It's so fluffy - you won't be able to stop eating it!
Ingredients
!for the dough:
1.5

c

warm water

1

tsp

granulated sugar

1

pkg

yeast

2

Tbsp

olive or canola oil

4.5

c

all-purpose flour

1

tsp

salt
Instructions
Place water and sugar in a large mixing bowl of a stand mixer. Stir until sugar dissolves.

Sprinkle yeast over the water and stir few times. Let sit until foamy ( about 5 minutes).

Turn the mixer on low speed and add 2 cup of flour and salt. Mix until combined.

Add oil and mix well.

Gradually add as much of the remaining flour as you can ( it can be only 3/4 of iand mix until the dough pulls away from the sides of the bowl.

Place the dough onto a floured surface. Shape into a ball.

Grease a large mixing bowl with olive oil. Place the dough into the bowl. Cover. Place in a warm and draft free place (see note). Let rise until double in size.

Line a 13" x 9" baking sheet with parchment paper. Set aside.

Preheat the oven to 400 degrees.

When the dough has risen (almost going over the rim of the bowl), place it onto a floured surface. Shape into a log. Roll out into a rectangle about the size of your baking pan. Gently lift the dough of the surface and place in the prepared baking pan.

Arrange raspberries leaving about 1 inch space between each. Gently press into the dough.

Drizzle 2 tablespoon of olive oil over the surface.

Place baking sheet with dough in the preheated oven and bake 20 to 25 minutes, or until golden brown and the raspberries burst. Brush with remaining olive oil. Let cool until safe to the touch and slice. Serve.
Nutrition Facts
Raspberry Focaccia Recipe
Amount Per Serving
Calories 330
Calories from Fat 63
% Daily Value*
Fat 7g11%
Sodium 295mg13%
Potassium 104mg3%
Carbohydrates 56g19%
Protein 7g14%
Vitamin C 3.7mg4%
Calcium 16mg2%
Iron 3.4mg19%
* Percent Daily Values are based on a 2000 calorie diet.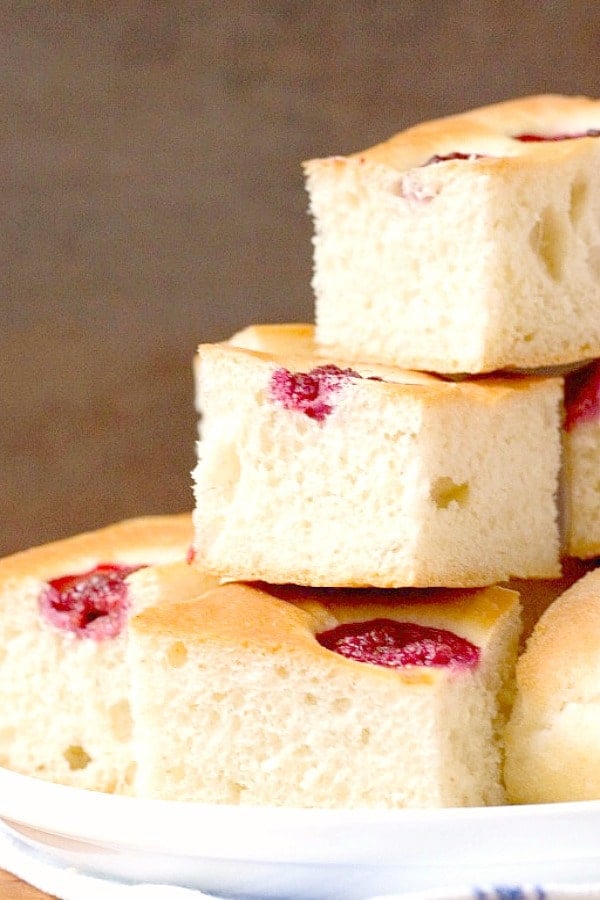 If you like this recipe and make it, snap a photo and share it on INSTAGRAM! Tag me @crunchycreamysweet so I can check it out and leave a comment! 😀
 Related Recipes: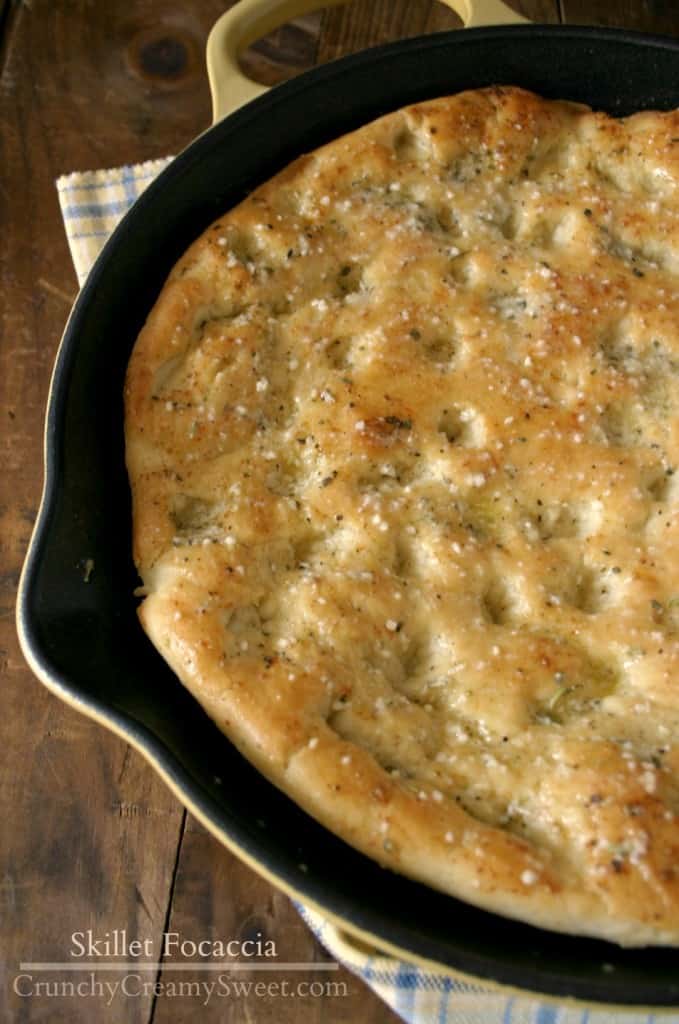 Garlic and Herb Irish Soda Bread