Pumpkin Pie Bars are easy dessert bars made with canned pumpkin pie filling and from-scratch crust and topping, that's made in one bowl. The cinnamon crumb topping is irresistible!
Crumb bars are my favorite dessert bars to make ( right next to cheesecake! ), starting with the sour cream bars, their lemon version and of course, the caramel apple bars that are pure indulgence!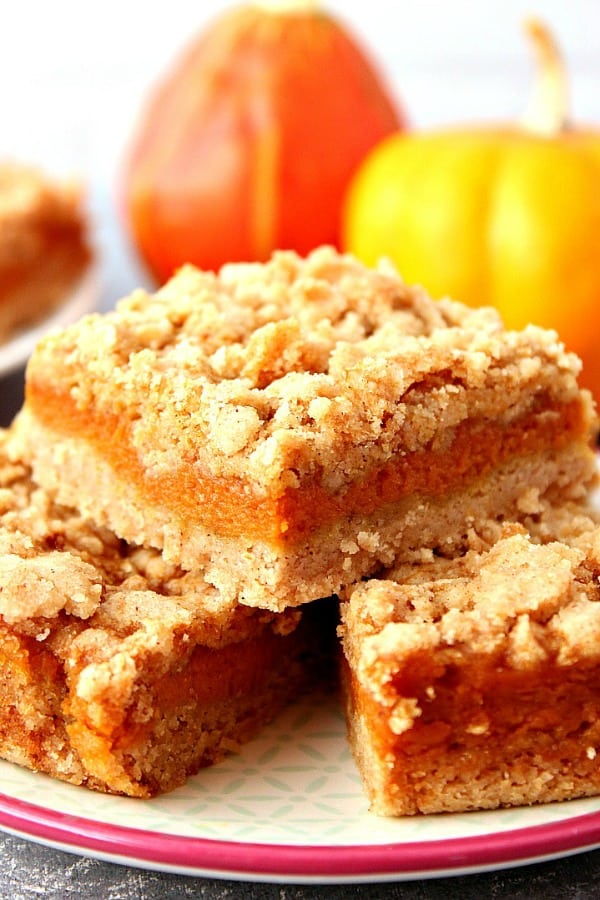 These Pumpkin Pie Crumb Bars are a cross between pumpkin pie and my coffee cake with crumb topping. The creamy pumpkin filling pairs perfectly with buttery crust and topping. They make for a perfect no-fuss and low-key Thanksgiving dessert or just as a treat with a cup of coffee. I make them for almost all of our fall gatherings and holiday parties. Everyone loves them!
Ingredients:
butter
brown sugar
all-purpose flour
baking soda
baking powder
salt
cinnamon
cloves
pumpkin pie mix (in a can)
1 egg
vanilla extract
Instructions:
My favorite part of making these Pumpkin Pie Bars is that the crust and the crumb topping are made from one mixture. It's buttery with a perfect amount of cinnamon and cloves.
Simply mix all of the ingredients in a bowl, reserve about ¾ cup of it for the topping and press the rest into the bottom of a parchment paper-lined baking pan.
The filling is super easy since we are using a canned pumpkin pie filling, not a puree. Add one egg and ½ teaspoon of vanilla, whisk until smooth and pour over the crust.
Sprinkle crumb topping over the filling and bake in the preheated oven for 28 to 32 minutes.
Let cool completely before cutting. You can also cool the bars completely and then refrigerate for up to 2 days or until ready to serve.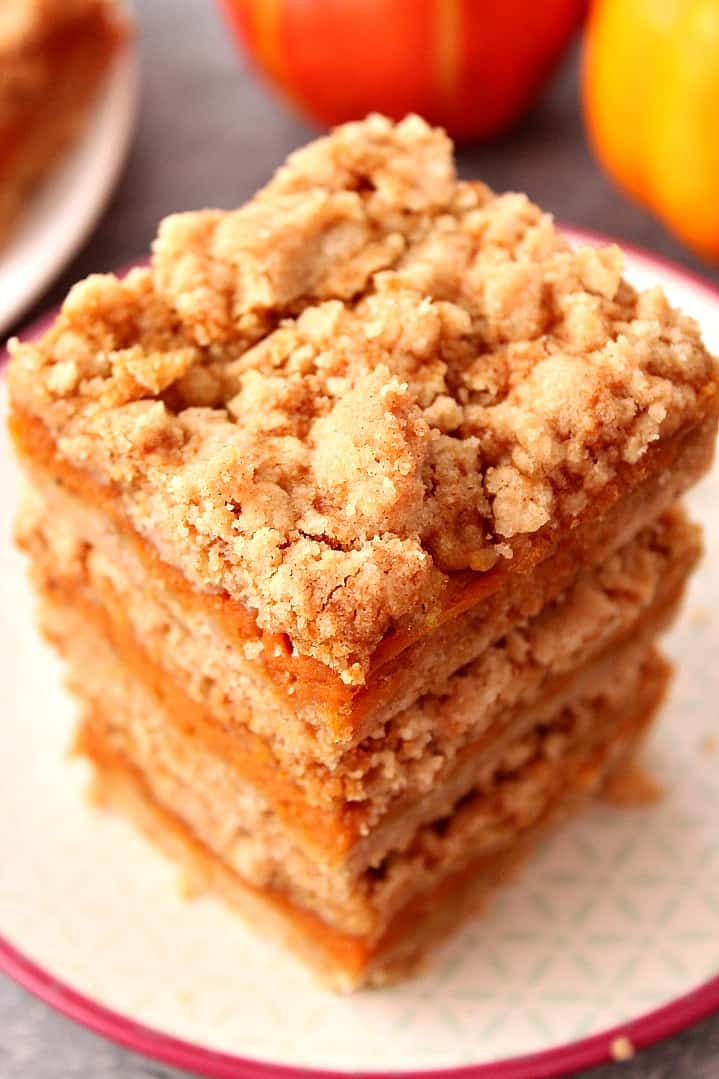 Storing
These pumpkin bars can be made ahead of time and refrigerated until ready to serve, up to 3 days. If you want to freeze them, wrap them tightly in saran wrap and place in a freezer-safe ziploc bag. Store in freezer for up to 3 months.
Any leftovers should be covered with saran wrap and stored in the fridge. Let them sit in the room temperature for 20 minutes before serving.
What if I don't have pumpkin pie mix?
If you don't have pumpkin pie mix on hand, mix pumpkin puree with ½ cup granulated sugar and 1.5 teaspoons of pumpkin pie spice mix.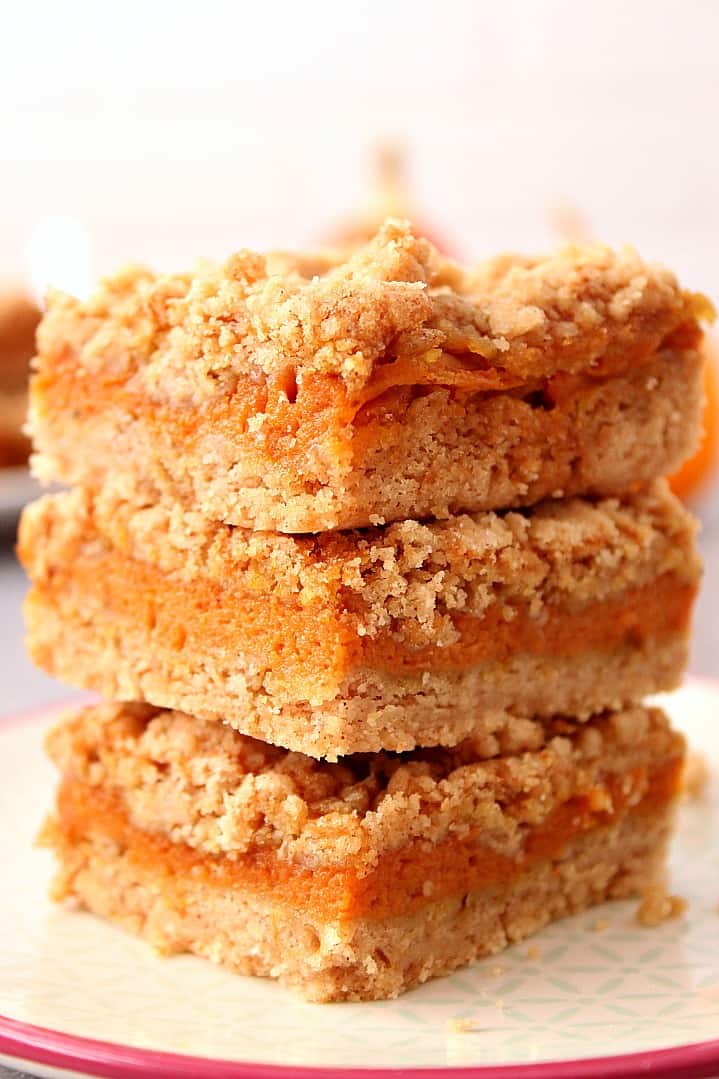 Pumpkin pie mix vs pumpkin puree:
Recipes for pumpkin desserts call for either canned pumpkin puree or canned pumpkin pie mix. You should not substitute one for the other and here is why. Pumpkin puree is just that - clean pureed pumpkin without anything added. Pumpkin pie mix has spices, sugar and milk added and most of the time you only need to add eggs to it and it's ready to be baked in a pie crust.
I bought a large can of pumpkin pie filling and used it to make this irresistible Pumpkin Cheesecake Dip. The rest was used to make these bars. If you are a huge fan of pumpkin desserts, go ahead and make both! You will love them!
More pumpkin recipes:
If you like this recipe and make it, snap a photo and share it on INSTAGRAM! Tag me @crunchycreamysweet so I can check it out and leave a comment! 😀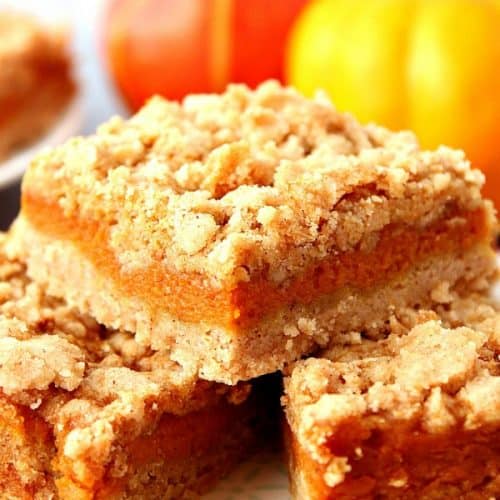 Easy Pumpkin Pie Bars
Easy dessert bars made with canned pumpkin pie filling and from-scratch crust and topping, that's made in one bowl. The cinnamon crumb topping is irresistible!
Ingredients
for the crust and topping:
½

c

unsalted butter melted

cooled to room temperature

½

c

light brown sugar

1 and ½

c

all-purpose flour

½

teaspoon

baking soda

½

teaspoon

baking powder

¼

teaspoon

salt

1

teaspoon

ground cinnamon

¼

teaspoon

ground cloves
for the filling:
1 and ½

cups

pumpkin pie mix

from a can, not puree

1

large egg

½

teaspoon

pure vanilla extract
Instructions
Prepare the 8" square pan by greasing the sides and the bottom. Line with parchment paper. Set aside.

Preheat oven to 375 degrees F.

In a medium mixing bowl, whisk together flour, brown sugar, soda, baking powder, cinnamon, cloves and salt.

Add melted butter and mix until crumbly dough forms.

Reserve about ¾ c of the mixture for the topping.

Press the remaining dough into prepared pan. Set aside.

Place all filling ingredients in a large mixing bowl of a stand mixer and mix until all combined.

Pour over crust.

Sprinkle with the topping mixture.

Bake for 28 to 32 minutes or until the topping is golden brown.

Cool completely in pan. Cut into squares.
Notes
Refrigerate leftovers in a covered container for up to 3 days.
For the best crumb topping, cool butter completely after melting. 
Nutrition
Calories:
145
kcal
|
Carbohydrates:
12
g
|
Fat:
10
g
|
Saturated Fat:
6
g
|
Cholesterol:
45
mg
|
Sodium:
146
mg
|
Potassium:
51
mg
|
Sugar:
11
g
|
Vitamin A:
340
IU
|
Calcium:
31
mg
|
Iron:
0.2
mg
This recipe was originally published on October 23rd, 2017 and updated on September 7th, 2019.