Monthly Favorites: May 2016 - my favorite things from this month!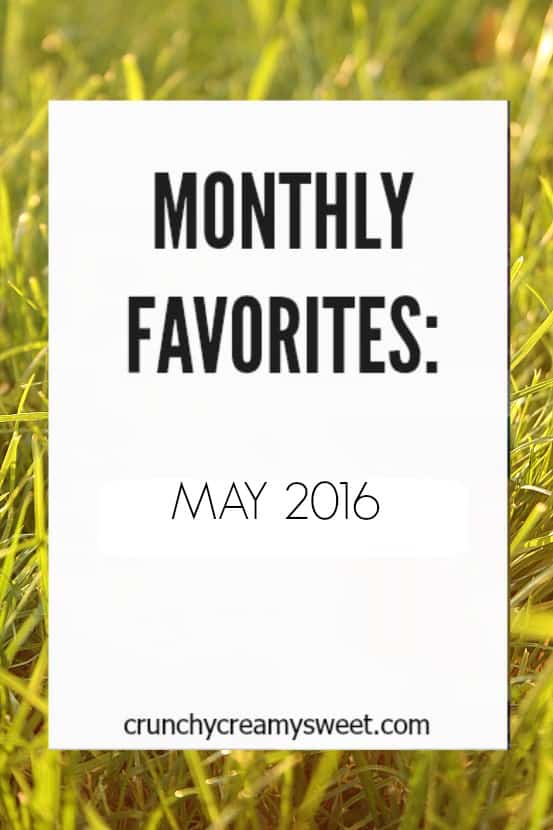 Hello, Friends! It's the end of the month which means it's time for another post about my Monthly Favorites!
In my Monthly Favorites series I share my current obsessions with food products, kitchen items, sometimes even home and beauty. You can see my first post, HERE. If you recently discovered a product and love it – tell me about it in the comment section below! I'd love to see it!
Today I will be sharing about the things I have been using  a lot this past month. The theme is summer (hence the vibrant green grass in sunset light in the main photo) and I am talking summer food, tools to make it easier and more fun and of course, I love to add a few non-food items too so we will be talking makeup and planners. 😀
1. Thermapen from Thermoworks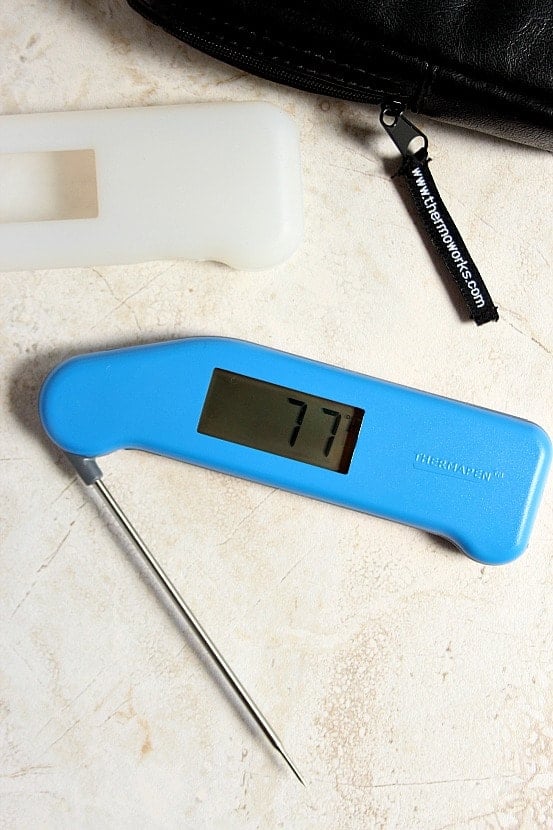 This product had to be the first on the list for this month because I am obsessed with it! Summer time means grill and BBQ time and one of the tools you need when cooking outdoors is a good meat thermometer. I received this one as a gift for Christmas from my aunt and I've used it mainly when cooking roasted chicken (check out my favorite recipe here) but this past month my Hubby has been cooking on the grill a lot and using the Thermapen every time. This thermometer turns on when you pull the pin out and turns off when you close it back. No buttons! It reads temperature of the air (yes! that's the temperature in our house right now!), water and any meat it is inserted into within 3 seconds and it's accurate to 0.7°F. It is water resistant. I got mine with a rubber protector in case it gets dropped or stained. I also have the black case with zipper for it.
I have the Classic Super-Fast Thermapen. The price of the Thermapen is  $79 on the ThermoWorks website (plus $3.99 shipping) and I know that it may seem like it's a lot but I've seen so many reviews from people who got it and says it's totally worth it. If you cook a lot and have been looking for a good thermometer - I highly recommend this one!
 2. Stonemill Essentials Spices (ALDI brand)
As someone who cooks a lot, I go through a lot of spices. One of my favorite brands for basic spices (not blends) is Stonemill and their Essentials line. I have pretty much all of the spices I can find in my local ALDI and I love them! They come in big containers (each is about 5.5oz) and go for $0.99! That is a huge value! I love love the garlic powder, cumin and cinnamon to name just a few. Highly recommended! 😀
 3. DeLallo Savoiardi Lady Fingers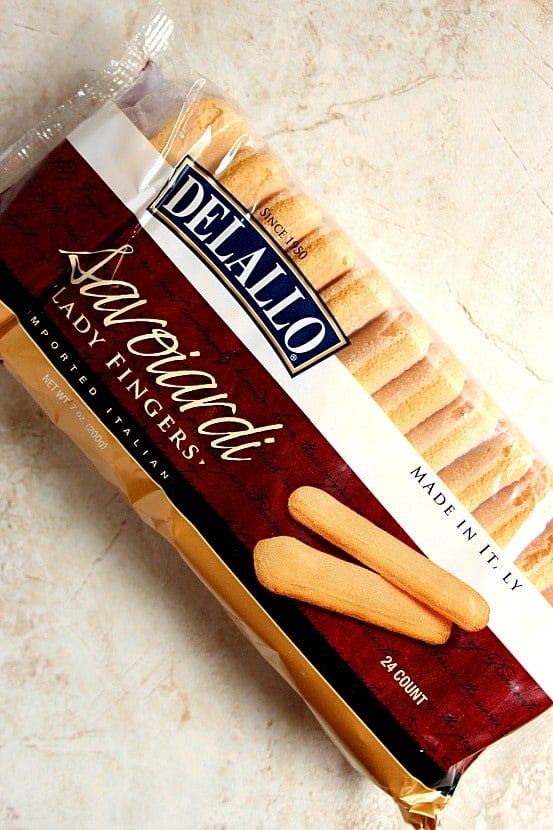 Did you know that DeLallo makes not only pasta but lady fingers too? I know!! As soon as I saw these at my local Kroger's store - I knew I had to have them! These cookies are made in Italy and taste absolutely amazing! Perfect for Tiramisu or to go with my afternoon latte. 😀
Retail price: $3.48 in Kroger stores or on Amazon, link HERE.
4. Le Creuset Platter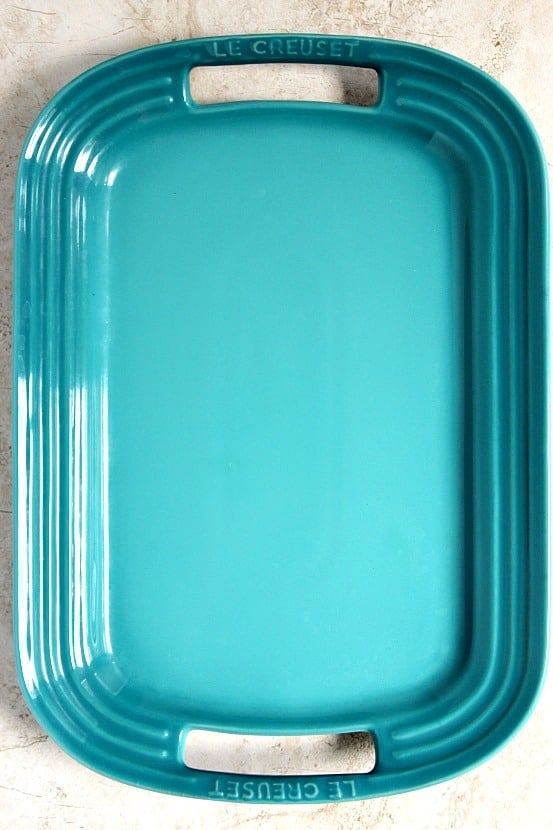 I've had this platter for about 2 years and it has a special place in my cupboard. This is a stoneware 12" oval serving platter from Le Creuset in one of their gorgeous (and also my favorite) color - Caribbean. I happily pull it out every summer to serve fresh fruit, cheeses and meat cuts, appetizers, chicken kabobs or ingredients for s'mores! When I pull it out, my family knows we will be enjoying a fun summer dish! 😀 It is a gorgeous piece to have for years to come!
Currently available on Amazon for $39.99, link HERE.
 5. OXO Pineapple Corer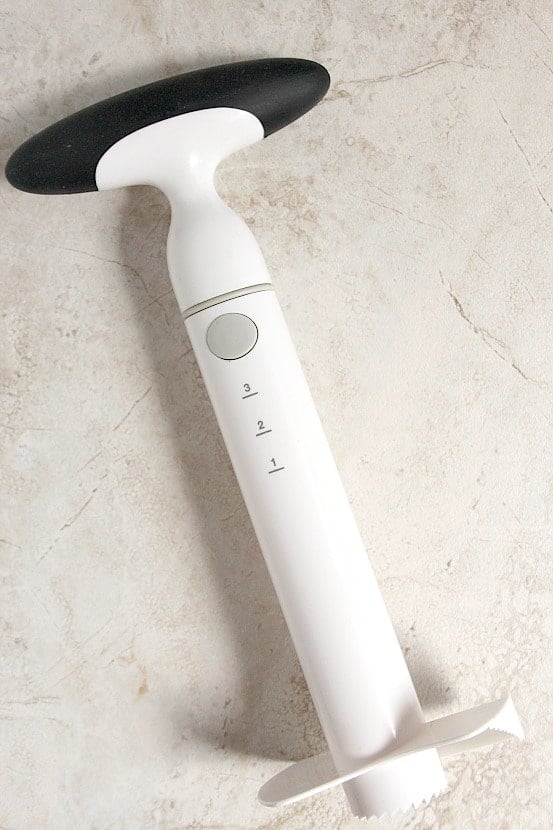 I mentioned this corer in my Pineapple Chicken Kabobs recipe post and I knew I wanted to include it in my Monthly Favorites. This is the OXO Good Grips Ratcheting Pineapple Slicer. The summer is almost here and I know we will be enjoying lots of fresh pineapples and I have to tell you this tool makes it so so easy to core it but also cut it into rings! Yes, two jobs in one in just minutes! My kiddos always love to watch my Hubby core the pineapple and then pull out the rings! I get to fill up the leftover pineapple shell with frozen slushies! YUM! 😀
It is available on Amazon for $9.99, link HERE.
 6. Glass bottles and jars
Summer time comes with fun food, that's for sure. Especially if you like to entertain, have kids or are a food blogger. Or all of the above! Glass Mason jars and small milk bottles are my favorite this time of year to hold paper straws, serve homemade lemonade in, you can even dress them up with colorful twine or bandanas for a theme party! I use Mason jars for salads, side dishes, frozen drinks or smoothies. So fun and so affordable! I get mine at Michael's when they are on sale for less than a dollar a piece!
 7. Milani Baked Blush "Luminoso"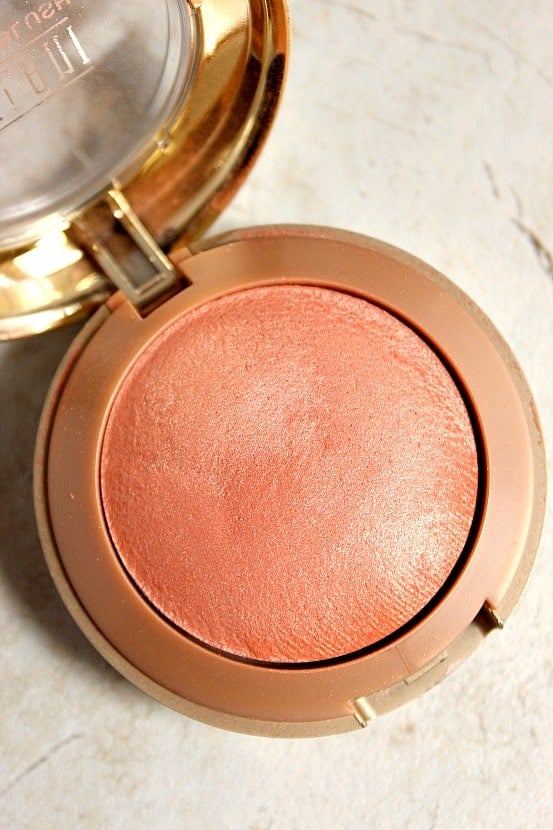 You know I had to throw in a makeup product into the favorites this month! And so it happens, it's another Milani product. This time it's their baked blush in shade called "Luminoso". I LOVE this blush! It's the one I use during summer because it has that gorgeous tan glow shade. It is shimmer blush which goes perfectly with a summer glow makeup. It is very pigmented and very affordable and the size is very nice. Highly recommended!
Available at many retailers as well as Amazon, link HERE.
 8. Memory Planner from Heidi Swapp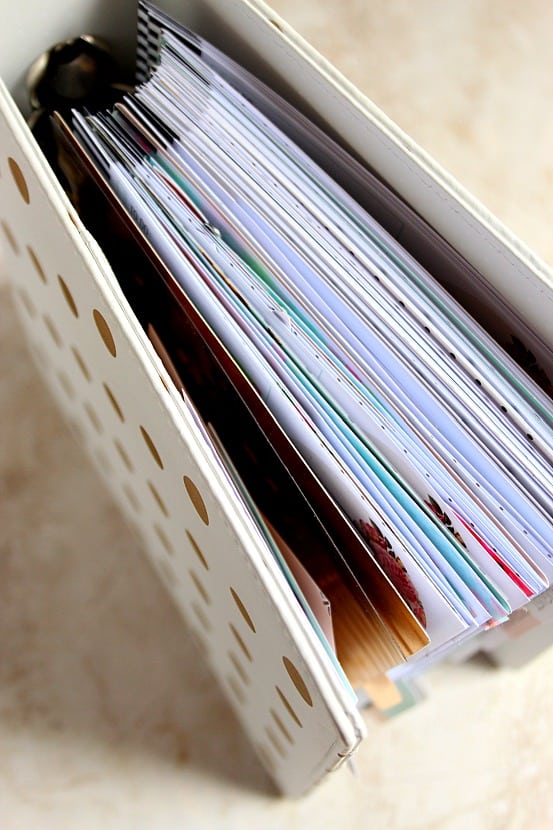 The planner craze that started this year totally sucked me in. I love pretty stationery, notebooks, journals and planners. The Memory Planner from Heidi Swapp is hands down my favorite. I have another one by a different brand  that I use for my blog stuff but I do not like the design and functionality nowhere near as much as I love this one. As soon as I am done with it, I will be getting Heidi's new planner for everyday tasks. This Memory Planner is designed as sort of a diary of daily happenings and a planner in one. It is gorgeous in and out. The cover is padded and mine has gold foiled polka dots on a white background. It holds 8 x 6" pages and there is a whole collection of add-ons created for it (stickers, journal pads, quote cards, photo pocket pages, washi tape and many more!). I have been documenting our memories in this planner since March, when I got it. Each month has a tab divider with an inspirational quote and each page has Heidi's signature black and white stripes edge. This planner has a page for monthly goals, month at a glance, each week is spread on two pages (love that!) and each month ends with a page "That was the best" where you can sum up the past month. I decided to include this planner in my Monthly Favorites because summer time is here and a lot of memories are created during this time of year. Trips, adventures, simply sunny days - you want to capture it all. If you are looking for a planner and a memory keeping system - I highly recommend this one!
This planner is available at Hobby Lobby and Michael's as well as Amazon, link HERE.
9. SnapChat Filter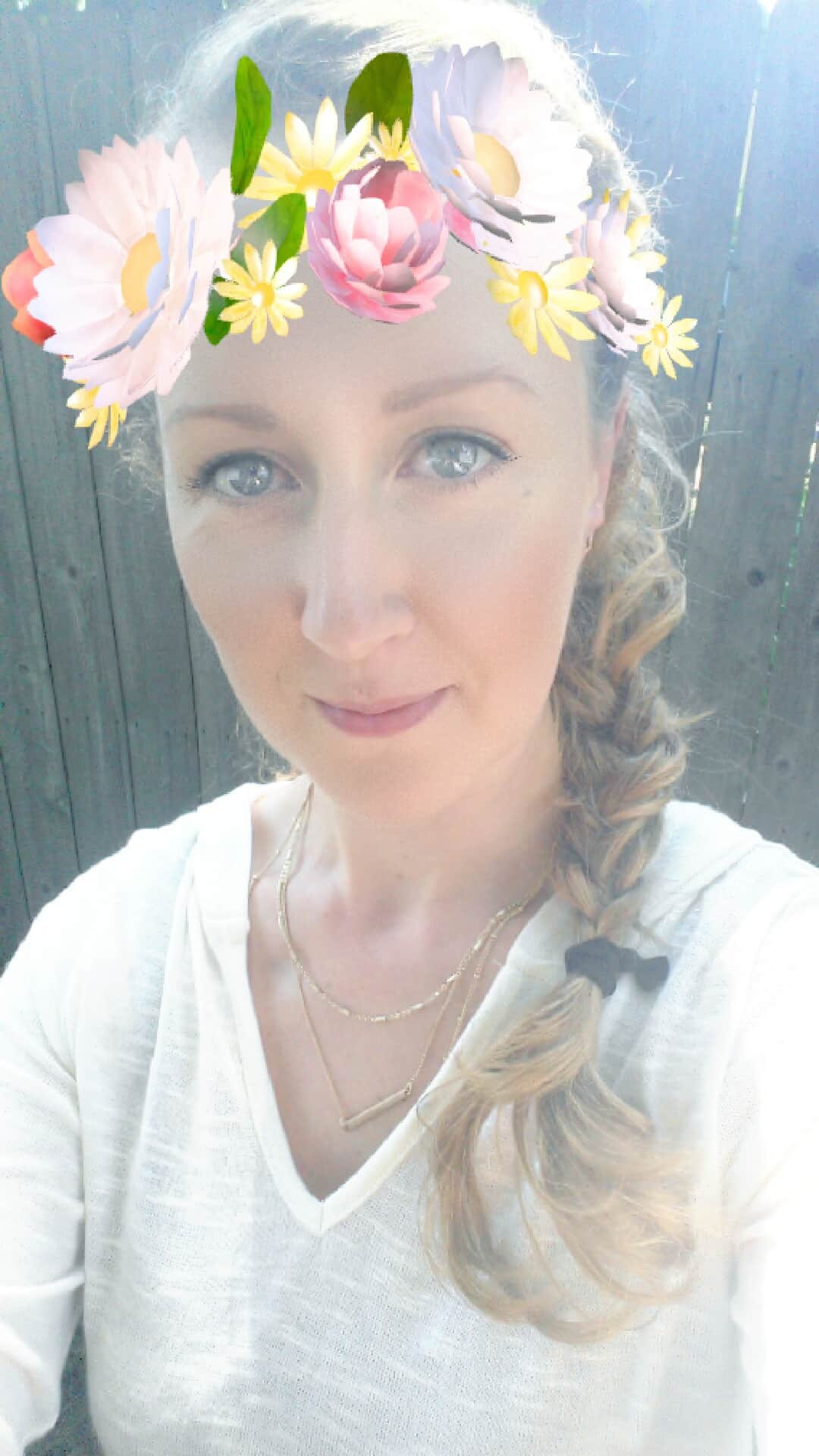 And just for giggles, I am including my favorite SnapChat filter ever: the flower crown! First, it has a gorgeous skin-smoothing glow. Second, the crown hides my big forehead so yay for more selfies! lol
Are you on SnapCham...chat? Follow me there -> crunchycreamysw for behind the scenes!
~~~~~
That's it for this month's favorites! I hope you found some new things to check out or saw the ones you love too! Let me know what are you obsessing with this month!
Have a beautiful day, everyone!
~~~~
~~~~
Disclosure: This post contains affiliate links. If you purchase something on Amazon through my link, I will make a small commission. There is no additional cost to you. Thank you!