Holiday Gift Guide 2018 - a collection of my favorite products from this year that would be perfect as gifts this holiday season!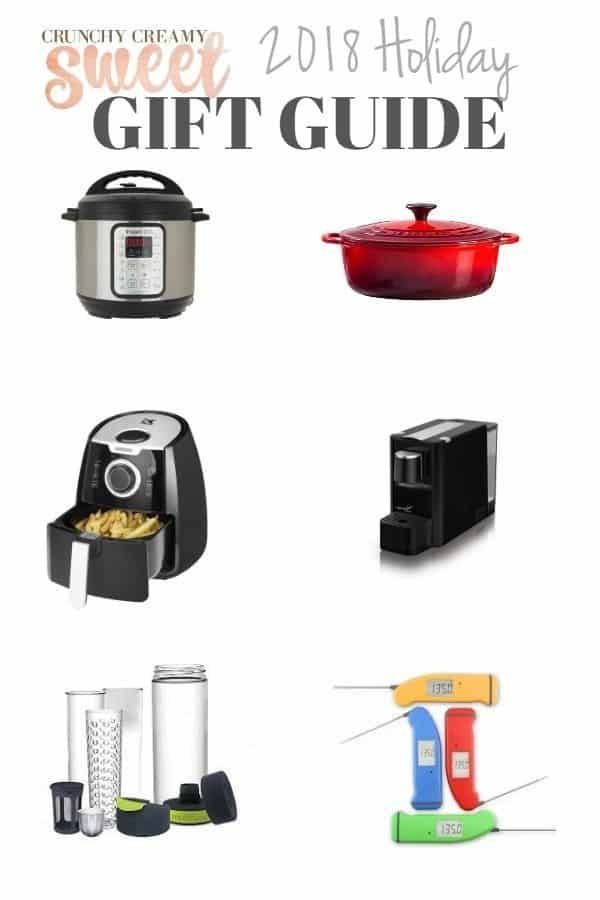 The holiday season of 2018 is here! Not only it's time to make our favorite Christmas cookies, decorate the mantel with fresh fir, dress up the Christmas tree, change the wreaths on the front door from fall to Christmas theme but it's also time to check our gift lists and start crossing them off. Here is my collection of products I tried this year and love.
So whether you are going to brave the cold and visit the mall or shop online, consider these products as gifts for your loved ones or for your personal wish list. I will be avoiding crowds and taking advantage of modern technology aka shop on my laptop while lounging on a couch and watching Netflix.
2018 HOLIDAY GIFT GUIDE
Instant Pot - hands down my favorite small appliance EVER. Don't believe me? Just search "Instant Pot recipe" on my blog. This product changed the way I cook and prep our meals. You really NEED one!
Le Creuset Dutch oven - my favorite cast iron cookware ever. If you need to choose just one, definitely get the Dutch oven. It will last you forever and it comes in so many gorgeous colors, it will be a showstopper in your kitchen.
Espressotoria System - the best at-home espresso machine I've ever tried. For so many reasons! It is compact and does not take much space on the counter, it's not loud, does not have too many buttons. It's simple, yet makes the BEST cup of coffee that tastes just like the one from a fancy cafe.
Multiflask Beverage System - The Multiflask 7-in-1 that can be used as a regular water bottle, fruit flavored water bottle, a shaker bottle for milkshakes and smoothies, hot tea bottle thanks to a basket for tea leaves, hot coffee, hot or cold thermal bottle or a cold brew maker.
Air Fryer - a perfect small appliance for those who want to eat healthier and cook food faster (fries in half the time? Yes, please!). Search Amazon for the best model for you.
Personalized cutting board - perfect gift for the cook in your family. Personalized board takes a simple gift to a thoughtful present. Check Etsy for personalized kitchen items.
ThermoWorks Thermapen - my favorite digital thermometer. Perfect for making sure that Instant Pot Turkey is done!
Matching mommy and daughter aprons - cute gift ideas for those baking sessions with little ones.
Sheet pan sets - every home cook or baker loves brand new, shiny sheet pans.
Copper measuring cups - forget the plastic cups. Copper measuring sets are gorgeous!
Kitchen towels with quotes - fund idea to add pizzazz to any kitchen.
Instant Pot accessories - for the IP lover in your family. Anything from a glass lid, silicone egg mold to steamer basket will make them scream from joy!
Don't forget to use Ebates to get cash back on your online purchases. It's super easy and during the holidays often the cashback doubles. Score!
More product recommendations and favorites: