Monthly Favorites May 2018 - my favorites for the month of May include the best espresso machine, water bottle, makeup items and the most delicious loaf of bread.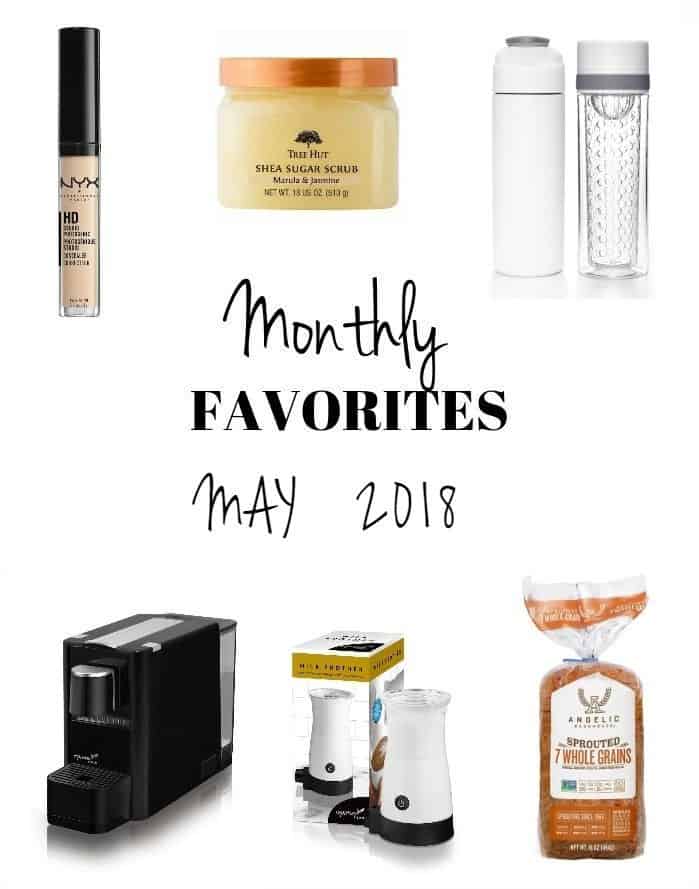 In my Monthly Favorites series I share my current obsessions with food products, kitchen items, sometimes even home and beauty. You can see my first post, HERE. If you recently discovered a product and love it – tell me about it in the comment section below! I'd love to see it!
1. Espressotoria System
I am so excited to tell you about this machine! The Espressotoria System is the best at-home espresso machine I've ever tried. For so many reasons! It is compact and does not take much space on the counter, it's not loud, does not have too many buttons. It's simple, yet makes the BEST cup of coffee that tastes just like the one from a fancy cafe. That's not all! The coffee itself is absolutely delicious! I tried Latte, Brazilian and Espresso and we love them all. The machine comes with a little sheet with recipes for all of your favorite styles: espresso, Americano, Latte, Flat White, Cortado, Cappuccino and even Iced Latte. But that's not all! You can get a milk frother that attaches to the machine with a base and makes perfectly frothed milk in just seconds, hot or cold. It even froths my almond milk! I absolutely love it!
Right now, if you buy 6 packages of the coffee capsules you get the machine for FREE! This offer is available at Walmart. You can learn more on Espressotoria website.
Disclosure: I was not paid to share this offer. I received the machine for free to try and since I love it, I wanted to share about it.
2. Multiflask 7-in-1 Travel Beverage System
We are staying on the subject of drinks, but moving into water this time. I was recently sent a water bottle like no other. The Multiflask 7-in-1 that can be used as a regular water bottle, fruit flavored water bottle, a shaker bottle for milkshakes and smoothies, hot tea bottle thanks to a basket for tea leaves, hot coffee, hot or cold thermal bottle or a cold brew maker. That is a lot for one bottle! I love that it's easy to clean and has a soft silicone spout. Learn more about it on the Multiflask website.
3. Tree Hut Marula & Jasmine Sugar Scrub
You may know by now that I am a huge fan of Tree Hut products. I talked about them in my previous Monthly Favorites. Recently, I found one that is just perfect for summer: Marula & Jasmine. It's sweet and floral and smells like tropical vacation.
4. NYX Professional Makeup Concealer
I think I finally have a good coverage concealer in my makeup collection. I found the NYX Professional concealer on Amazon and after reading the reviews, I decided to give it a try. It's light on the skin yet covers dark circles. It does not crease on my skin and does not irritate my eyes. Winner!
5. JETech Phone Screen Protector
I know I am not alone when I say, I've been through a lot of phone screen protectors. Pretty much all of them end up with bubbles  or not reaching from edge to edge. Recently, I got so tired of my screen protector looking quite shaggy that I went on a mission to find a perfect one for my Samsung S6 Edge. And I totally did! JETech on Amazon has the best ones out there, in my opinion. The package includes 2 screen protectors, a cleaning cloth to help remove even tiniest dust particles and a squeege that is super helpful when applying the screen. Just don't let the instructions throw you off. I was a little confused at first but eventually the screen when on perfectly and now you can't even tell there is one on my phone.


6. Angelic Bake House
If you are a fan of whole grain breads with lots of texture, you have to try the Angelic Bake House products! I was sent a package full of their goodies and I am hooked. Their Sprouted 7 Whole Grain Bread is definitely the most delicious store-bought bread I've ever had. I enjoy it almost every day with a mashed or sliced avocado for breakfast.
~~~~~~~~~~~~~~
That's all of the products that made my Favorites in the month of May. I hope you found some new ones to try and if so, let me know in the comments below! What are you obsessing with this month?