Monthly Favorites: June 2016 - my favorite things from this past month! 
It's this time again! Time for the Monthly Favorites!
In my Monthly Favorites series I share my current obsessions with food products, kitchen items, sometimes even home and beauty. You can see my first post, HERE. If you recently discovered a product and love it – tell me about it in the comment section below! I'd love to see it!
In the month of June I discovered new products, I was introduced to new subscriptions and now it's time to share about it with you guys. This time it looks like I have more random things than food but let's start with pasta. 😀
1. Ronzoni Gluten Free Pasta 
I am obsessed with this pasta! In the month of June I partnered with Ronzoni to create a recipe using their gluten free pasta. I had five kinds to choose from: spaghetti, thin spaghetti (it reminds me of angel hair), rotini, elbow and penne. In the end I went with penne but since then I have used all of them in different dishes and honestly, I can't choose a favorite! They are all so good! This pasta tastes like white pasta, looks like white pasta, has more gentle texture and cooks faster. My pasta is now cooked faster than my sauce with add ons! This pasta is a healthier option for pasta lovers and tastes incredible! To learn more about this product and grab my recipe for a delicious meatless option for you weekly menu, see THIS POST.
2. Old El Paso Mini Taco Boats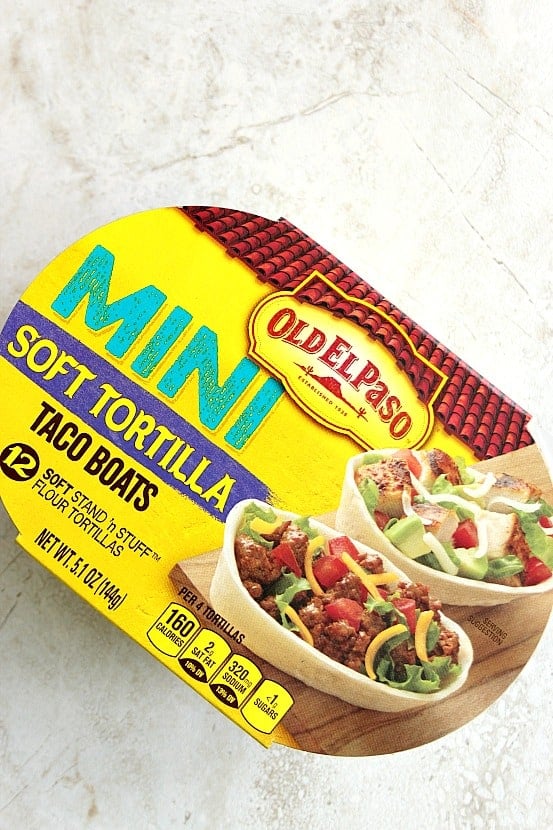 Mini Taco Boats from Old El Paso. This product blew my mind. I mean, come on. Mini taco boats. As in tortillas shaped into boats, that you can fill like tacos. Woah. All props go to my Hubby that came home one day from a quick run to the store and aside from regular taco shells brought a box of these taco boats (both regular size and mini). You bet we had the boats for dinner that night! Our kids loved the idea so much, we ended up making boat masts from lettuce and toothpicks! Do it - so much fun! I called dibs on the mini boats as I had a vision of a super easy dessert idea for summer that would be served in them. Stay tuned for that one! 😀
The Old El Paso taco boats are available nationwide.
3. Pie Face Challenge! 

If you have kids or grandkids, you will love this! My girls filmed a video for our oldest daughter's YouTube channel. Kids are taking over YouTube with a ton of different challenges and this one just seems so much fun, we had to try it! Our girls did the Pie Face challenge and I just have to share about it with you guys! It came out so funny and they had a blast! I hope you check it out and share it! 😀
4. PetMoji
Our kiddos are extremaly excited for the "Secret Life of Pets" movie to come out and I am loving the trailers! It looks like it will be one hilarious movie! Recently, I found out about a website MyPetMoji.com that lets you create an emoji of your pet! There is so many different options and it's super fun! On the picture above is our yorki, Laika! So cute! 😀
5. POPSUGAR Must Have box
This past month, I had a chance to try the POPSUGAR Must Have box and two items that were in the box have to be in my Monthly Favorites. One of them are the thin and crispy pretzel chips called Pressels from Dream Pretzels. My Hubby and I tried the Sriracha Pressels and boy, are they good! They are not super spicy but definitely have a kick! I haven't seen them in my grocery stores but you can get them on Amazon, HERE.
The seconds item is something I didn't expect to like at all. I am talking about the  Underarm Deodorant Wipes from Pacifica. They have a coconut milk and wait for it.... kale extract! Pacifica makes a lot of different wipes, like coconut water cleansing wipes, hand and body lotion wipes and others. The underarm deodorant wipes are an interesting concept to me. As soon as you remove the wipe from the package, the scent is really strong. It's herby, with a hint of citrus, earthy. You may think it will stay like that on your skin but it doesn't! I honestly can't smell it at all but the skin feels great. Now that the days are so hot and sweating is unavoidable, these wipes are perfect to throw into a bag for a road trip, trip in the city or to the beach! You can find Pacifica wipes on Amazon, HERE.
6. Simply Nature Squeezable Fruit Blend
This is a new to me product however I don't think it is new to the store. I have been looking for a good, healthy option in the fruit squeezes as it's something I would like to have for my kiddos when we are busy running errands, go on road trips (which what summer is all about), active days outdoors or even for lunch boxes during school year. There is no high fructose corn syrup in these pouches. They are nut and dairy free. They taste so good!
This product is available at ALDI's stores. I payed $1.79 for a box.
~~~~~
That's it for this month's favorites! I hope you found some new things to check out or saw the ones you love too! Let me know what are you obsessing with this month!
Have a beautiful day, everyone!
~~~~
Disclosure: This post contains affiliate links. If you purchase something on Amazon through my link, I will make a small commission. There is no additional cost to you. Thank you!