Instant Pot Cheesecake is the best creamy and irresistible vanilla cheesecake with cherry pie topping. Perfectly cooked in the pressure cooker!
Instant Pot can be used to make delicious desserts! This cheesecake is my favorite, but the Instant Pot Chocolate Lava Cakes are amazing too. Cheesecake fans will love my Caramel Apple Cheesecake.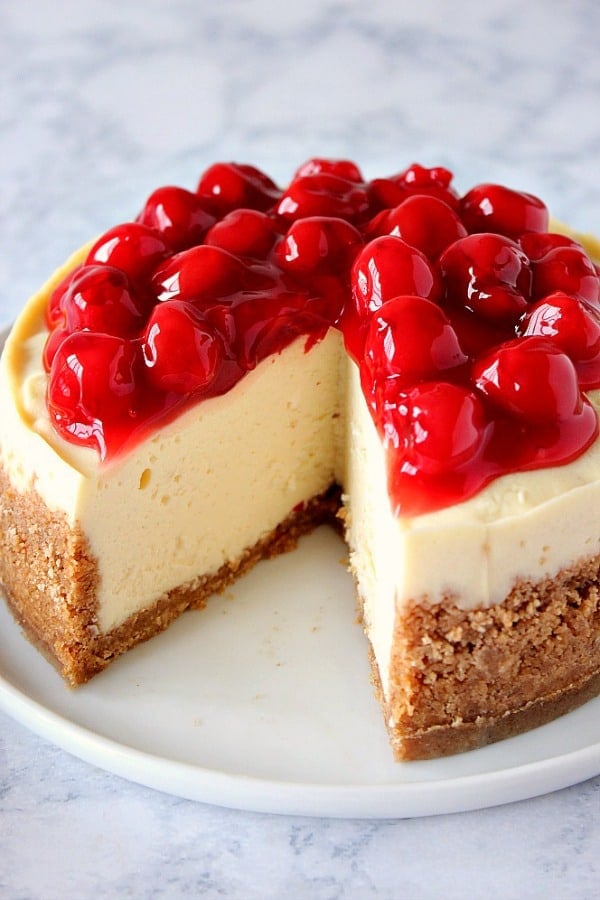 One of my favorite and most impressive things to make in the Instant Pot pressure cooker is definitely cheesecake. You see, cheesecake is my thing. It's our favorite dessert and over the years, I perfected my go-to recipe. Even my crust is perfect. It doesn't crumble and fall apart. The fact that I can make an absolutely perfect creamy and light cheesecake in my IP, blows my mind every time.
This Instant Pot Cheesecake is so easy to make, you don't need any special tricks to make it, each slice is tall and creamy and the whole thing is gorgeous topped with cherry pie filling. My fail-proof crust lets you lift the whole cheesecake off the pan!
Ingredients:
graham crackers
butter
granulated sugar
16 oz. cream cheese
eggs
flour
sour cream
vanilla extract
pie filling for topping (I used cherry)
Kitchen tools needed:
Instant Pot (I used my 6 qt Ultra)
trivet (it comes with your Instant Pot)
7" springform pan
hand mixer
mixing bowls
spatula
Instructions:
Start with the crust. Combine all ingredients in a mixing bowl, then press it down and up the sides of your springform pan. Place the pan with crust in the freezer while you make the filling.
To make the filling: combine all ingredients to make a smooth batter. Pour over prepared crust and smooth out the top.
Place trivet in your IP, add 1.5 cups of water and place the pan with cheesecake on a trivet.
Close the IP, set the valve to "sealing" position and press the "manual" setting. Set timer to 30 minutes.
Once the timer is done, let the IP release the pressure naturally.
Carefully open the lid and let the remaining steam escape. Use a paper towel to gently blot the surface of the cheesecake from any additional condensation.
Cool the cheesecake completely, then chill in the fridge for at least 4 hours, preferably overnight.
Top with filling before serving.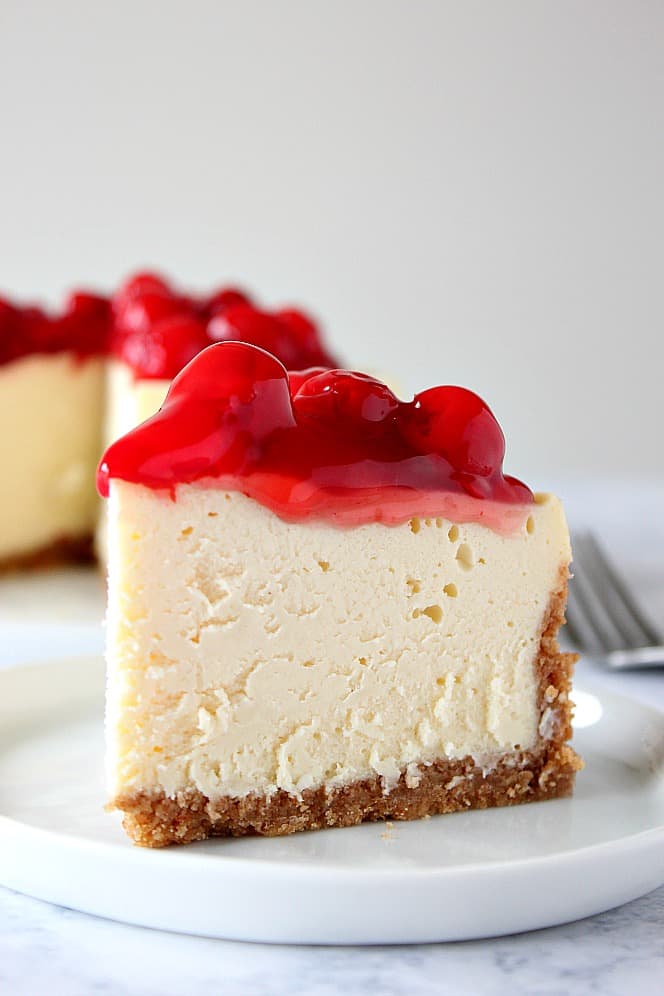 Storing:
Any leftovers should be refrigerated for up to 3 days.
What size springform pan fits in the Instant Pot?
The pan size depends on the size of your Instant Pot.
If you have a 6qt Instant Pot, you will need a 7" round springform pan.
If you have 8qt Instant Pot, the standard 8" springform pan should fit.
Best tips:
the crust - My crust recipe is fail-proof and is important for a beautiful cheesecake as a base for each slice. You can prebake it or freeze it for 10 minutes, while you are making the batter.
add flour and sour cream - Both ingredients are important for the best texture of the cheesecake. It will be creamy, light and won't underbake.
removing condensation from the surface - Baking cheesecake in the IP involves steam so you will have condensation build up on the surface of the cheesecake. You can cover it with aluminum foil before cooking, but I like to avoid using foil. All you need is a paper towel and gently blot the surface of cooked cheesecake to absorb the moisture.
cooling before chilling - It is very important to cool the cheesecake completely after baking. Then place it in the fridge to chill. The cheesecake will be best if you let it chill overnight. Plan ahead!
Flavors and toppings ideas:
pie fillings: You can use any pie filling you like to customize this recipe. I used cherry pie filling.
fresh fruit
caramel sauce
sour cream mixed with granulated sugar and vanilla extract
sauteed apples with caramel sauce
chocolate ganache
add 2 oz. of chocolate (melted) to the batter for a chocolate cheesecake
swirl caramel sauce in the batter before pressure cooking
add lemon zest for lemon cheesecake, and top it with fresh blueberries or blueberrie pie filling
use any cookies you like to make the crust (Oreos, gingersnaps, etc.)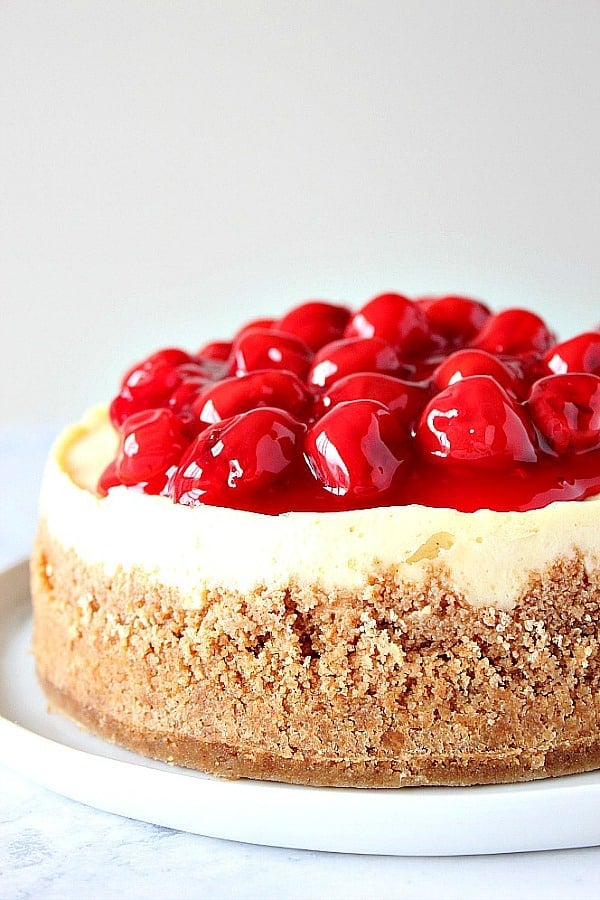 More cheesecake recipes:
Check out my Instant Pot Guide for Beginners, filled with all the info you need to get started with your new appliance!

If you like this recipe and make it, snap a photo and share it on INSTAGRAM! Tag me @crunchycreamysweet so I can check it out and leave a comment! 😀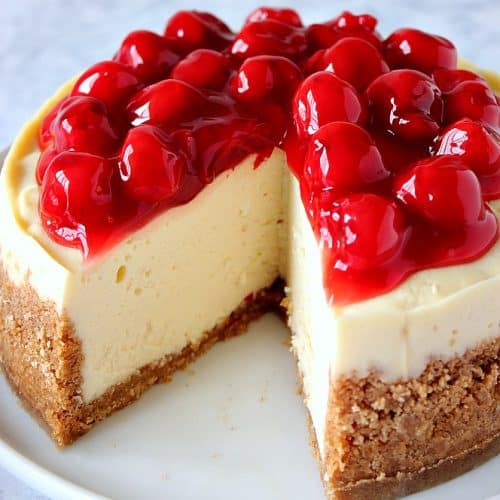 Instant Pot Cheesecake
The best creamy and irresistible vanilla cheesecake with cherry pie topping. Perfectly cooked in the pressure cooker!
Ingredients
for the crust:
1

cup

graham cracker crumbs

2

teaspoons

granulated sugar

4

tablespoons

unsalted butter

melted
for the cheesecake:
16

oz.

cream cheese

softened (see note)

½

cup

granulated sugar

2

large eggs

room temperature

4

tablespoons

all-purpose flour

4

tablespoons

sour cream

2

teaspoon

pure vanilla extract

1.5

cup

cherry pie filling
Instructions
Make sure the stainless steel insert is in your IP. Set trivet inside, add 1.5 cups of water to the bottom of the insert.

To make the crust, combine graham cracker crumbs, sugar and melted butter in a mixing bowl. Stir with a fork. Sprinkle on the bottom of the 7" springform pan. Use a flat-bottom glass to press the crust onto the bottom and up the sides. Not all the way, but about ¾ up the sides of the pan. Place pan with crust in the freezer while you make the batter.

In a large mixing bowl, beat cream cheese with a hand mixer for 30 seconds. Add sugar and mix well.

Add eggs and mix just until combined. Do not overmix.

Add flour and sour cream to batter and mix just until combined. Add vanilla and stir in with a spatula.

Pour the cheesecake batter over the prepared crust. Place pan carefully on the trivet in your Instant Pot. Close the lid and set the valve to "sealing" position. If you have a newer version of the Instant Pot, you don't have to do that since the lid does it as you close it.

Make sure your IP is set to cook on high pressure. Press "manual" setting and set timer to 30 minutes. The IP will beep after a few seconds and it will start cooking.

Once the timer is up, do not release pressure but let it release naturally. When the valve dropped, carefully open the lid away from your face and let any remaining steam escape. Using a paper towel, gently blot the surface of your cheesecake from any built up condensation. Let cheesecake cool for 5 minutes, then remove carefully from the IP.

Let the cheesecake cool completely, then place in fridge to chill for at least 4 hours, to overnight.

Top cheesecake with pie filling before serving. To cut perfect slices, clean the knife after each cut.
Notes
To make the cheesecake, you need 16 oz. of cream cheese. That is 2 8oz. packages. Make sure they are softened very well.
Use a long sharp knife (like chef's knife or utility knife) to loosen up the crust from pan, then gently slide it onto a serving plate or a cake stand.
The leakproof pans do not have a rim around and it helps to lift the cheesecake. See my post for a product recommendation.
The cheesecake is not too sweet and it pairs perfectly with a rich topping. Keep that in mind.
Since some readers said it does not have enough flavor by itself (without topping), I increased the amount of vanilla in the recipe from 1 teaspoon to 2 teaspoons. 

Please note, that the nutrition value can vary depending on what product you use. The information below is an estimate. Always use calorie counter you are familiar with.
Nutrition
Calories:
511
kcal
|
Carbohydrates:
58
g
|
Protein:
6
g
|
Fat:
28
g
|
Saturated Fat:
15
g
|
Cholesterol:
121
mg
|
Sodium:
292
mg
|
Potassium:
237
mg
|
Fiber:
1
g
|
Sugar:
17
g
|
Vitamin A:
1260
IU
|
Vitamin C:
4
mg
|
Calcium:
91
mg
|
Iron:
1.3
mg
This recipe was originally published on October 17th, 2018 and updated on October 5th, 2019.