Learn how to make a Perfect Cheesecake every time! I am sharing my 10 secrets for the best creamy cheesecake and how to keep it from cracking.
I use this classic cheesecake recipe for my Orange Cranberry Cheesecake and the Caramel Apple Cheesecake.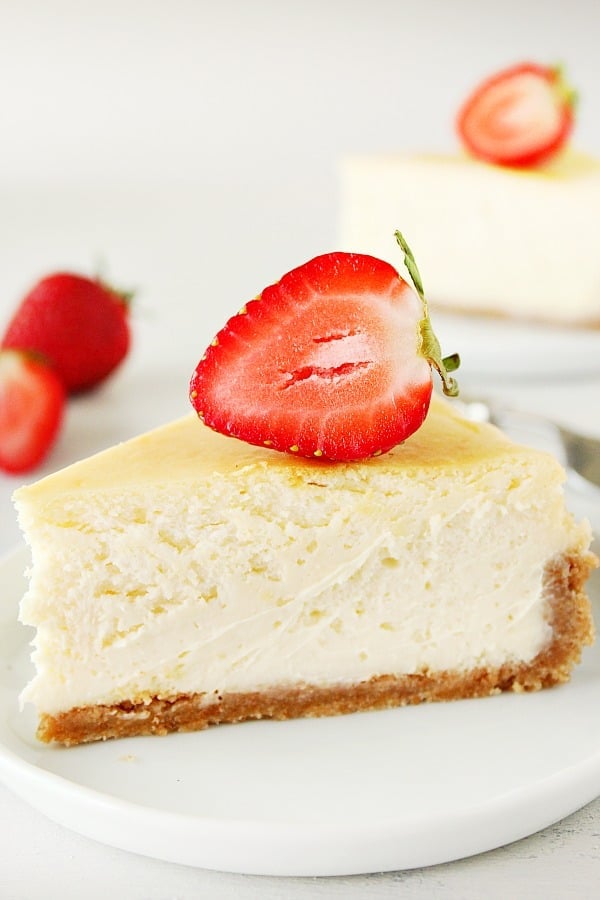 It took me a few years and many, many cheesecakes to finally learn all the secrets to creating the perfect one each and every time. Mind you, even if there is a crack or crumbling crust - your cheesecake will still be delicious. But if you are committing your time and money to such a time consuming and decadent dessert - might as well make it perfect. Have you ever had the pleasure of baking a cheesecake and pulling out a no-crack-top beauty out of the oven? It's like angels sing and confetti is flying around you! Definitely a baking success worth bragging about and showing off!!
Ingredients (your shopping list):
cream cheese
sugar
graham crackers
butter
sour cream
flour
eggs
vanilla extract
milk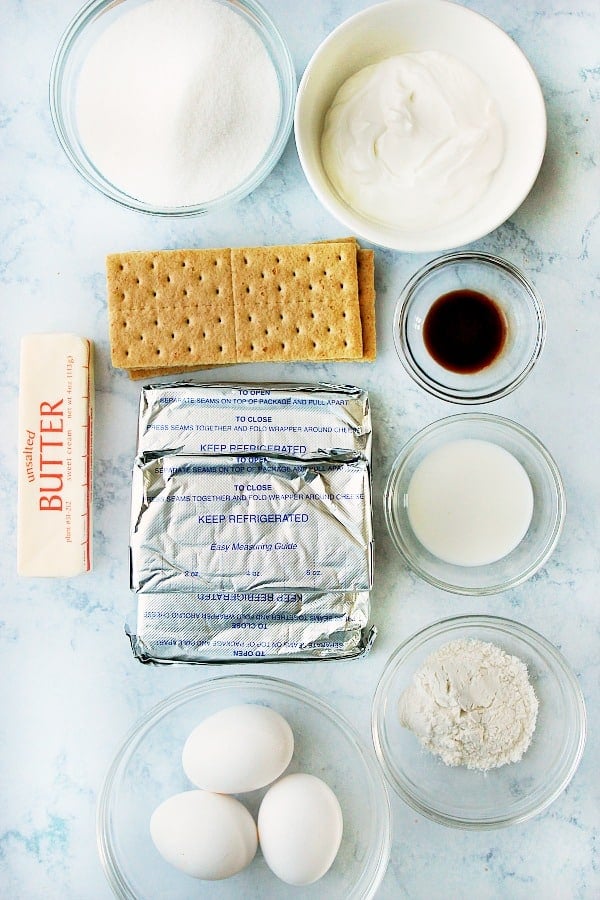 The perfect cheesecake should be:
smooth
creamy
melt in your mouth with every bite
with no crack
with no crumbling crust.
It has to look fabulous and taste absolutely amazing.
Step by step instructions:
This classic cheesecake recipe is very easy. It makes the best, creamy and smooth vanilla cheesecake, with a perfect no-crumbling crust.
Step 1: Prepare the Pan
Trace the pan on a sheet of parchment paper and line the bottom of your springform pan. This will help with removing the cheesecake from the pan. Simply slide a knife under the parchment and remove the cheesecake from the bottom of the springform pan.
Wrap the bottom of the pan with aluminum foil, to prevent the water from water bath from getting into the pan.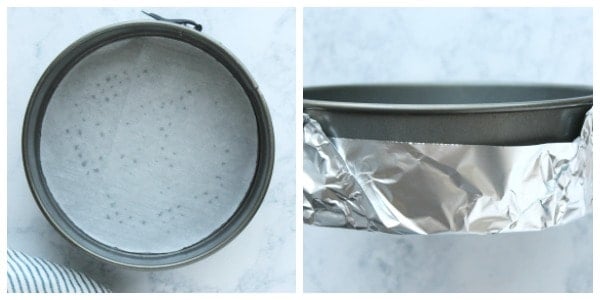 Step 2: Make the Crust
Combine graham cracker crumbs, sugar and melted butter in a mixing bowl. Press it into the bottom and up the sides of your pan. Using a flat bottom measuring cup is very helpful here.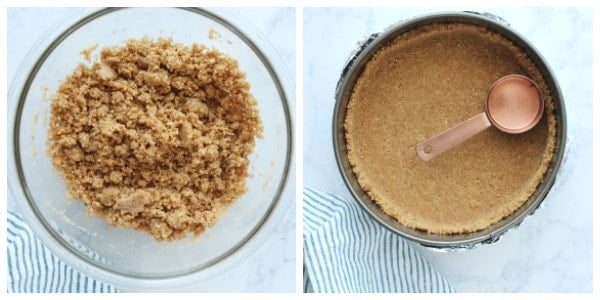 Step 3: Make the batter.
Beat cream cheese until creamy. Add sugar and mix in. Add flour, sour cream and vanilla and mix in well.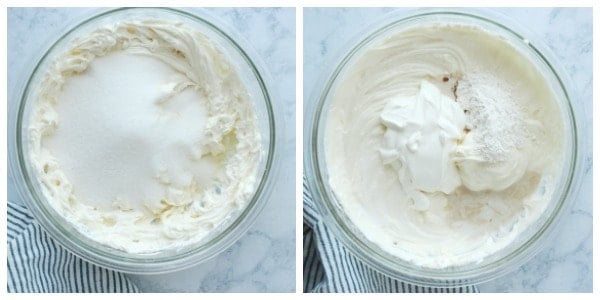 Step 4: Bake the cheesecake.
Add beaten eggs to the batter and mix in on low speed, just until incorporated. Pour the batter into prepared pan and set in a roasting pan. Add hot water to the pan and place the cheesecake in the oven.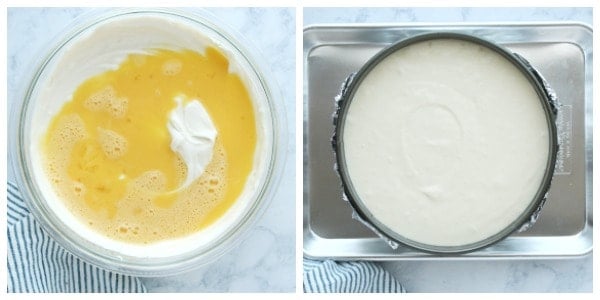 Expert tips:
So what are the secrets to a perfect cheesecake? Well, let's go through all 10 of them. I promise it's easier than you may think!
1. Baking the cheesecake in a water bath.
This is the secret to a no-crack top! It will require you to add about 5 minutes to a preparation time but it is so so worth it. Line the springform pan with two sheets of aluminum foil and place the pan in a roasting pan. Boil 2 cups of water and when the cheesecake is ready for baking, pour enough water into the roasting pan to come up at least an inch up the sides but not too high so it won't go over the foil and flood your cheesecake. You can refill the water after the first 50 minutes of baking.
2. Always use a springform pan.
I can't imagine trying to get the cheesecake out from a regular cake pan or a pie pan. It would be a mess! A springform sides help you release the cake from the pan so you can show off the cake and also perfectly slice it.
3. Softened cream cheese for the smoothest texture.
The cream cheese should be very soft. You should need a knife to scrape it off the silver wrapper. If your cream cheese is not soft enough, you will end up with small chunks of it in the batter and the texture won't be smooth. If you are making a chocolate or pumpkin cheesecake and you can see small white dots in each slice, it means the cream cheese was not soft enough.
4. Cream cheese to eggs ratio.
If you look at all the great cheesecake recipes, you will notice that the cream cheese to eggs ratio is 1:1. Which means that if you are using 3 8oz. packages of cream cheese - you should use 3 eggs. This is your secret to a perfectly rich, dense and creamy cheesecake!
5. Perfect graham cracker crust for a cheesecake.
This is your secret to a perfect flat crust that will come of in one piece when slicing the cheesecake. You do not want half the crust from your piece to be stuck to the pan. You want the crust to be perfectly flat (no hills) to make an ideal base for the filling. For every 1 and 1/2 cups of cookie crumbs (traditionally graham cracker crumbs, but also gingersnaps, Oreo's, even Ritz crackers!), you should use 1/2 cup of butter, melted. I highly recommend this ratio for 8 or 9 inch cheesecakes. In years of experimenting, I find it to be perfect. It's not too much to be stuck in the corners and enough to make a sturdy base for your filling. Pre-baking the crust for 7 to 8 minutes, will harden it enough which prevents it from crumbling while slicing the cake. To make 1.5 cups of graham cracker crumbs, you will need 10 sheets with 4 crackers each, attached to each other.
6. The addition of flour and Greek yogurt.
It may sound strange, but you do want to add a little bit of flour and some Greek yogurt (or sour cream) to your batter. It will help with the smooth texture and perfectly creamy end result. I usually use only 2 tablespoons of all-purpose flour in my cheesecakes.
7. The oven temperature.
Go low and slow. The cheesecake needs time to bake. Do not hurry it! It's not cookies. Bake your cheesecake in 325 degrees instead of 350 degrees or 375 degrees. It will prevent it from over-baking and burning the top. You need to adjust the time to the size of your pan. I usually bake my cheesecakes in 8" springform pan for 1 hour and 20 minutes in 325 degrees. You can also use a 9" pan and bake for 1 hour and 5 minutes, add more minutes if needed.
8. Cooling the cheesecake in the oven for 1 hour after baking with the door slightly open.
After the timer beeped on your stove to inform you that the baking time has ended, turn the oven off, open the door and stick a wooden spoon in it to leave it slightly open. Leave the cheesecake in the oven in these conditions for 1 hour. This is another secret to a no-crack top!
9. Loosening the sides with a knife, yet not taking the ring off.
After the cheesecake has cooled in the oven for 1 hour, slide a knife around the sides to loosen them up. Do not take the springform pan ring off. If you don't loosen the edges, the cheesecake will pull away during cooling and that will cause a crack. Chill the cake in the pan. This is your secret to a crack-free cheesecake!
10. Chilling, chilling, chilling! 6 hours to overnight.
Chilling the cheesecake is absolutely crucial. This is your secret to a perfectly smooth, dense and creamy texture! I always try to plan ahead while making a cheesecake for any occasion so I can chill it overnight. It makes a huge difference!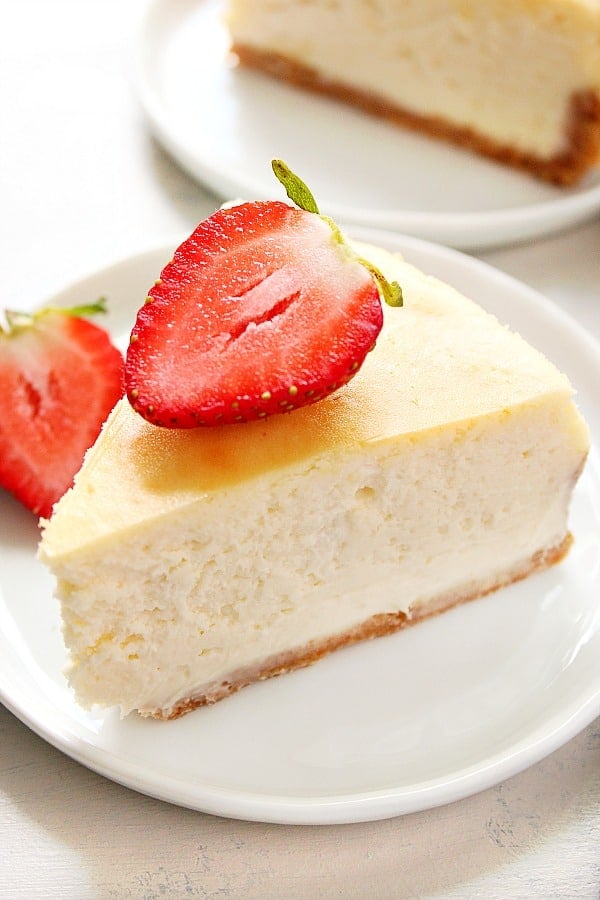 What to do if the cheesecake cracks?
If the cracks are on the sides (that happens if the cheesecake was slightly overbaked), they will close during cooling. If the crack is in the middle, there is not much you can do, except cover it with a topping (sour cream, chocolate ganache, pie filling, etc.).
How to remove cheesecake from springform pan?
If you want to remove the whole cake from the pan to present on a cake stand, I recommend lining the bottom of the pan with a parchment paper circle. Once you remove the side ring of the pan, slide a knife under the parchment paper and remove the bottom of the pan. The paper also helps with removing individual slices without the crust crumbling or breaking.
Storing and freezing:
Since the cheesecake is made mostly of dairy, it should be stored in the fridge. I place plastic wrap over the top (unless there is topping). Any leftovers should be kept in the fridge as well.
You can freeze a whole cheesecake or slice it into individual servings, wrap each one in plastic wrap, place in a freezer-safe container and freeze for up to 1 month.
More cheesecake recipes:
For more easy desserts, feel free to browse our Dessert Category.

If you like this recipe and make it, snap a photo and share it on INSTAGRAM! Tag me @crunchycreamysweet so I can check it out and leave a comment! 😀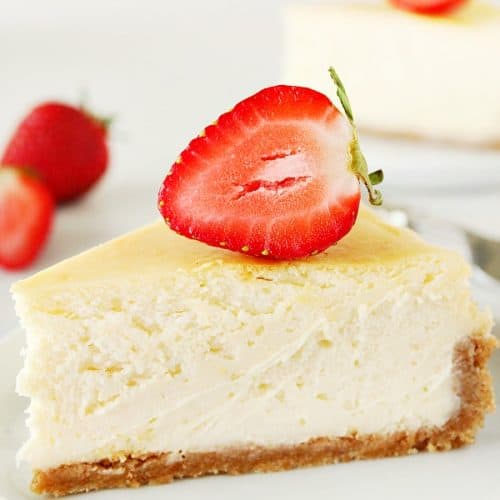 Perfect Cheesecake
Learn how to make a Perfect Cheesecake every time! I am sharing my 10 secrets for the best creamy cheesecake and how to keep it from cracking. Recipe source: Crunchy Creamy Sweet original.
Ingredients
for the crust:
1.5

c

finely crushed graham crackers

1

Tbsp

granulated sugar

1/2

c

unsalted butter

melted
for the filling:
24

oz

cream cheese

softened (3 packages, 8oz. each)

1

c

granulated sugar

2

Tbsp

all-purpose flour

1/2

c

sour cream

1

tsp

vanilla extract

1

Tbsp

milk

3

large eggs

well beaten
Instructions
prepare the water bath:
Wrap an 8" springform pan in aluminum foil and set in a roasting pan.


Boil 2 cups of water. Set aside.

Preheat oven to 325 degrees F.
to make the crust:
Place graham crackers in food processor and process until finely crushed.

Add sugar and melted butter and process on low until all comes together.

Press the crust into a 9" springform pan.

Bake for 7 minutes in preheated oven.

Set aside.
to make the filling:
Place cream cheese in a large bowl and beat with a hand mixer for 30 seconds.


Add sugar and mix until combined.


Add flour, sour cream, vanilla and milk and mix until smooth.

Add eggs and mix on low until completely incorporated. Do not overmix.


Pour the batter over baked crust. Tap the roasting pan on the counter a few times to release any air bubbles from the batter. If they are stubborn, you can poke them with a toothpick.


Place the roasting pan with the springform pan in the oven. Pour enough water into the roasting pan to come at least 1 inch up the sides of the springform pan but not over the foil.


Bake 1 hour and 20 minutes. Replace water after the first 50 minutes of baking.


When the time is up, turn off the oven and insert a wooden spoon in the door, leaving it slightly ajar. Leave the cheesecake inside for one hour.


Run the knife around the edges of the pan. Do not release the pan. Cool the cheesecake completely on the counter.


Place cheesecake in the fridge and chill for at least 4 hours, preferably overnight.


Top with desired toppings (fresh fruit, sauce, ganache, glaze, frosting, chopped candy, etc.)
Notes
The total time includes the cooling time. You need to let the cheesecake cool completely and then refrigerate it (preferably overnight) for the best results.
Refrigerate any leftovers for up to 5 days in closed container.

Please note, that the nutrition value can vary depending on what product you use. The information below is an estimate.
Nutrition
Calories:
499
kcal
|
Carbohydrates:
47
g
|
Protein:
7
g
|
Fat:
31
g
|
Saturated Fat:
17
g
|
Cholesterol:
109
mg
|
Sodium:
215
mg
|
Potassium:
235
mg
|
Fiber:
2
g
|
Sugar:
34
g
|
Vitamin A:
785
IU
|
Calcium:
79
mg
|
Iron:
2.5
mg
This recipe was originally posted on September 3rd, 2013 and updated on October 9th, 2019.
If you have any questions, feel free to leave them in the comments section. I know many of us bakers have our favorite ways to bake but these are mine. I am not saying that other recipes are wrong, I am just sharing my tips for creating what is a perfect cheesecake in my opinion. I hope my list of tips will be at least a guide.