Epiphanie Camera Bag review - read about this gorgeous and very practical camera bag. Also, enter the giveaway for a chance to win one!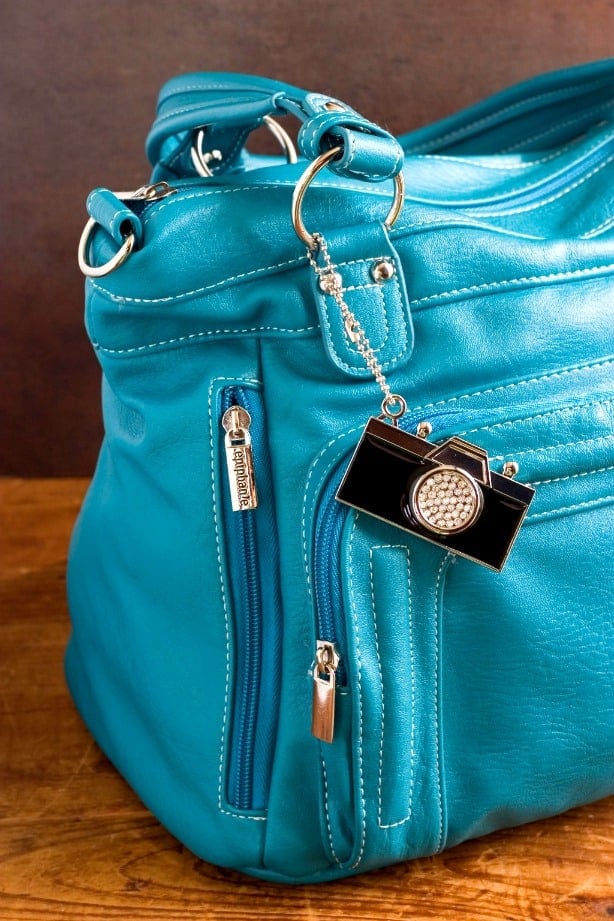 From time to time, I turn this food blog into a lifestyle blog. We talk about kids, jewelry and photography. Today is just like that. If you are passionate about photography (be it food or portrait), you know how difficult it can be to take your huge DSLR with you on a trip or to a set. I used to wrap mine in a t-shirt and carry it in my diaper bag when we would go to a park and I wanted to take photos of the kids. Same for vacations. Sometimes it was such a pain that I would simply leave my camera at home.
No more. Epiphanie camera bag changed it all for me and with style. The gorgeous bag you see on the photos is Ginger, a camera bag from Epiphanie. Epiphanie is a company that was started by a professional photorgapher, Maile Wilson, who needed a stylish yet practical camera bag to carry her gear. So she made it by herself. And she made is so well.
Learn more about Epiphanie bags on their site and follow them on Facebook, Twitter, Pinterest and Instagram!
This Epiphanie bag is so gorgeous, that when I pulled it out of the box when it arrived, it took my breath away! The color is even more beautiful than I expected!! It's made out of a water-resistant, high quality synthetic leather. It has two options of carrying the bag: two short straps or one long shoulder strap. It's padded inside to protect your camera gear. Safety, practicality and style - that's what this bag is.
So what's in my bag? My Canon camera body, two lenses (I sometimes have my nifty-fifty lens on the body already), wallet, phone, colored pens, lip balm, hand wipes, a notebook and additional camera cards. I could fit so much more! (Forgive me the iPhone photo but I wanted to take a pic of the bag with my camera inside so you can see how everything fits.)
I absolutely love that you can customize the inside of the bag to fit your needs. The bag has foam panels with Velcro flaps that you can arrange however you want. If I have the lens on my camera already, I can arrange the panels to make it safely fit in the bag. Also, I love that this bag has lots of pockets. I can fit my notebook and pens in the front pocket, the hand wipes on the side.
So how would you like to win one of the gorgeous Epiphanie Camera Bags for yourself? 🙂 Epiphanie graciously offered one of their in-stock camera bags to one of Crunchy Creamy Sweet readers!!
To enter, use the Rafflecopter widget. It may take a moment to load up, so please, be patient.
a Rafflecopter giveaway
Disclosure: One winner will receive a camera bag from Epiphanie. Giveaway open to U.S. residents only. No P.O. boxes please. Need to be 18 or older to enter. The winner will be notified via email and have 48 hours to respond. Thank you for supporting brands I love and that help make this blog possible.