The year comes to an end and it's time for a recap.
The numbers have spoken and here is the list of the most popular recipes on Crunchy Creamy Sweet:
Cranberry Bliss Bars with Coconut - I totally have a thing for blondies and a thing for cranberries. And white chocolate. Apparently you guys do too, which explains why these babies are the number one on the list.
Nutty Nougat Caramel Bites - there is so many layers of temptation and deliciousness in these little bites!
Eggless Chocolate Chip Cookies - enjoy the safe-to-eat cookie dough or bake it into cookies. It's up to you!
Caramel Apple Coffee Cake - one of the most delicious cakes with fall flavors.
Robert's Absolute Best Brownies - a must-try for all brownie fans.
Chocolate Chunk Cookie Dough Frozen Yogurt - cookie dough strikes again. This time in a frozen form.
Cook's Illustrated Chocolate Chip Cookies - my favorite and yours too.
New Classic Brownies - one of the best brownies you will ever eat!
Soft Ginger Cookies - these cookies are so fluffy and full of flavor. Your cookie platter will love them!
Chocolate Drizzled Coconut Shortbread Cookie Sticks - easy way to enjoy shortbread. Chocolate drizzle totally not optional.
Summer Avalanche Rice Krispies - ridiculously easy and fun!
Cocoa Brownies - so fudgy and dense, you will not want to share them with anyone!
Dark Chocolate and Sea Salt Rice Krispies - my Hubby's favorite. So glad it made the list!
Best Homemade Pizza Dough - photo-packed tutorial on making pizza dough at home.
~~~~~~~~
I loved each and every one of these but I have my favorites.
Here is the Top 12 of my favorite recipes from 2012: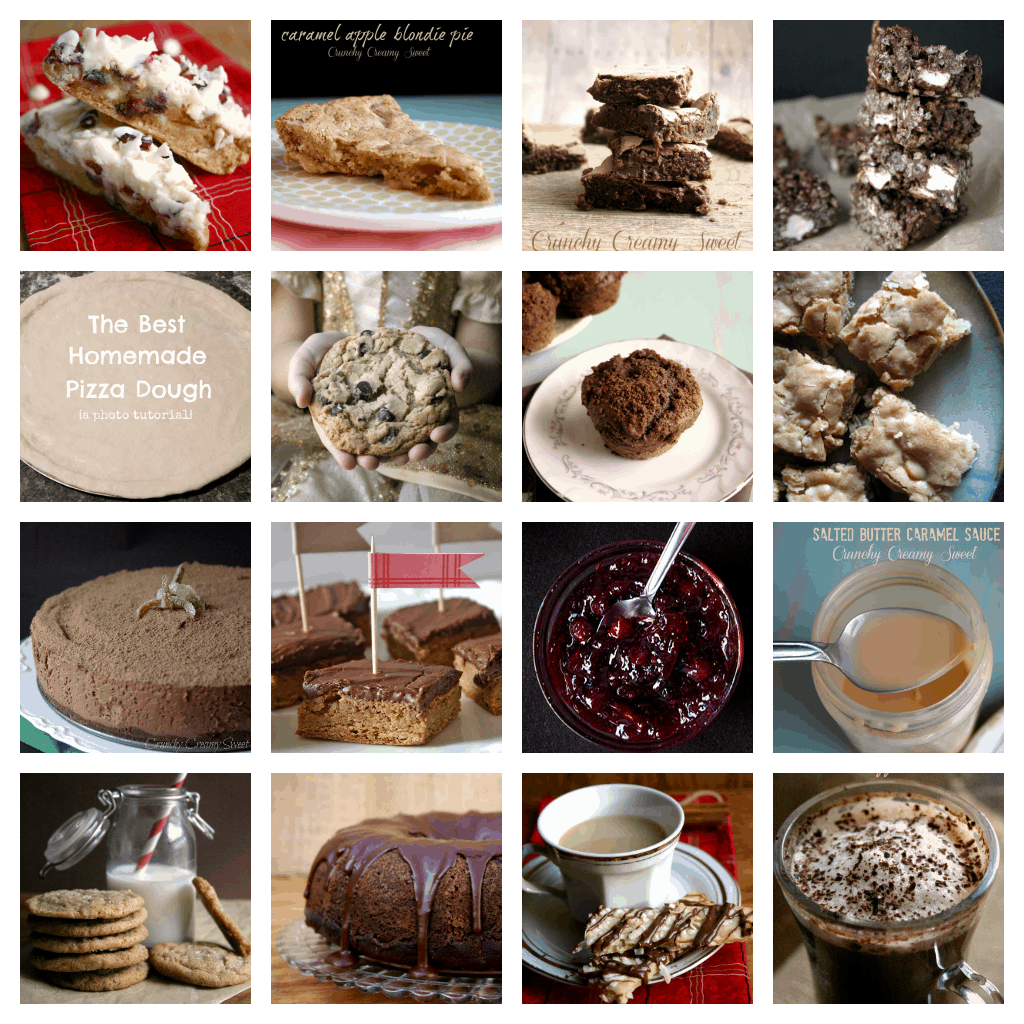 Cranberry Bliss Bars with Coconut - yep, I definitely have a thing for blondies. These are the best bars I have tried to date.
Blondie Pie - caramel, apples in a ooey gooey blondie pie base.
New Classic Brownies - my favorite picture on the blog. Oh and these brownies are quite delicious.
Dark Chocolate Sea Salt Rice Krispies - dark chocolate and sea salt just go together.
Best Homemade Pizza Dough - our family favorite! We make it very often and it always comes out great!
Cook's Illustrated Chocolate Chip Cookies - our favorite chocolate chip cookie recipe.
Cocoa Muffins - chocolate for breakfast? Sign me up!
Pina Colada Blondies - these bars will take you on a trip to tropical island!
No-Bake Chocolate Cheesecake - the most decadent cheesecake you will ever have.
Thick and Chewy Cookie Bars with Easy Chocolate Frosting - my favorite cookie bars base AND chocolate frosting. Easy and fast to whip up and enjoy!
Cranberry Jam ( freezer style ) - no pectin or canning needed to make this amazing jam. I have tried this recipe with other fruits and it never fails me.
Salted Butter Caramel Sauce - I mean, if the name doesn't say it, then I don't know what...
Brown Butter Brown Sugar Cookies - these taste like salted caramels in a cookie form. Ahh-mazing!
Triple Chocolate Molasses Bundt Cake - perfection in every bite!
Chocolate Drizzled Coconut Shortbread Cookie Sticks - easy yet fancy way to make shortbread and enjoy with your tea or latte.
Rum Truffle Mocha - make it.
The year of 2012 was filled with chocolate, brown butter, coconut and caramel. This little blog went from Blogspot to self-hosted WordPress and from few followers to few thousand. I couldn't be more grateful for all of your comments and emails. It makes my day to hear that you loved my recipe and it inspired you to put your own twist on it. That's the goal: to get you into your kitchen and create fabulous treats!
THANK YOU!!!
The goals for 2013 are simple: share more delicious recipes and grow the friendships we've created.
May your wishes for the New Year come true!
Cheers!
xoxo,
Anna