S'Mores Krispies Bars - fun summer treat that everyone will love!
Olympics in 10:
1. Watching women's gymnastics stresses me out.
2. My girls make relay races in our living room.
3. I love Missy Franklin's red white and blue mani.
4. You want to protest - have cash on hand.
5. Women without make up on tv are actually being cheered on.
6. I know for sure I hate running.
7. Summer tv has been saved by exercise that everyone wants to watch, even if it's on 12 hrs a day.
8. After the Olympics are over, Bachelor Pad will be the only exciting thing on tv. How sad...
9. My Hubby works out more than usually.
10. I react emotionally and make chocolate treats.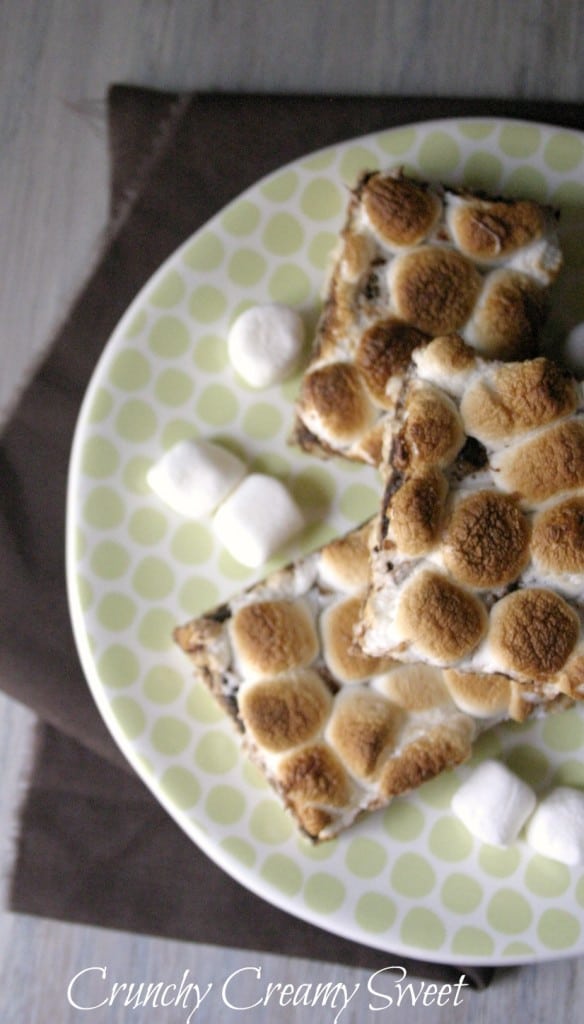 Toasted marshmallows and melted chocolate - the ultimate summer afternoon treat. It should be obligatory to enjoy such a combo. Summer is just not complete without it.
S'Mores Krispies Bars
Your favorite summer treat in a krispies bar form! www.crunchycreamysweet.com
Ingredients
2

c

rice krispies cereal

2

c

mini marshmallows

2

tablespoon

butter

½

c

semi-sweet chocolate chips

2

tablespoon

butter

1 ½ - 2

c

mini marshmallows
Instructions
Line 8" x 8" baking dish with parchment paper making sure you have overhang on two sides for easier lifting out.

Lightly grease the bottom of the paper. Set aside.

In a large microwave-proof bowl, place mini marshmallows and butter.

Microwave for 30 seconds, stir and microwave for additional 20 seconds if not melted.

Add rice krispies and gently fold in.

Pour the mixture onto the bottom of your prepared pan.

Press down gently. Set aside.

In a microwave-proof measuring cup or small bowl, melt together chocolate chips and butter.

Stir until smooth.

Pour over rice krispies layer.

Sprinkle the top with the additional mini marshmallows.

Place under broiler for 1 minute, checking every 15 seconds if the marshmallows are not burning.

Cool completely before cutting into bars.
Notes
This recipe is for 8" x 8" baking dish. It can easily be doubled for 9" x 13". The marshmallows can be toasted up with a torch instead of broiler.
What is your favorite thing about summer?
xoxo,
Anna