Monthly Favorites September 2017 – my favorites for the month of September include home decor, books, beauty and food products. Check it out!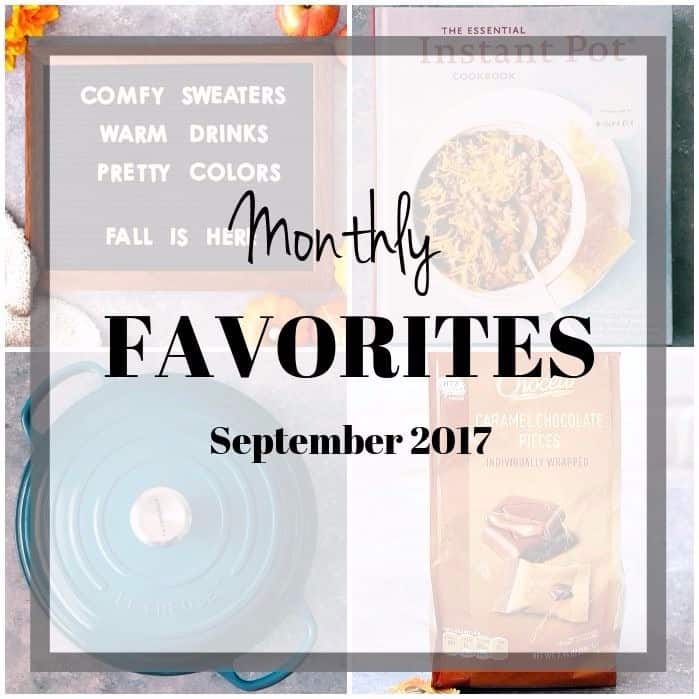 In my Monthly Favorites series I share my current obsessions with food products, kitchen items, sometimes even home and beauty. You can see my first post, HERE. If you recently discovered a product and love it – tell me about it in the comment section below! I'd love to see it!
Vintage Letterboard
By now, you probably know I am obsessed with letterboards. I probably should not be buying anymore, but I just couldn't help myself when I found this vintage style board in Hobby Lobby! With a 40% of coupon it really is a steal, when you compare prices with other sellers. Very often you can get it on sale for 50% off. There are lots of sizes and even colors of the felt, you can definitely find what you are looking for. I went with a classic black and love it!
2. Caramel Chocolates
Pumpkin is not the only fall flavor to be enjoyed. To me it's also caramel everything. These caramel filled milk chocolates from Choceur ( an ALDI brand ) are my current guilty pleasure. They are sweet and rich and melt in your mouth. Delicious!
3. Le Creuset Braiser in Teal
My love for Le Creuset cookware runs deep. I have several pieces and treasure them. They are all gorgeous yet I can use them everyday thanks to their durability. Le Creuset is known for choosing gorgeous colors for their pieces and the latest one is TEAL. I truly don't think my photo does it's justice but the color is stunning. I have recipes to share with you that I made in this braiser as well as the round Dutch oven in the same color. Stay tuned!
This color is exclusive to Williams-Sonoma. I think it makes for a perfect piece to make dishes for special occasions as you can take it from the oven to the table but it would also be a wonderful gift for wedding showers, moving or holidays.
4. The Essential Instant Pot Cookbook
Few weeks ago, I received a copy of Coco Morante's new cookbook titled "The Essential Instant Pot Cookbook". I tried a few dishes already and I highly recommend this book for those who bought or received the Instant Pot but don't know where to start or what to make first. This cookbook is full of beautiful photos of dishes that are simple yet delicious. So much comfort food, perfect for fall and winter. I will be featuring one of the recipes from this cookbook soon!
This cookbook is Instant Pot approved and available on Amazon.
5. Bathpack brush
All the moms ( and dads too!) who know what struggle brushing your kiddos' hair can be - I have a product for you that will blow your mind! After recommendations from my blogger friends ( thank you Heidi and Kristen! ), I finally have a brush that glides smoothly through my daughters' hair and leaves them tangle free even the next day! Yep! Such magic exists and it's made by Bathpack. That's not all. This brush won't break your bank because it is only $5! Add $3 for shipping, which still makes it really affordable. I even noticed that daughter's blond her is shinier and I think it's the brush since I didn't change their shampoo. You have to try it!
~~~~~~~~~~
That's all of the products that made my Favorites in the month of September. I hope you found some new ones to try and if so, let me know in the comments below! What are you obsessing with this month? ? 
~~~~
Disclosure: This post contains affiliate links. If you purchase something on Amazon through my link, I will make a small commission. There is no additional cost to you. Thank you!