How to make Cauliflower Rice in just 10 minutes! This low-carb, Keto friendly and gluten-free alternative to grain rice is an easy and delicious option for many rice dishes!
Cauliflower is a wonderful vegetable that can be used to make not only Fried Rice but also Alfredo sauce or roasted with garlic and Parmesan cheese.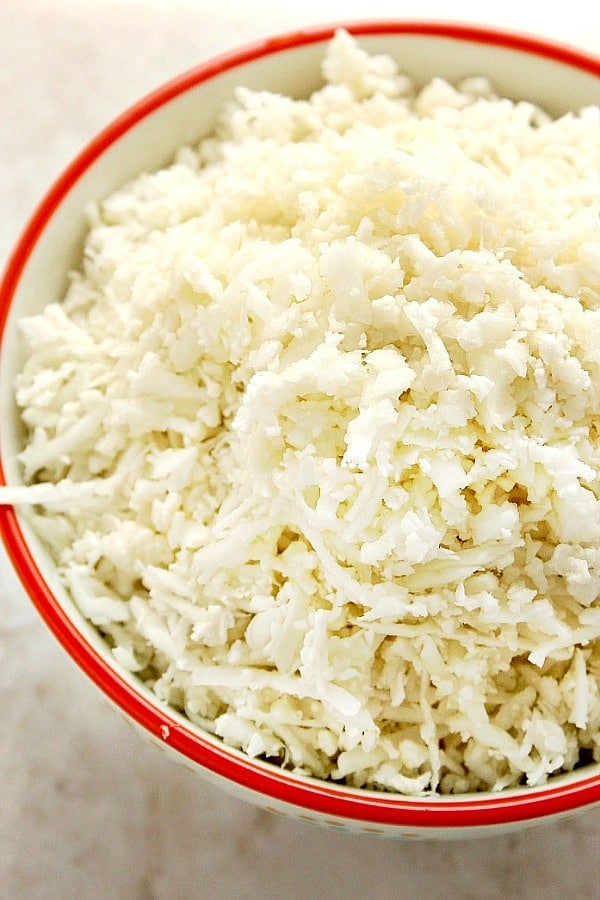 For the past few weeks, I have been testing the idea of rice made of cauliflower and it's uses in many dishes you would typically serve with rice. And I am OBSESSED! Can't believe it took me so long to jump on this, especially since (as you may know) I love love love my cauliflower Alfredo sauce and used it in healthy mac and cheese and our beloved Fettuccine Alfredo pasta dish. This Cauliflower Rice is perfect in any Asian dish, topped with stir fry or served with grilled chicken and steamed broccoli.
Cauliflower is not only low in carbs but also contains fiber, protein, and Vitamins! A serving of 100g of cauliflower has just 26 calories, 2 grams of dietary fiber, almost 2 grams of protein, 48 mg of Vitamin C (that's 80% of daily recommended value) and a good amount of many B Vitamins as well as Vitamin K. It's low in fat and cholesterol. C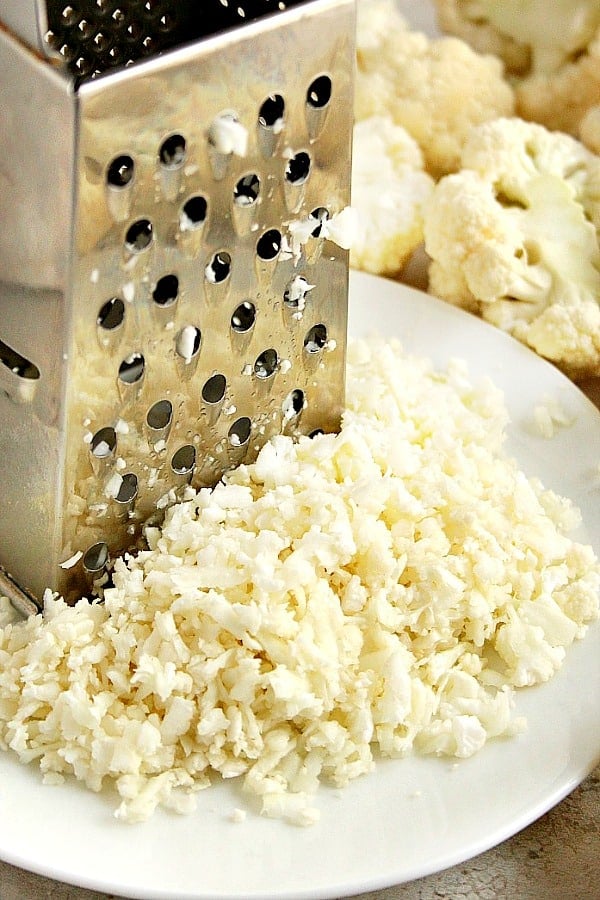 Instructions:
- without food processor:
Making cauliflower rice is so simple because all you need to do is cut off the leaves, slice off any stains on the head, cut it into florets and grate it. You can use a box grater. One thing to remember, use the bigger holes of your grater to make this "rice".
- in a food processor:
My food processor blade has both, small and big holes and I used the big size. The size of "rice" was the same as using the box grater on the side with bigger holes. Obviously, the using food processor is faster but you will have a bowl to clean. Besides, you may not want to pull out the big guy for this job and I have to say that I like the texture from a box grater better. Food processor left some longer, string-y pieces. As I said, my food processor technique made a "rice" that had pieces resembling shredded cabbage to me. It may sound silly, but that's what I thought! I think it was the thicker ends of the florets, which I tried to trim as much as possible. It does not affect the taste at all and honestly, once cooked the texture is not affected either. I just want you to be able to see it grated.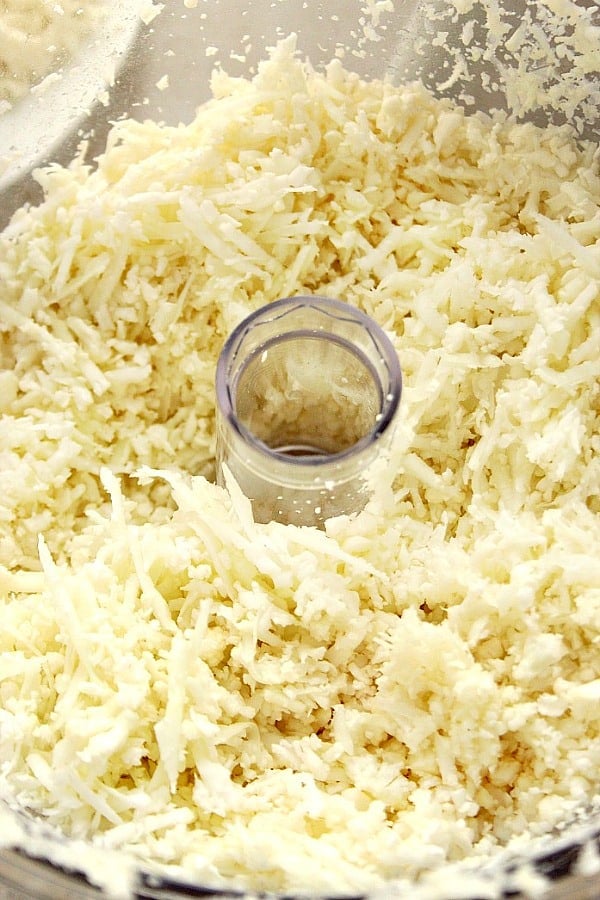 How much does it make?
From a medium cauliflower head, I got about 6 cups of "rice". I use 2 to 2 and ½ cups for a dish. The rest, I store in a Ziploc bag in my fridge to use during the week.
Cooking:
To cook this cauliflower rice and serve is like cooked rice, all you need to do is heat up some sort of fat (olive or coconut oil or butter) in a saucepan and cook the cauliflower for about 5 minutes, sauteing, stirring often.
Season with salt and pepper and you are done. It takes way less time than cooking grain rice!
The taste:
The real test for this rice alternative was to serve it to my Hubby. I mentioned before that he is quite sensitive to different textures which I believe also lets him identify ingredients very quickly. I served him this cauliflower rice cooked and simply seasoned with salt and pepper. He LOVED it! He said it tastes just like my perfectly fluffy rice! And so did our kids!
More healthy recipes:
If you like this recipe and make it, snap a photo and share it on INSTAGRAM! Tag me @crunchycreamysweet so I can check it out! 😀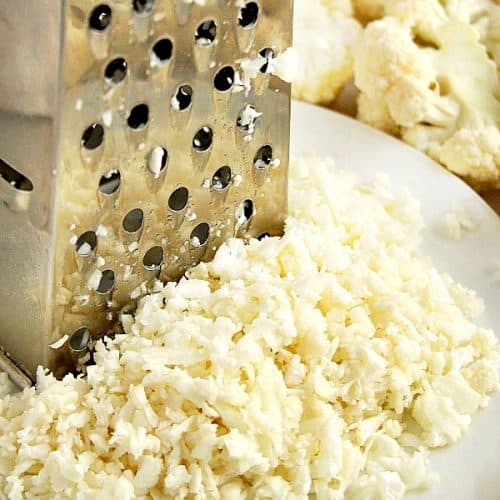 Cauliflower Rice
Make healthy cauliflower rice with fresh cauliflower head, by using a grater or a food processor. It only takes 10 minutes! Perfect low-carb, keto friendly, gluten-free option. Freeze and keep to use in place of white rice.
Ingredients
1

medium cauliflower head
Instructions
Remove leaves and core of cauliflower. Cut the head into florets and cut off the thicker ends.

Grate cauliflower using box grater of food processor. Use the larger hole side.

You should get about 6 cups of cauliflower "rice" from a medium head.

Too cook: heat up a tablespoon or so of olive oil in a saucepan and cook 2 and ½ cups of cauliflower rice for about 5 minutes, stirring often. Season with salt and pepper and serve.
Nutrition
Calories:
4
kcal
|
Sodium:
5
mg
|
Potassium:
53
mg
|
Vitamin C:
8.6
mg
|
Calcium:
4
mg
|
Iron:
0.1
mg
This post was originally published on May 18th, 2016 and updated on June 17th, 2019.