Green Smoothie - energy boosting and refreshing smoothie that's packed with Vitamins! So good - the kids love it!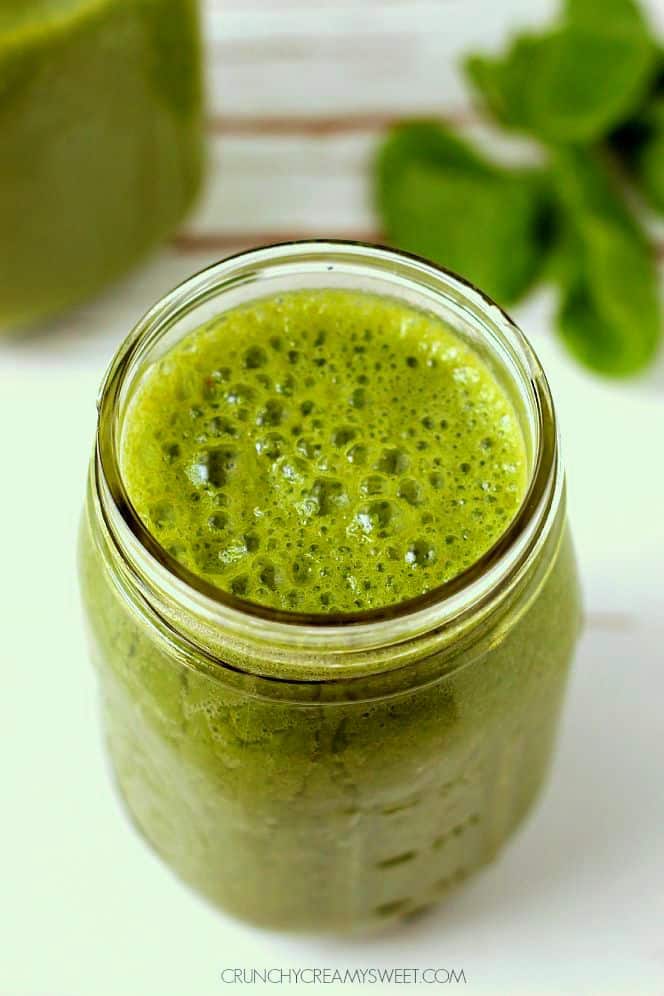 After a week off work that we spent on planning our next school year, getting kids' annual doctor appointments off our list and trying really hard to stay away from the computer, I am back on the blog and with a winner recipe! I promised to share my favorite green smoothie that we have everyday and today it's finally here. It's easy, packed with Vitamins and so delicious - our kids love it! My little boy calls it the "superhero smoothie"!
This smoothie is sweet thanks to the banana and berries yet has no added sugar. You can't taste the spinach in it even tough there are three cups of it in this smoothie. It is also one of my favorite smoothies since it's packed with iron.
If you read my post and my store on this Beets and Berries Smoothie, you know I need my iron everyday. If you are like me, low iron levels make you feel tired and if you drink coffee in the mornings, you tend to crash like crazy around noon. That was me too! Now, I have coffee with my Hubby in the morning and around noon I have my green smoothie with light lunch. I don't have the crush and it keeps my energy at a healthy level for the rest of the day. Trust me, I have three kids and a dog - I need my energy! Now, I can't imagine not having my smoothie in my daily routine. I love it and so does my family!
The unexpected benefits of having it a part of my everyday routine was  the weight loss and inches off my waist. After three kids, I like many other moms, I am not happy with my midsection (my belly). It's just not looking like I did before even my last pregnancy. I knew I would need to work on it. I just didn't expect a simple green smoothie to help me with it. I've lost inches off my waist and thighs and my midsection has the potential for abs!
Another unexpected plus was stronger nails and hair and my complexion is glowing and looks healthier!
I will be completely honest and say that the first time I made it, everyone (including my Hubby) looked at the green mixture in their cups and gave me the "seriously" look. It took me a little bit of convincing to have them all take a sip. Bam! They didn't expect it to taste so good! They knew there is spinach in it but they couldn't taste it.  #TotalMomWin
Right now, when berries and summer fruits are at their peak, I buy a lot of them and either throw in fresh ones into my blender or chop them, place in ziploc bags and freeze. I have bags of strawberries (my favorite for this smoothie), blueberries, peaches and mangoes in my freezer ready for the smoothies. I either use one of the fruits or a mix of them. Since iron needs Vitamin C to be absorbed, I add a splash of lemon juice or both lemon juice and cranberry juice to my smoothie. The rest of the two cups of liquid is water (either purified or coconut). For more add-ons, I use two tablespoons of ground flax seed or chia seeds, a tablespoon of fresh grated ginger, a handful of nuts or half of an avocado (makes the smoothie super creamy!). You can also use frozen banana slices (I highly recommend freezing sliced bananas for smoothies) for a chilled and refreshing smoothie that tastes like ice cream!
Adding this smoothie to your daily menu (or even making it few times a week) will make a huge difference in how you feel and will help you make more healthy decisions when it comes to food. Then it's easier to enjoy the chocolate cupcake as a real treat. I still have those! I might have limited my bread intake to only our Friday pizza nights and occasional sandwiches with a whole grain bread but I still love to bake treats and enjoy chocolate. I just appreciate them more as a treat and not think of them as mood-fixers.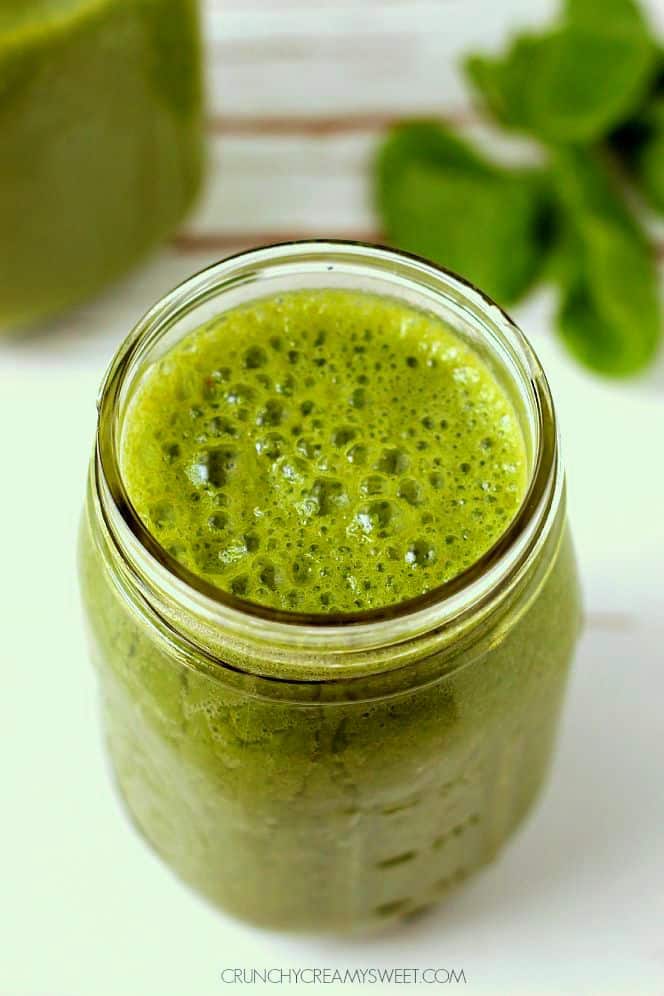 Green Smoothie
Green Smoothie - energy boosting and refreshing smoothie that's packed with Vitamins! So good - the kids love it!
Ingredients
2

cups

loosely packed fresh spinach

2

cups

water

see note

3

Tablespoons

lemon juice

1

banana

1

cup

strawberries or other fruit - see note

fresh of frozen
Instructions
Place all ingredients in a blender and blend until smooth.

Serve immediately.
Notes
For liquid - you can use 2 cups of purified or coconut water or a mix of ½ cup of cranberry juice and 1 and ½ cups water.
For fruit - you can use berries (I usually use strawberries), peaches, pineapple, mango, apples, pears, etc. or a mix.
Nutrition
Calories:
43
kcal
|
Carbohydrates:
10
g
|
Protein:
1
g
|
Sodium:
18
mg
|
Potassium:
255
mg
|
Fiber:
1
g
|
Sugar:
5
g
|
Vitamin A:
1425
IU
|
Vitamin C:
32.3
mg
|
Calcium:
24
mg
|
Iron:
0.6
mg