Beet Smoothie - a power-drink that's packed with iron, Vitamins, anti-oxidants and gives your skin a healthy glow.
I make smoothies every day. My Avocado Smoothie is a favorite, along with the Vitamin C Booster Smoothie.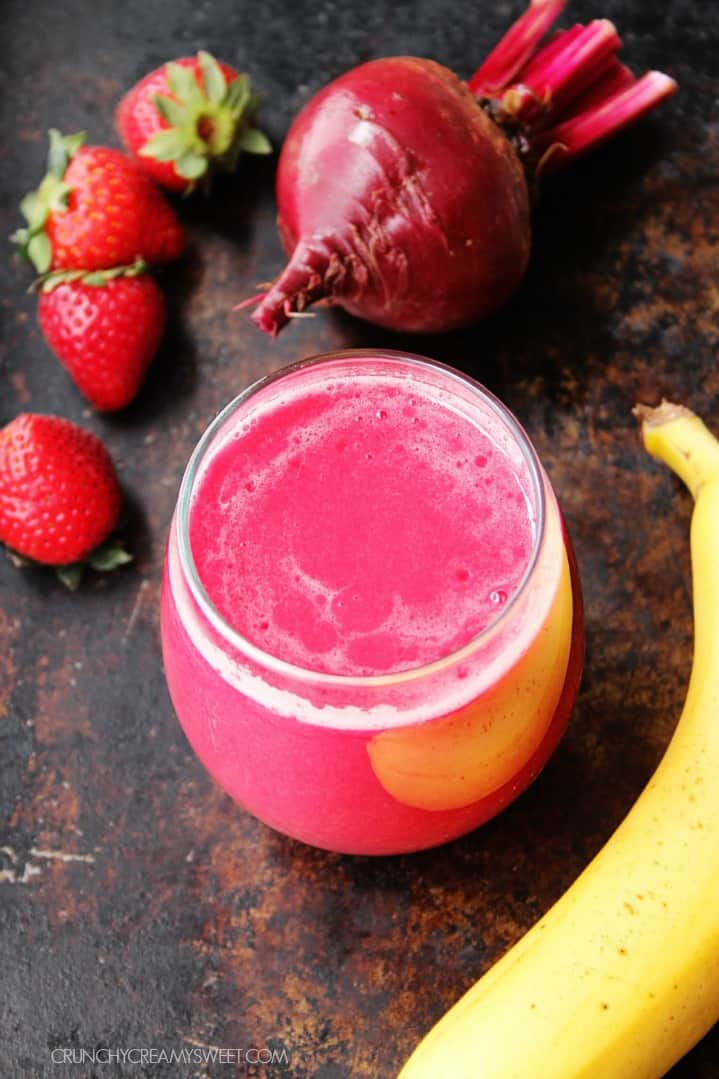 I am about to tell you to throw a raw beet into your blender and turn it into a smoothie. Berries - no problem. Most likely, they are already the basic ingredient in your smoothies. Same for bananas. But beets? Not so much. You may know how good beet juice is for our bodies, but it can be hard to drink. That's why I created a concoction that is super simple (only 3 ingredients) but makes this smoothie absolutely delicious! The berries and bananas help to mask the earthy taste of beets. As someone that had anemia since my teen years, I drink this smoothie every week. It's delicious and even the kids love it!
Ingredients
fresh beets
strawberries (frozen or fresh)
banana
water (you can use almond milk or yogurt too)
How to make Beet Smoothie?
Wash and peel the beets. You can use the greens in the smoothie, reserve them for other dishes (great with pasta just like spinach!) or discard.
Place beet chunks in a blender with water. Blend until smooth. Strain the pulp.
Add banana to the blender, add beet juice you just made and berries.
Blend until smooth.
Drink right away.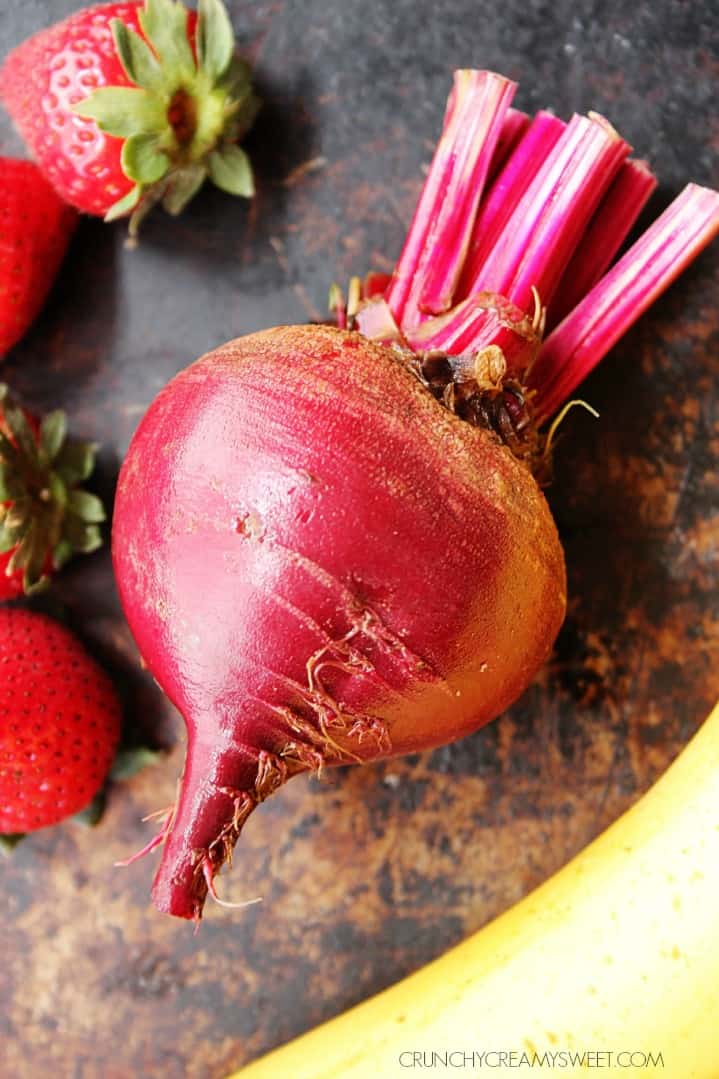 Beet smoothie vs. beet juice
For a week, my Hubby and I would do daily shots of straight beet juice and it wasn't pretty. He would always reach for water or fruit juice to wash it down. So I decided to mix the fresh beet juice with sweet strawberries (you can also use a mix of frozen berries for a more frothy drink) and a banana (a staple in our diet) and I took the hard-to-swallow beet juice to a sweet and enjoyable smoothie that everyone in our family loves. Even our kiddos! And they know there are beets in it!
Why are beets healthy?
All of my research shows that beets are the answer to my anemia problems. They purify the blood, cleanse the liver, lower blood pressure and are proven to reverse hypertension.
Beets improve your blood flow, help deliver oxygen to the parts of your body that need it, including the brain.
They are the sweet vegetable that is low in calories but high in good carbs and gives you the right kind of energy.
They are rich in folate, Vitamin C, Vitamin B, copper, iron, magnesium, manganese, phosphorus, and potassium.
They replenish iron in your body, which for me is really important. It's rich in antioxidants that help fight cancer and reduce inflammation.
I even found out that betaine from beets aids depression and the tryptophan relaxes mind just like chocolate!
We have been drinking this smoothie every day for a couple of months now and we see and feel the benefits. We can definitely feel the good energy that we get after the smoothie. My check-up is coming up and I have a feeling that my level of iron will be great! I also started making more veggie smoothies for us and the kiddos. I think once you make one healthy decision - others follow because you learn.
Skin Glow
There was also something I didn't expect to see. One day, after washing off my makeup, I noticed that there was no (normal for me) difference in tones of my skin. I actually looked like I still had my makeup on! My skin had a healthy, glowing look! And it wasn't just me! My Hubby, that has been my partner in the beet juice/smoothie diet - said the same thing about his skin. But even that's not all! During his checkup, the nurse asked him if he golfs because he looks so tan. Call me crazy, but I believe that the beets or more accurately - betanin, the red pigment in beets - is the source of this change. Now, that the sunny warm weather season is almost here, I believe it will help with getting the gorgeous tan that we love!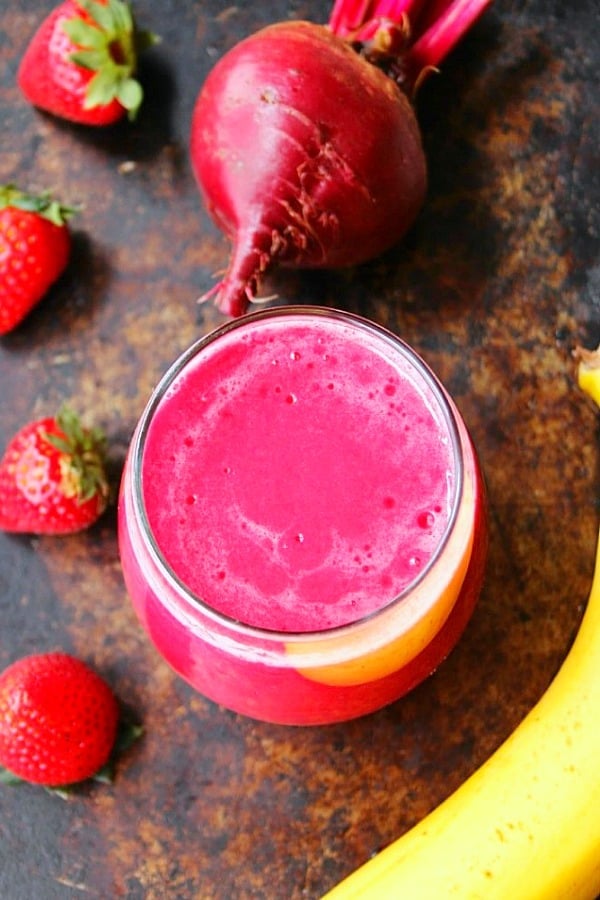 Can I use canned beets to make this smoothie?
I do not recommend canned beets for this recipe as they have a lot of sodium. Find frozen instead or chop a bunch of fresh ones and freeze.
Can I make this smoothie ahead of time?
I recommend making the smoothie and drinking right away for the most benefits. Each fresh fruit and vegetable oxidizes as it sits and loses minerals.
Other fruits and veggies you can add:
pineapple
beet greens
ginger
mango
peach
spinach
More healthy recipes:

If you like this recipe and make it, snap a photo and share it on INSTAGRAM! Tag me @crunchycreamysweet so I can check it out and leave a comment! 😀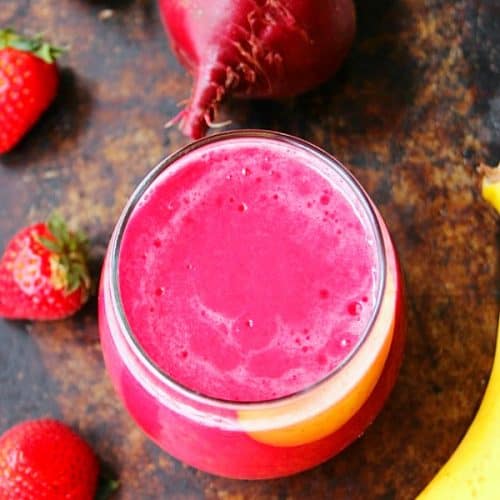 Beet Smoothie
This Beet Smoothie is a power-drink that's packed with iron, Vitamins, anti-oxidants and gives your skin a healthy glow. It's made with fresh beets, banana and berries (fresh or frozen).
Ingredients
½

cup

fresh beet root

peeled, cut into chunks

4

fresh or frozen strawberries

1

banana

2

cups

water
Instructions
If using fresh beet root: place beet chunks and water in a blender and blend until pureed. Strain the mixture over a fine mesh strainer, gently pressing the mixture to extract as much juice as possible. Wash the blender. Discard the pulp. Return the beet juice into the blender.

Add berries and banana and blend until smooth.

Serve immediately.
Notes
Please note, that the nutrition value can vary depending on what product you use. The information below is an estimate. Always use calorie counter you are familiar with.

You can use other veggies and fruit to make this smoothie: spinach, beet greens, pineapple, mango, almond milk, yogurt, etc.
Nutrition
Calories:
149
kcal
|
Carbohydrates:
37
g
|
Protein:
2
g
|
Sodium:
79
mg
|
Potassium:
716
mg
|
Fiber:
5
g
|
Sugar:
21
g
|
Vitamin A:
75
IU
|
Vitamin C:
41.8
mg
|
Calcium:
26
mg
|
Iron:
1
mg
This recipe was first published on April 8th, 2015 and updated on January 5th, 2020.