Beets and Berries Smoothie – a power-drink that's packed with Vitamins, anti-oxidants and gives your skin a healthy glow.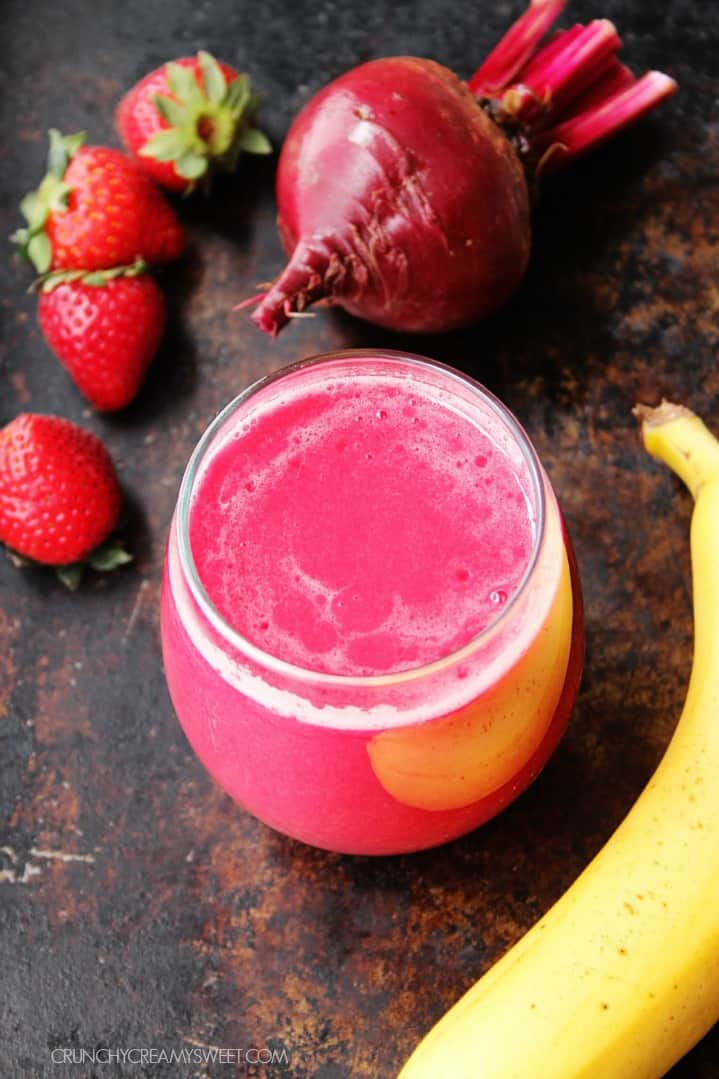 I am not going to pretend that this won't be a hard one to sell. After all, I am about to tell you to throw a raw beet into your blender and turn it into a smoothie. Berries – no problem. Most likely, they are already the basic ingredient in your smoothies. Same for bananas. But beets? Not so much.
MY STORY
So here it goes. Let me tell you why I love this smoothie so much, that I decided to share it here with you. When I was 10 or 11 years old,  I was diagnosed with anemia. I was battling migraines and headaches almost daily. I was pale and pretty weak. I often had nose-bleeds and colds. If you know someone who is battling anemia, you know they are most likely not a cheery person either. Maybe even depressed. (Back then, I didn't think these two were connected.) I was always an over-worrier, expecting bad things to happen. A downer to say the least. Not a good combination when you are 10 and trying to make friendships.
My grandmother was always into homemade remedies, rarely would I see her taking medicine, even for simple headaches. As soon as we were told I had anemia, she immediately started making juices for me. I can still remember her in her kitchen, packing her juicing machine with apples, carrots, pears… and beets. The juice never tasted good. I remember crying because I didn't want to drink it. But my grandmother and my mother were firm on it and I was drinking the veggie and fruit concoctions everyday. Since that time also, blood tests became a standard of my checkups. Eventually, the tests came back better and better and I didn't have to drink the juices everyday. I started to feel better.
Fast forward to my early twenties and my college years. High-stress, new city, new people, poor diet – and my anemia symptoms started to come back. Each semester break, I would go home and revitalize. I started to learn more about good foods and my interest in cooking was growing. Right after college, I met my future Hubby. But it wasn't until my first pregnancy and a blood test, when the anemia word came back from my doctor. The iron levels were low and it had to be fixed. I added iron vitamins to my daily prenatal pill. More veggies were added to my diet. That all seemed to help. During my second pregnancy, I wasn't waiting for the test results. The iron vitamin pill and veggies were already on my daily list. During my third pregnancy, I was the healthiest. But now my youngest is three years old. I am raising three kids, homeschool and run this blog. I have to admit, I let myself go. For the last year or so, I started feeling the anemia symptoms again. I would blame it on turning 30 – just ask my Husband. Being the foodie that I am now, I started looking for a solution in food. And that's how  I came back to beets.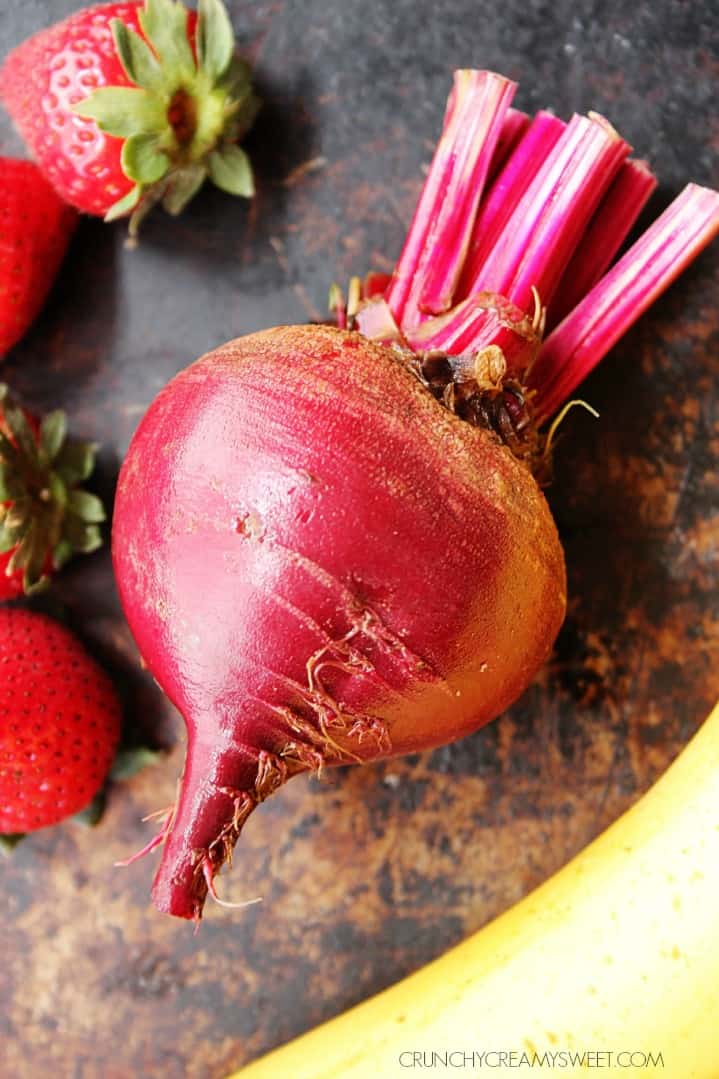 THE BENEFITS
All of my research shows that beets are the answer to my blood problems. They purify the blood, cleanse the liver, lower blood pressure and are proven to reverse hypertension. Beets improve your blood flow, help deliver oxygen to the parts of your body that need it, including the brain. They are the sweet vegetable that is low in calories but high in good carbs and gives you the right kind of energy. They are rich in folate, Vitamin C, Vitamin B, copper, iron, magnesium, manganese, phosphorus and potassium. They replenish iron in your body, which for me is really important. It's rich in anti-oxidants that help fight cancer and reduce inflammation. I even found out that betaine from beets aids depression and the trytophan relaxes mind just like chocolate!
OUR EXPERIENCE
We have been drinking this smoothie every day for a couple of months now and we see and feel the benefits. We can definitely feel the good energy that we get after the smoothie. My check up is coming up and I have a feeling that my level of iron will be great! I also started making more veggie smoothies for us and the kiddos. I think once you make one healthy decision – others follow because you learn.
You may be thinking that this all sounds great but it's hard for you to see yourself chugging on beet juice. And I totally understand! That's why I created a concoction that is super simple (only 3 ingredients) but makes this smoothie absolutely delicious! The berries and bananas help to mask the earthy taste of beets. For a week, my Hubby and I would do daily shots of straight beet juice and it wasn't pretty. He would always reach for water or fruit juice to wash it down. So I decided to mix the fresh beet juice with sweet strawberries (you can also use a mix of frozen berries for a more frothy drink) and a banana (a staple in our diet) and I took the hard-to-swollow beet juice to a sweet and enjoyable smoothie that everyone in our family loves. Even our kiddos! And they know there are beets in it!
There was also something I didn't expect to see. One day, after washing off my make up, I noticed that there was no (normal for me) difference in tones of my skin. I actually looked like I still had my makeup on! My skin had a healthy, glowing look! And it wasn't just me! My Hubby, that has been my partner in the beet juice/smoothie diet – said the same thing about his skin. But even that's not all! During his checkup, the nurse asked him if he golfs because he looks so tan. Call me crazy, but I believe that the beets or more accurately – betanin, the red pigment in beets – is the source of this change. Now, that the sunny warm weather season is almost here, I believe it will help with getting the gorgeous tan that we love!
One note about this smoothie: my Hubby has texture issues and he will never drink orange juice with pulp. To make this smoothie really smooth – I place chunks of a fresh beet into a blender (I also often add carrots) and a little bit of water and blend it on high speed in my blender. Then I strain the mixture to separate the pulp. You can discard it but as I do not mind the pulp, I throw it into my smoothie. I suggest starting with half of a beet and then go to a whole beet root.
I do need ideas on what to do with the greens. Right now, I discard them but I feel like it's such a waste of food so I would love any suggestions on what to do with them!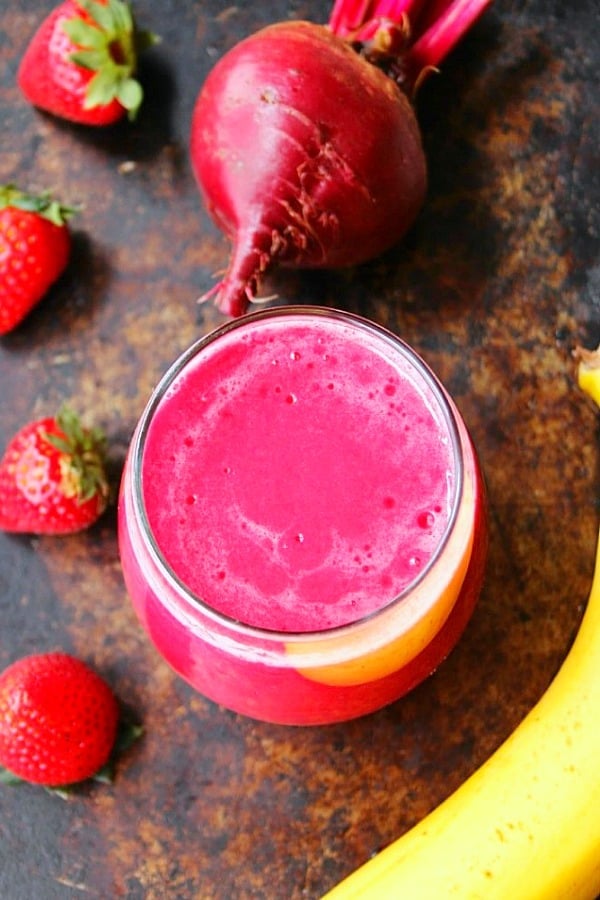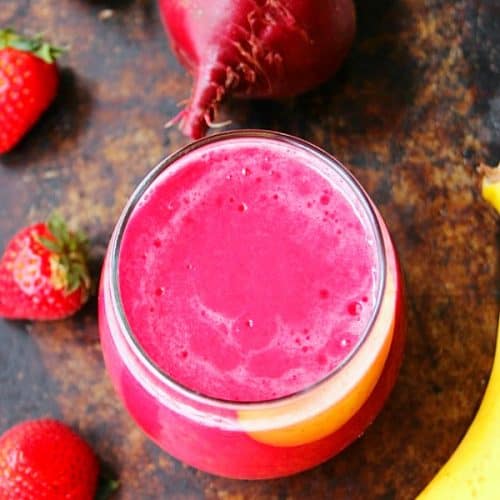 Beets and Berries Smoothie
Beets and Berries Smoothie - a power-drink that's packed with Vitamins, anti-oxidants and gives your skin a healthy glow.
Ingredients
1/2

cup

fresh beet root

peeled, cut into chunks

4

fresh or frozen strawberries

1

banana

2

cups

water
Instructions
If using fresh beet root: place beet chunks and water in a blender and blend until pureed. Strain the mixture over a fine mesh strainer, gently pressing the mixture to extract as much juice as possible. Wash the blender. Discard the pulp. Return the beet juice into the blender.

Add berries and banana and blend until smooth.

Serve immediately.
Nutrition Facts
Beets and Berries Smoothie
Amount Per Serving
Calories 149
% Daily Value*
Sodium 79mg3%
Potassium 716mg20%
Carbohydrates 37g12%
Protein 2g4%
Vitamin A 75IU2%
Vitamin C 41.8mg51%
Calcium 26mg3%
Iron 1mg6%
* Percent Daily Values are based on a 2000 calorie diet.
 I am obsessed with this smoothie! If you have any questions about it, feel free to leave a comment or email me! 
Do you have any suggestions or ideas on what to do with the beet greens? I would love for you to share them! I need them! 
~~~~~~~~
Other Smoothies We Love:
Cranberry Pomegranate Smoothie
UPDATE: Here is my first recipe using the beet greens:
One-Pot Saucy Pasta with Sausage and Beet Greens
~~~~~~~~
If you make one of my recipes, tag me @crunchycreamysweet or #crunchycreamysweetrecipes  I would love to see what's happening in your kitchen! See you there!