This Cinnamon Roll Cake has all the features of your favorite roll and is made entirely from scratch! Also, check out our video to see how to make it!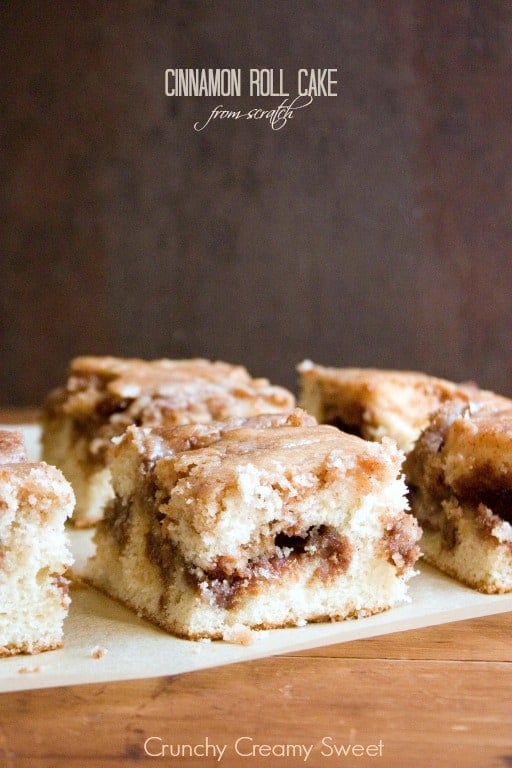 It's not only made from scratch but so ridiculously easy to make! Everything comes together so quickly and no special equipment is needed. The base is a delicious yellow butter cake with a perfect moist and delicate crumb. Melts in your mouth!
HOW TO MAKE CINNAMON ROLL CAKE
 The cinnamon filling is incredible and as soon as you make it - you will want to put it on everything! Heck, go ahead and smear your morning bagel with it! It is so good! The vanilla glaze is the perfect finishing touch on this cake. The amount of it makes it possible for the cake to be covered from top to bottom yet without soaking it and making a mess.
Every layer of this cake (the base, the cinnamon filling and the glaze) is made in just minutes using ingredients that you usually have in your pantry. I love it!! This cake tastes just like a cinnamon roll - everyone's favorite sweet roll.
---->> SCROLL BELOW FOR THE PRINTABLE RECIPE.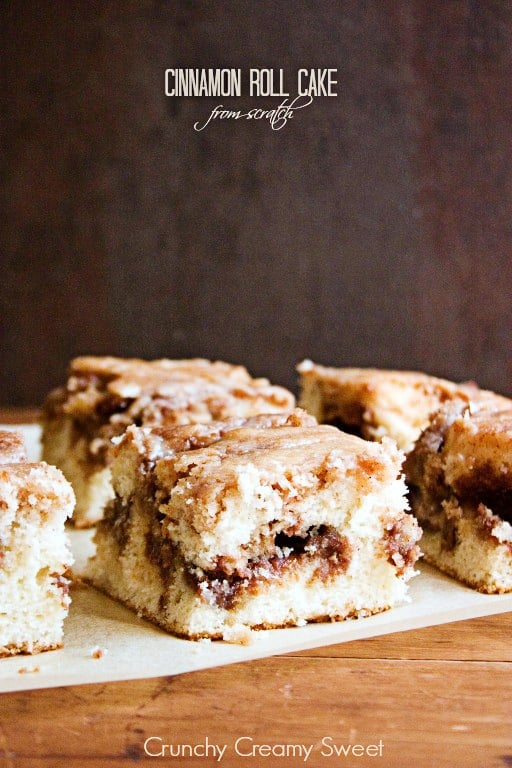 Check out our video to see how to make this cake! Don't forget to subscribe to our channel!
Related Recipes:
Better Cinnamon Roll Cake (Lighter) - much lighter on the sugar, butter and calorie side, this cake is moist and absolutely delicious! Plus, it looks like a giant cinnamon roll!
Cinnamon Coffee Cake Muffins - the sky high crumb topping on these muffins is quite irresistible! These are a must try!
Cinnamon Sugar Donuts ( Baked ) - one of the easiest baked donuts you will make! Dipped in butter and cinnamon sugar will make the weekend morning delicious!
Cinnamon Sour Cream Coffee Cake - easy coffee cake with a tender crumb and perfect crumb coating.
Cinnamon Roll Pretzels  - salty pretzels coated in cinnamon sugar and drizzled with sweet glaze. The best snack ever!