The Ultimate Spicy Reuben Sandwich - the ultimate man food. Layers of corned beef, sauerkraut, Swiss cheese and spicy sandwich sauce enclosed in dark rye slices of bread. You need this in your life!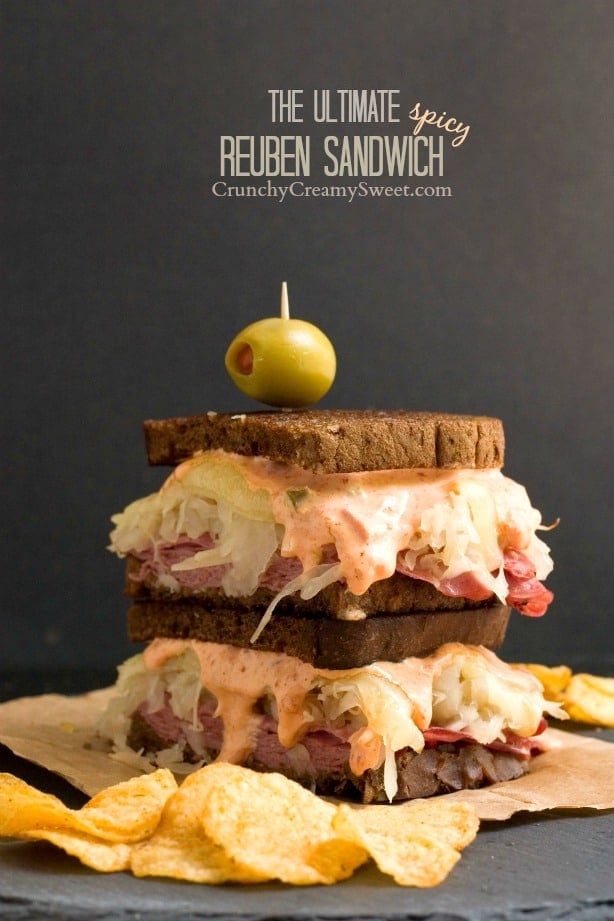 Can you handle this? Because this is EPIC.
I suggest you close all of those other tabs you have open on your screen, grab a glass of icy and get comfy. Because we are about to talk about the ultimate man sandwich and you need to focus. This is serious.
I may as well add "spicy" to the name of my blog for today. Or get our new blog going because what has been happening in our kitchen lately is some epic spicy savory food. That's how my Husband and I balance each other: I have an epic sweet tooth and he has an epic spicy tooth. 🙂 While I am pulling out Funfetti White Chocolate Cookies from the oven, he is busy assembling the Ultimate Reuben Sandwich.
My Hubby and I love creating new dishes or improving the standards. Hence the sandwich. My Husband is a huge fan of the Reuben Sandwich. He orders it any chance he gets if we eat out. And for a while we were not able to make the perfect Reuben in our own kitchen. That's why I love campaigns like this one. I received an offer from Mezzetta to create a sandwich using their products.
We happen to love Mezzetta's products. My Hubby snacks on jalapenos straight from the jar and to be honest, we had to buy another jar of the Spanish Olives because the ones sent by the brand disappeared in no time! Mezzetta products inspired us to really get the sandwich mojo going and make the ultimate and not skimp on any of the ingredients.
If you ever wanted to make the ultimate man sandwich, make this one. Especially if the man in your life loves spicy food.
During our trial and error, we developed a way to get the perfect restaurant-style sandwich. If we were cooking just to feed ourselves quickly the pannini maker way is great but that can smoosh the bread and lose the visible layers. Also, the sauce escaped the sandwich. The oven method worked the best. See the recipe for full instructions.
Traditional Reuben sandwich has a Russian Dressing somewhat similar to Thousand Island dressing which is simply a mix of diced pickles, ketchup and mayo. The Russian dressing also has horseradish and sour cream. We used mayo, Mezzetta's Red Hot Chili Pepper Everything Spread and Deli-Sliced Jalapeno Peppers to create the sauce. Best decision ever. This sauce is the star of this sandwich. So perfectly spicy!
Let me just say, we tested this recipe three times to get the perfect amount of spice in the sauce. That or my Hubby was simply using this excuse to make more Reubens. 🙂 I had to hurry and finish the photo shoot so we could dig into these babies. Sauce dripping down, bread cracking with each bite and the perfect balance of spice from the sauce over the melted Swiss and layers of corned beef - that's what the ultimate sandwich looks like.
Don't forget the Spanish Olive for a finishing touch.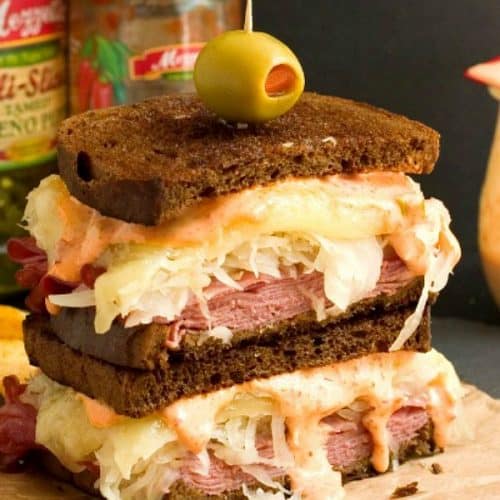 The Ultimate Spicy Reuben Sandwich Recipe
The Ultimate Spicy Reuben Sandwich – the ultimate man food. Layers of corned beef, sauerkraut, Swiss cheese and spicy sandwich sauce enclosed in dark rye slices of bread. You need this in your life!
Ingredients
2

slices

dark rye bread

3

slices

Swiss cheese

4

tablespoon

sauerkraut

drained well

4

oz

. sliced corned beef
for the sauce:
2

tablespoon

Mezzetta Deli-Siced Jalapenos

diced

3

tablespoon

mayo

1

tablespoon

and ½ Mezetta Red Hot Chili Pepper Everything Spread

or more to taste
Instructions
to make the sauce:
Mix mayo, spread and diced jalapenos in a measuring cup or small mixing bowl. Set aside.
assembly:
Toast up bread slices on cast iron skillet set over medium heat. Toast on one side only. Remove from skillet. You can spread a little bit of butter onto the side you will be toasting.

Preheat the oven to 325 degrees F.

Place one slice of bread on a cutting board and the other on a baking sheet.

Top the slice on baking sheet with corned beef slices, folding each slice.

Top with sauerkraut.

Arrange cheese slices over the sauerkraut.

Place the baking sheet in the oven and bake until the cheese is melted, about 5 to 6 minutes.

Remove the baking sheet from the oven. Set aside to cool to room temperature.

In the meantime, spread the spicy sauce over the second slice of bread. Place over the melted cheese bread slice.

Slice in half and serve with Spanish olives and spicy chips.
Notes
The instructions of assembling the sandwich helped us to make the restaurant-style sandwich, wish perfectly crispy bread and melted cheese. We do not recommend using a pannini maker for this sandwich as it will put too much pressure on the bread. You can always arrange the whole sandwich and then toast it on the cast iron skillet but flipping such big sandwich can be messy.
Recipe source: CrunchyCreamySweet.com
Nutrition
Calories:
1010
kcal
|
Carbohydrates:
39
g
|
Protein:
45
g
|
Fat:
73
g
|
Saturated Fat:
25
g
|
Cholesterol:
155
mg
|
Sodium:
3082
mg
|
Potassium:
666
mg
|
Fiber:
6
g
|
Sugar:
6
g
|
Vitamin A:
1205
IU
|
Vitamin C:
42.3
mg
|
Calcium:
729
mg
|
Iron:
5.2
mg