No-Knead Bread - the best and easiest way to make perfect bread at home! No kneading needed! This recipe is super easy to follow and make the best bread loaf at home.
This bread is so easy to make, just like my One-Hour Skillet Focaccia and the 2-Ingredient Flatbread.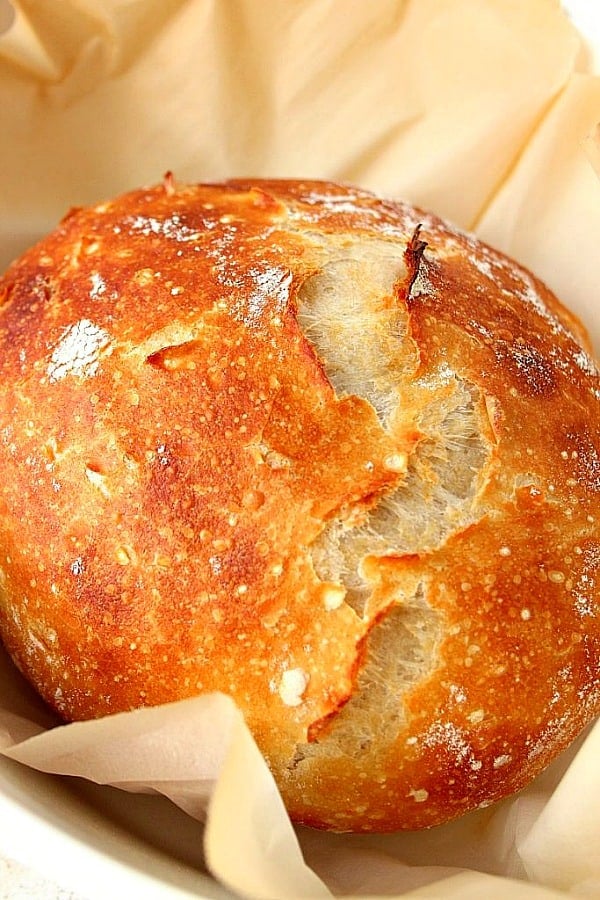 This bread is exactly what your next sandwich or a steaming bowl of soup needs. A thick slice of home-baked bread. It's simply too easy not to try it. Just stir all of the ingredients in a bowl, cover and let sit overnight. Next day, bake, slice and enjoy!
Homemade bread is one of my very favorite things to bake. It's very gratifying and be used for sweet sandwiches (peanut butter and strawberry jelly come to mind) or loaded with cheese and meat, tomatoes, lettuce, and peppers OR dipped into thick tomato soup. By the way, this bread is amazing for grilled cheese sandwiches!
Instructions:
Start by measuring out the flour by scooping it with a spoon into measuring cup, then level off the top.
Combine water, sugar, and yeast in a bowl. Add flour and stir in well.
Cover the bowl and let the dough sit for 24 hours. It should double in size.
Place dough onto parchment paper, shape into a ball and let sit while you preheat the oven.
Place dough in Dutch oven and bake, covered, until the top is golden. Remove lid and bake for a few more minutes.
This is what the dough will look like after resting overnight on the counter, covered. It will rise and be airy. Remove the cover and gently place the dough onto a piece of parchment paper lightly dusted with flour.
Can I use honey in place of sugar?
Yes, honey or maple syrup can be used in place of sugar.
My dough didn't double in size. What went wrong?
If the dough doesn't double in size after the rising time, it means the yeast is old and it didn't activate. Start over with a fresh batch of yeast. Also, make sure you measure out the flour properly.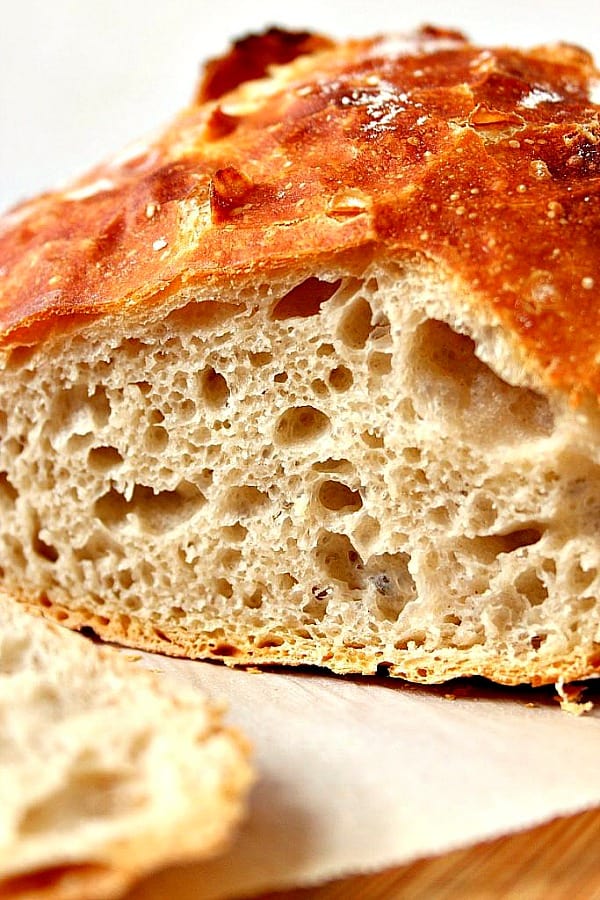 Expert tips:
sugar: There is a lot of no-knead bread recipes out there, most of them using only 3 ingredients: flour, yeast and water. While these ingredients are indeed required, I do not think they will make the best tasting bread. You need to add sugar to make the yeast happy and bubbling and salt to give the bread flavor. So it's 5 ingredients but the result is the best bread you will make at home.
flour: Make sure you measure out flour the proper way. Do not dunk the measuring cup into flour container, but use a spoon to scoop it out into the cup, then level off the top.
slicing: Cool the bread completely before slicing or you will pull the crumb and the slices won't have the pretty air bubbles.
Variations:
garlic and herb: add minced garlic and fresh or dried herbs to the dough before rising.
lemon and garlic: add citrus zest and minced or roasted garlic to the dough before rising.
cranberries and nuts: add dried cranberries (or any fruit) and chopped nuts to the dough before rising. Orange zest would be great too!
More easy bread recipes:
If you like this recipe and make it, snap a photo and share it on INSTAGRAM! Tag me @crunchycreamysweet so I can check it out and leave a comment! 😀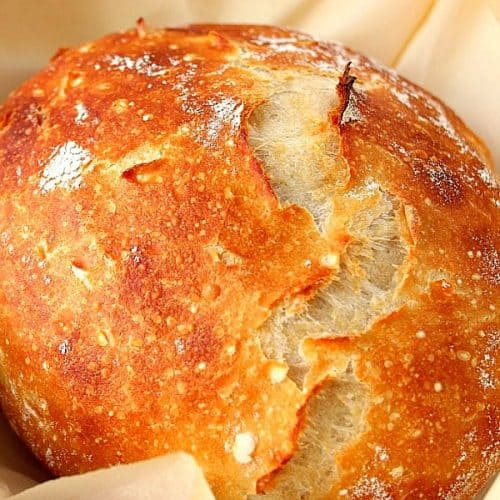 No-Knead Bread
This recipe is the best and easiest way to make a perfect bread at home. No kneading required. All you need is 3 ingredients, plus salt and sugar.
Ingredients
3

cups

all-purpose flour

1 and 1/2

tsp

salt

1/4

tsp

granulated sugar

1/2

tsp

dry yeast

1 and 1/2

cup

warm water
Instructions
In a large mixing bowl, stir together flour, sugar, salt and yeast. Add water and stir just until incorporated. Do not overmix. The dough will be shaggy.

Cover the bowl with plastic wrap and let sit on the counter, at room temperature for 8 to 24 hours. The dough will rise and have lots of air bubbles.

The next day, lightly flour a piece of parchment paper. Place dough onto paper. With floured hands, shape into a ball. Cover with plastic wrap.

Preheat oven to 450 degrees F. Adjust rack to lower position. Place Dutch oven inside. Preheat for 30 minutes.

When oven is ready, carefully place the parchment paper with dough inside the Dutch oven. Cover with Dutch oven lid and bake for 30 minutes. Remove lid and bake 7 to 10 minutes more or until the top is golden brown, has cracks.

Carefully remove Dutch oven from oven. Remove parchment paper with bread and place on a wooden cutting board. Let cool completely.
Nutrition
Calories:
275
kcal
|
Carbohydrates:
57
g
|
Protein:
7
g
|
Sodium:
1
mg
|
Potassium:
80
mg
|
Fiber:
2
g
|
Calcium:
11
mg
|
Iron:
3.5
mg