Microwave Caramel Sauce - the easiest caramel sauce that takes only 10 minutes to make!
Just look at this pot of gold. It makes you want to dive right in, doesn't it?
But here is the deal: it's a microwave version. That is a good thing and a bad thing. Good thing: no pots to clean, no excessive stirring, in 10 minutes flat you will have a perfect caramel. Bad thing: if you are like me and LOVE caramel, you are going to make many, many jars of this liquid gold. Which if you look at it the right way, is actually not a bad thing at all. It's fall, apples are ruling in the fruit department (and occasionally take over our kitchen counters), and we all know that apples are meant for dipping in caramel sauce. No?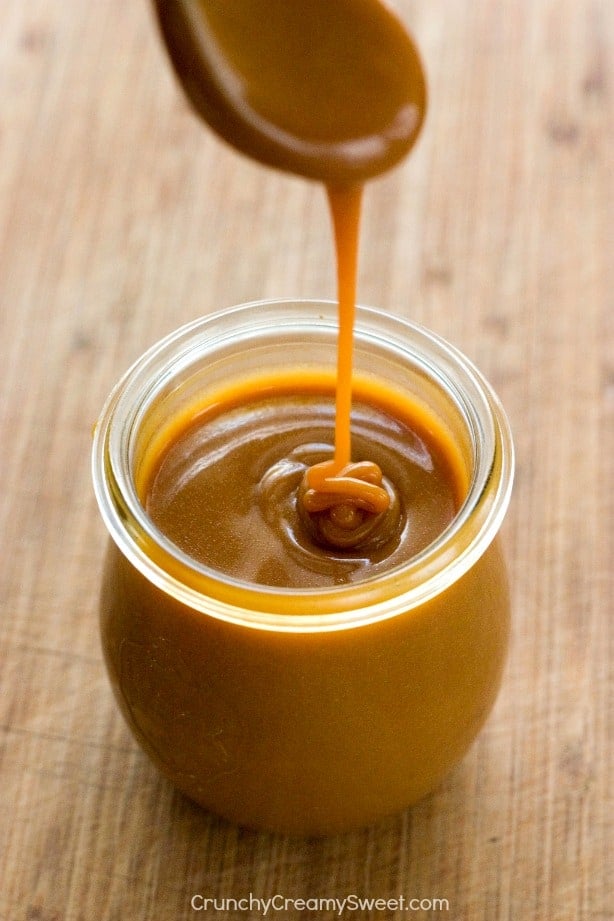 I've always wanted to be able to make caramel sauce quickly and without the fuss. This recipe makes about 1 cup of the sauce, give or take, which is an added bonus. Usually that's all you need. Whether you want to drizzle it over a cake, cupcakes or cookies or use is as a dip - one cup is usually enough.
I've made this recipe 4 times to get the perfect amount of half and half needed to make the sauce thick but still drizzling consistency. Also I was timing it so the caramel won't be too light or too dark. Because when it comes to caramel, timing counts. The hot sugar dissolves and keeps the temperature high even if you take it off the heat source or in this case, out of the microwave. It will continue to darken while cooling on your counter and this has to be taken into an account. For me, the perfect moment to take the caramel out of the microwave was as soon as it turns golden plus 10 more seconds of microwaving. Meaning, you place the sugar mixture (photo 2) in the microwave and set it on 2 minutes. The mixture will come to a boil (photo 3). After that time, you cook the caramel in 20 second increments and wait for the mixture to turn golden (photo 4). As soon as it does, give it a light stir and set for another 10 to 15 seconds max. After that, you set it on a counter and stir frequently to help it cool down and prevent from getting too dark. After 5 minutes (photo 5), you add the rest of the ingredients and stir all until smooth (photo 6). The sauce will thicken as it cools completely.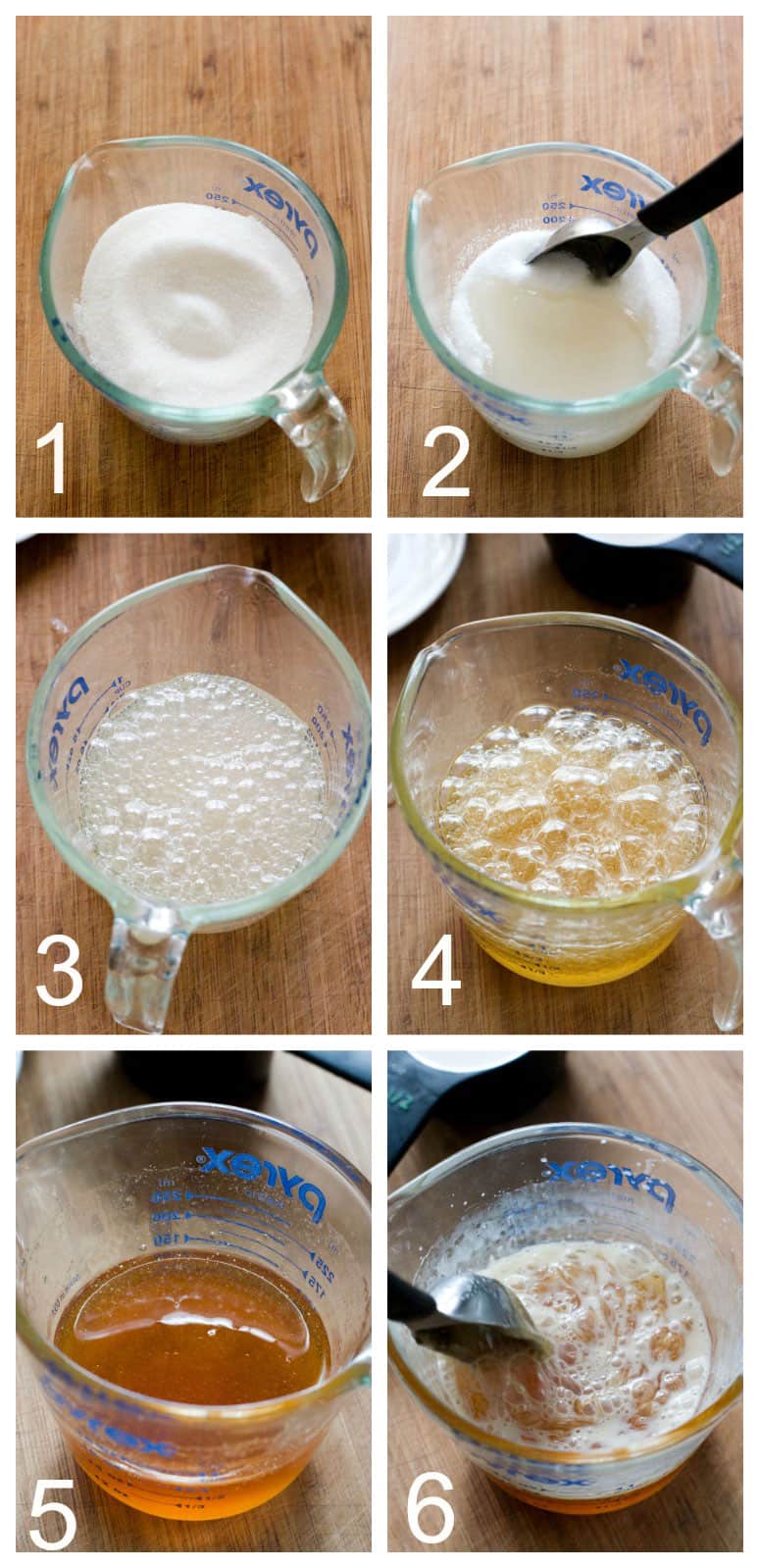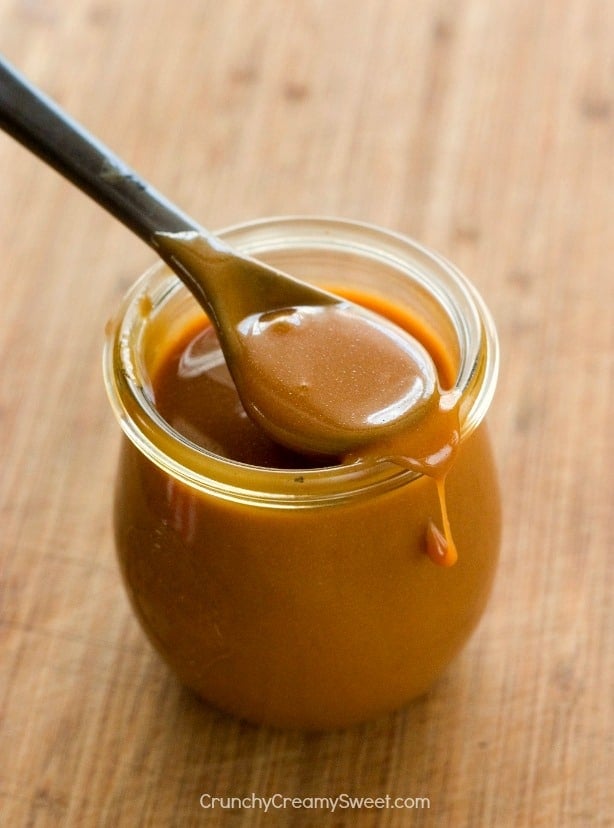 It may seem like it's a lot considering that it's supposes to be a very easy technique, but I am just trying to give you as much information as I can, because there is nothing more frustrating than burnt caramel. Also, if you chicken out and pull the mixture out too early yet when it's golden hue, you can add twice as much half and half and have a fabulous caramel coffee creamer! I know, because while testing, I had one batch come out just like that. 🙂 It's the burnt caramel that you can't really salvage.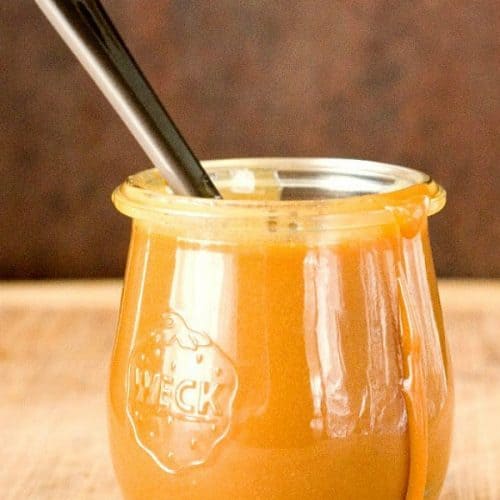 Microwave Caramel Sauce
Microwave Caramel Sauce - the easiest caramel sauce that takes only 10 minutes to make!
Ingredients
1

cup

granulated sugar

2

Tablespoons

water

tap is fine

2

Tablespoons

corn syrup

clear, not golden

1

teaspoons

pure vanilla extract

2

Tablespoons

unsalted butter

room temperature

1/4

cup

plus 1 teaspoon half and half

room temperature
Instructions
Get ingredients ready: set butter and measured half and half on a cutting board on a counter. Have a kitchen towel or oven mitt ready.

In a microwave safe measuring cup or bowl, mix together sugar, water and corn syrup. (See note)

Place in microwave set on high and cook for 2 minutes.

Stir the mixture once.

Cook again in 20 second increments (about 4 or 5 rounduntil the mixture turns golden. It will be bubbly.

Give the mixture one stir.

Cook the mixture for 10 to 15 more seconds, watching constantly, until the color depends slightly.

Remove the cup from the microwave and set on the prepared cutting board.

Stir the caramel frequently to help it cool down.

After 5 minutes, add the half and half one tablespoons at a time. Be careful! The mixture will foam up when you add the half and half. Stir until each addition is combined. Repeat until all half and half is added and mixed in.

Add vanilla and butter and stir until smooth.

At this point you can add sea salt for a salted version of the caramel.

Let the caramel sauce sit in room temperature until cooled completely.

Transfer into a jar with lid.

Store in fridge for up to 2 weeks.

Warm up in the microwave for 20 seconds if too thick after refrigerating.
Notes
Recipe source: adapted from [Debbie Koenig|https://debbiekoenig.com/2011/02/21/caramel-so-easy-even-a-parent-can-make-it/
Nutrition
Calories:
198
kcal
|
Carbohydrates:
39
g
|
Fat:
4
g
|
Saturated Fat:
3
g
|
Cholesterol:
13
mg
|
Sodium:
9
mg
|
Potassium:
13
mg
|
Sugar:
39
g
|
Vitamin A:
150
IU
|
Calcium:
11
mg
This caramel sauce is perfectly creamy and thick yet great for drizzling. You can warm it up in the microwave for 20 seconds if it's too thick or right after you pull it out of the fridge. Come back this Sunday to see how I used this glorious caramel! You do not want to miss it!! 🙂
If you have any questions about this recipe, feel free to comment or email me! I am happy to help!