When your child turns 6 years old, you suddenly realize a few things:
1. they start to remember things for the rest of their life
2. they can put 2 and 2 together, and I am not talking math here
3. they want to know if superheros are real
Recently, our 6 year old came up to us and asked if we could buy her a Kindle Fire...pretty pretty please. After choking on a muffin and an attempted eye communication between my Hubby and I, she was told that she has a tablet. She's got her LeapPad...But it's different and all....What do you mean different? You are a kid. Do you know how hard it was to get it and that it cost more than our tablet?
In that point I started to choke on my muffin again because I realized we were telling her straight up that we bought the LeapPad for Christmas. Crap! She is good. Knows to ask us for things like that before bedtime, after a long and busy day, when I am turning myself onto relaxing mode. So I squeezed my Hubby's arm and started to flap my eyelashes and not in a romantic way. By then our 3 year old comes up with her Barbie and looking for a doll hair brush. So they go off to search for it. Santa's cover has been blown. Almost. And it's not even Christmas yet!
The next day, Big Sweetie Pie asks me if superheros are real. Yeah, somehow I knew we were not done with the subject yet....
So what do you answer to your child? "You know, they are always so sneaky helping people that I've never seen them. " "Like Santa?" "Yeah! Just like Santa. You've never seen him yet he brings you gifts every Christmas." "Cool. Maybe he can bring me Kindle Fire this year!". Phew... wait, what???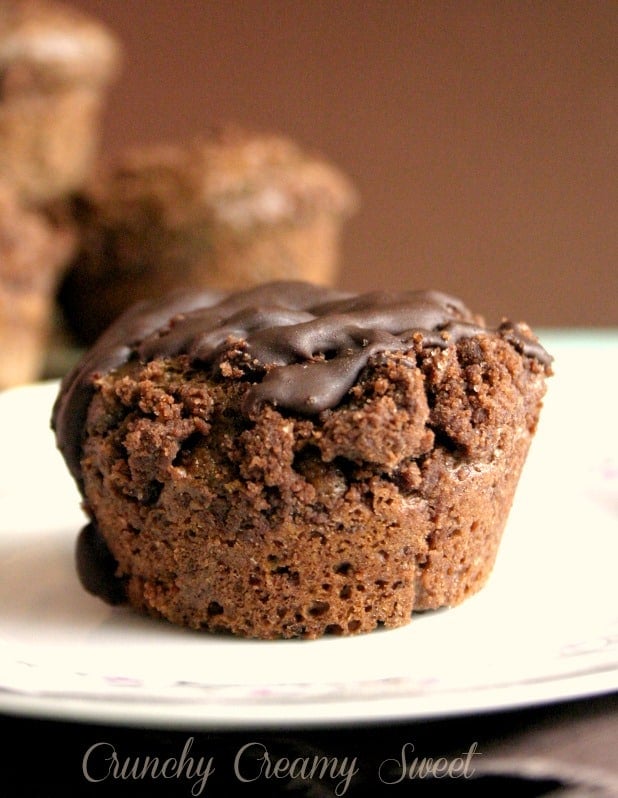 I decided to drizzle melted chocolate over the streusel topped muffin because my Hubby doesn't like dry cakes, coffee cakes and muffins and I wanted him to try my muffin and like it. And like it he did.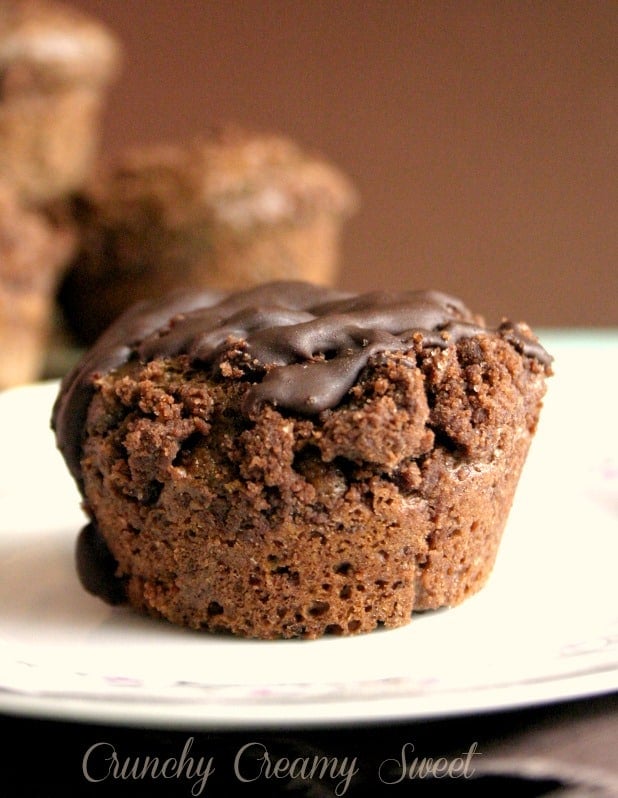 Cocoa Muffins
The best cocoa muffins with streusel topping you ever had! www.crunchycreamysweet.com
Ingredients
8

oz

sour cream

1

c

sugar

2

eggs

2

tsp

vanilla extract

1/4

c

unsalted butter

melted, cooled

1 1/2

c

all-purpose flour

1/2

c

unsweetened cocoa powder

2

tsp

baking powder

1/2

tsp

baking soda

1/2

tsp

salt

1/2

c

all-purpose flour

1/4

c

unsweetened cocoa powder

1/4

c

salted butter

melted

1/4

c

packed brown sugar

2

Tbsp

granulated sugar

2

tsp

sea salt
Instructions
Preheat your oven to 375 degrees F.

Spray muffin tin with cooking oil and lightly dust with flour OR line with muffin paper liners. Set aside.

In a bowl of your stand mixer, beat together sour cream, sugar, eggs, vanilla and butter.

In a medium mixing bowl, whisk together the dry ingredients ( flour, cocoa powder, baking powder, baking soda and salt ).

Add the dry ingredients to the wet ingredients. Fold in. Do not over mix!

For the streusel topping:

In a small mixing bowl, whisk together flour, cocoa, both sugars and sea salt.

Add melted butter and stir with a wooden spoon until it resembles coarse crumbs and eventually the dough starts to clump up together.

Assembling:

Fill your muffin tins not more than 3/4 full per cavity.

Top with streusel topping.

Bake for 18 to 20 minutes, or until a toothpick inserted in the center of each muffin comes out clean.

Cool muffins in the pan for 3 to 5 minutes. Remove onto a cooling rack and let cool completely.

Drizzle with melted chocolate. ( optional )

Bake 18 - 20 minutes.
Nutrition
Calories:
295
kcal
|
Carbohydrates:
43
g
|
Protein:
4
g
|
Fat:
13
g
|
Saturated Fat:
7
g
|
Cholesterol:
57
mg
|
Sodium:
600
mg
|
Potassium:
231
mg
|
Fiber:
2
g
|
Sugar:
23
g
|
Vitamin A:
395
IU
|
Vitamin C:
0.2
mg
|
Calcium:
76
mg
|
Iron:
2
mg
 These muffins are the best cocoa muffins I have ever had! They are chalk full of cocoa flavor, not too sweet, just enough. The streusel topping is the perfect finish for them. You can totally omit it but i recommend trying these with the topping. You will love it! Drizzling with melted chocolate is optional but to me there is never enough melted chocolate. SO there you have it. Chocolate treat for breakfast. You are welcome. 🙂
When did you realize the whole Santa and superheros thing?
xoxo,
Anna