Tangy Apricot BBQ Pork Tenderloin - easy yet delicious way to make pork tenderloin for dinner!
We are a truly pork loving family. My Hubby makes killer pork ribs on the grill almost every Sunday during summer and I have my secret recipe for pork schnitzel. We shared our tips and a fantastic recipe for braised pork chops and today it's time to talk about tenderloin and pairing pork with preserves.
Did you know that pork tenderloin is included in the American Heart Association's guidelines as part of an overall sensible eating pattern? It meets the U.S. Department of Agriculture (USDA) guidelines for "extra lean" (less than 5 g fat, 2 g saturated fat and 95 mg cholesterol per serving), while six other pork cuts meet USDA's guidelines for "lean" (i.e., less than 10 g fat, 4.5 g saturated fat and 95 mg cholesterol per serving). Look for the Heart-Check stamp on the package in-store.
Tenderloin is the most tender piece of pork meat. It usually comes in packages of two, unless you are buying singles straight from the butcher.
It's always very important to let the cooked meat rest before slicing, so the juices can redistribute themselves inside. Otherwise, all of them will escape the meat as soon as you cut into it. It's kind of like with a cookie dough - it's good to let it chill before baking. Little things like this make a big difference in baking and cooking.
The National Pork Board recommends that you cook loin roasts, chops and tenderloin like you would a steak – until a digital thermometer reads an internal temperature between 145°F (medium rare), followed by a three-minute rest and 160°F (medium).
Preserves are not only for spreading over a warm bagel! They are a fantastic way to add sweetness to your meat. We mixed up the always fantastic Bonne Maman Apricot Preserves with few more ingredients to make a Tangy Apricot BBQ Sauce which we brushed on the meat towards the end of it's cooking. It created an amazing coating that complements the meat.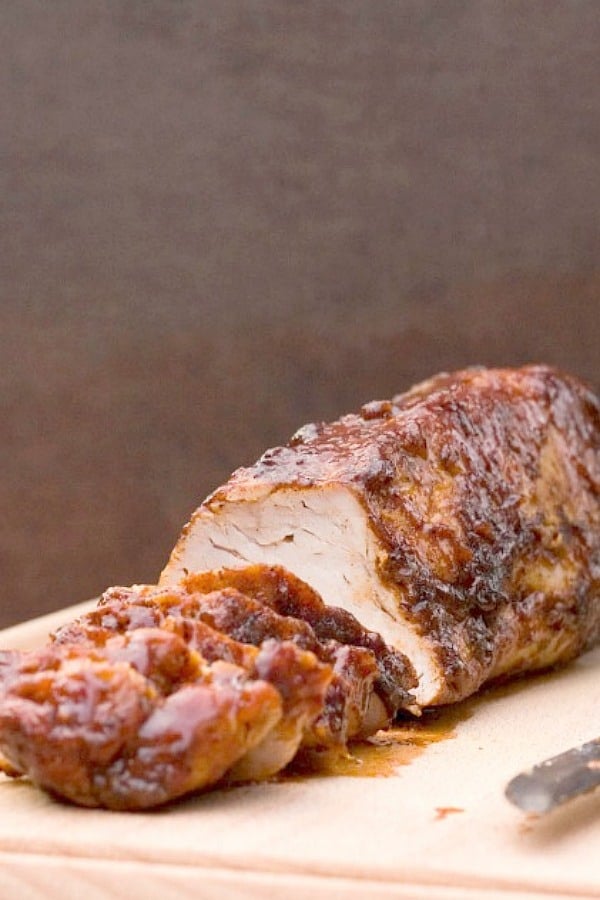 How we created our #PorkLUV:
After patting the tenderloin with a paper towel, we seasoned lightly with salt, pepper and paprika. We then braised the meat to create a nice brown crust on all sides. It will also be the base for the sauce to stick to the meat and not slide off. We finished cooking the meat in the oven, basting with the sauce every 10 to 15 minutes, after the initial 15 minutes. You can broil it on a low setting for 2 to 3 minutes setting to help with caramelization.
The Tangy Apricot BBQ Sauce is a combination of the sweet apricot preserves, seasonings, ketchup, vinegar and brown sugar. It is the perfect sauce to complement this cut of pork.
Just before serving I also drizzled warm Bonne Maman Apricot Preserves over the tenderloin slices. It was one fabulous meal! I am craving it again already!
Tangy Apricot BBQ Pork Tenderloin
Tangy Apricot BBQ Pork Tenderloin - easy yet delicious way to make pork tenderloin for dinner!
Ingredients
1.5

lbs

pork tenderloins

1

Tbsp

salt

2

tsp

ground black pepper

1

tsp

Hungarian paprika

4

Tbsp

dark brown sugar

1/2

c

apple cider vinegar

1

Tbsp

prepared mustard

1/2

c

Bonne Maman Apricot Preserves

1 and 1/2

c

ketchup or tomato sauce
Instructions
In a small dish or measuring cup, mix together salt, pepper and paprika.

Rinse the pork tenderloin under a warm water. Place on a cutting board and pat dry.

Sprinkle the seasoning over the tenderloin and gently rub in.

Reserve any remaining seasoning for the sauce.

Preheat a lightly greased braiser or a large cast iron skillet over a medium high heat until almost smoking.

Place the tenderloin onto the hot skillet or braiser and braise on each side until nicely browned, about 3 to 4 minutes each.

Preheat the oven to 375 degrees F.

Line a large baking sheet with aluminum foil. Place a baking rack on top.

In the meantime, place the remaining seasoning, brown sugar, vinegar, mustard, apricot preserves and ketchup in a medium saucepan. Bring to boil. Lower the heat and simmer the sauce for 3 to 4 minutes.

Place the braised pork tenderloin on a baking rack and place in the oven.

Bake for 15 minutes.

Brush the pork tenderloin with the sauce.

Bake another 10 minutes.

Brush the tenderloin with the sauce.

Bake 10 more minutes.

Check the internal temperature of the meat. If it reaches 145 degrees F, the meat is done.

You can bake it for 5 more minutes or set under the broiler (set on low) for 2 to 3 minutes, until the sauce is caramelized.

Place the pork tenderloin over a new sheet of the aluminum foil. Bring the long sides of the foil together and fold, enclosing the tenderloin inside. Let sit for 10 to 15 minutes. This lets the juices redistribute in the meat.

Slice and serve with warm apricot preserves or the remaining bbq sauce.
Notes
Refrigerate the remaining bbq sauce in a covered container for up to 5 days.
Nutrition
Calories:
190
kcal
|
Carbohydrates:
18
g
|
Protein:
20
g
|
Fat:
3
g
|
Saturated Fat:
1
g
|
Cholesterol:
63
mg
|
Sodium:
1081
mg
|
Potassium:
430
mg
|
Sugar:
14
g
|
Vitamin A:
175
IU
|
Vitamin C:
1.5
mg
|
Calcium:
17
mg
|
Iron:
1.3
mg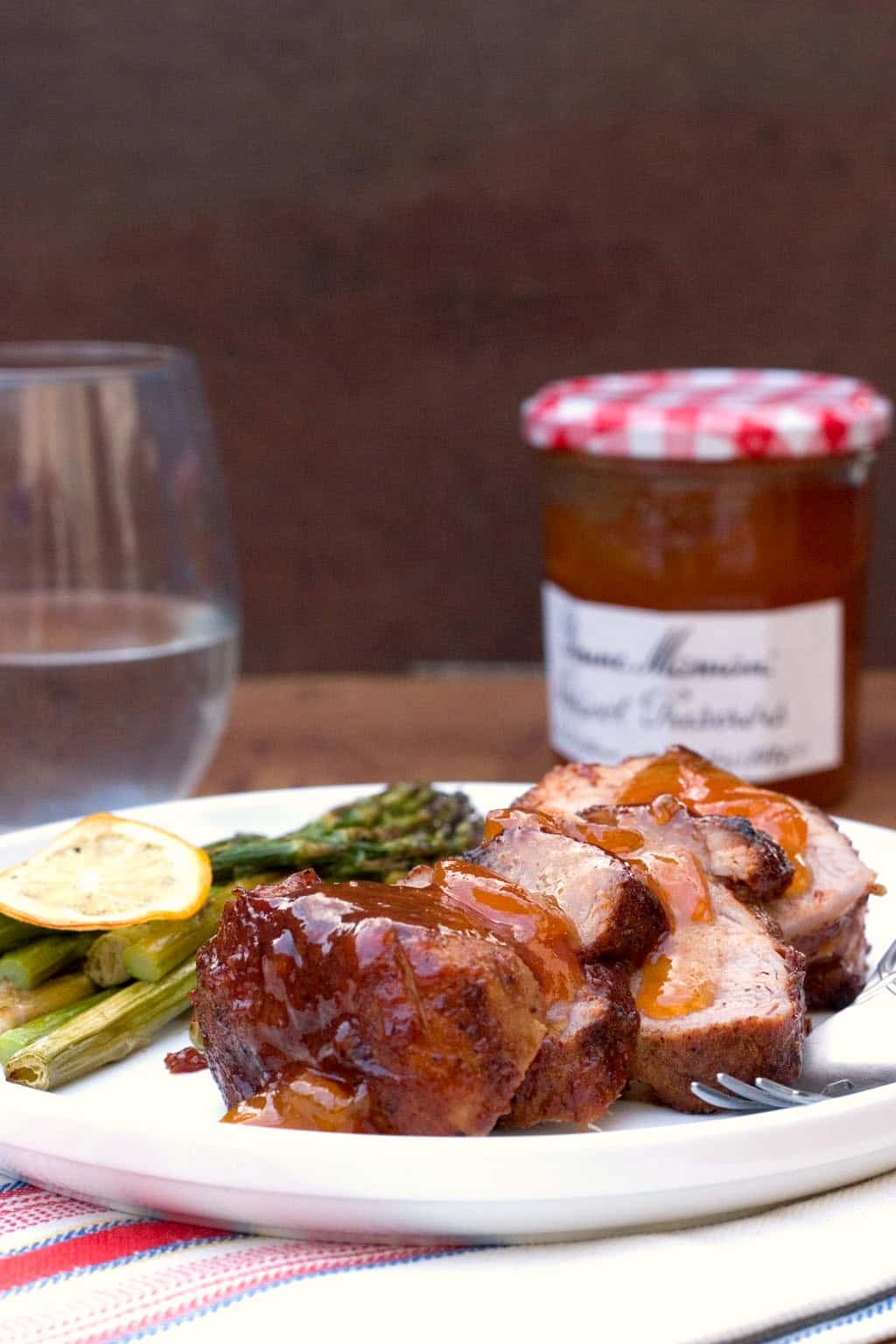 Disclosure: I developed this recipe for the Bonne Maman and the National Pork Board. All opinions are 100% my own.