Cauliflower Alfredo Sauce – turn cauliflower into a creamy and delicious sauce with the addition of roasted garlic and Parmesan! Skip the cheese for a vegan option.
One of our favorite pasta dinners is my Bacon Mushroom Alfredo. You can use this cauliflower sauce to make it too! Don't forget the roasted garlic. It adds delicious flavor!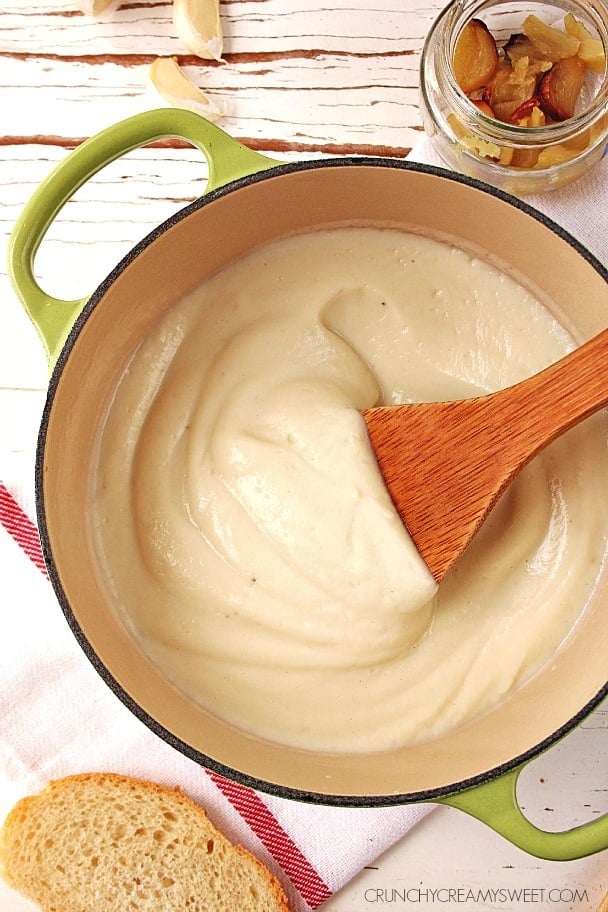 This sauce is a combination of two veggies I absolutely love: cauliflower and garlic. I grew up eating a lot of cauliflower. My Mom had a collection of recipes using this veggie and made them a lot. The smell of sauteed garlic is my childhood memory since my grandmother used it in almost every dish. I always have a jar of minced garlic in my fridge and now, roasted garlic cloves too. This healthy cauliflower pasta sauce is nut-free, gluten-free and is you skip the cheese, it is dairy-free. According to MyFitnessPal, one serving of this sauce is 118 calories!