Cheesy Jalapeno Popper Bread Recipe - crispy baked bread topped with jalapeno popper mixture, cheese and fresh chopped peppers. Perfect appetizer for parties and gatherings!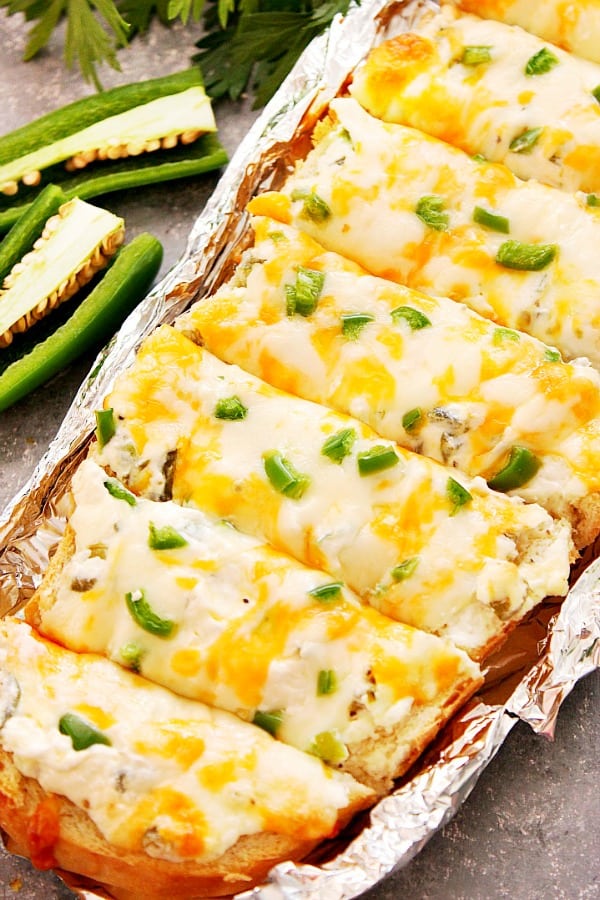 Bread and cheese and jalapenos make this baked goodness a perfect appetizer that is bound to a be a hit at any party, gathering or simply a movie night. Everything you love about jalapeno poppers and cheesy garlic bread in one!
Great served with pasta, soup or simply as an appetizer. This Jalapeno Popper Cheesy Bread has everything you love about the classic filled peppers and it is as much irresistible and delicious. This bread is actually an improved version of my popular Jalapeno Popper Garlic Bread recipe that I shared here on my blog 3 years ago. Let's just say that one is not as attractive looking and since I used pickled jalapenos, is quite a bit more spicy. This is my new and currently favorite way to prepare this addicting cheesy appetizer!
HOW TO MAKE A CHEESY BREAD
Making a homemade cheesy bread is insanely easy. Slice a French or Italian bread lengthwise. Place each piece of a large baking sheet. Brush with melted butter mixed with garlic. Be generous. You want the butter to soak into the bread. Bake for about 5 minutes. Then top each bread piece with cheese ( and other ingredients, if using ) and bake another 5 or so minutes OR until the cheese is melted. Remove from oven and let cool on a cutting board. Slice and serve immediately. Cheesy bread is the best while still warm and the cheese is gooey. Since jalapeno poppers have a cream cheese filling, I made the same kind of mixture of cream cheese and chopped jalapenos and spread it over the bread before topping with cheese. Sprinkle a few pieces of chopped jalapenos over the top and bake.
WHAT BREAD TO CHOOSE FOR A CHEESY BREAD
Let's start with the bread. I usually choose from two kinds: the Italian bread and the French bread. Italian loaf is longer and wider than the French and it will feed more people. Depending on the event you are making the cheesy bread for, or should I say, depending on the amount of people you want to feed, choose the bread that will make enough. For example, for a family dinner for 4, I recommend the French bread.
WHAT CHEESE TO CHOOSE FOR A CHEESY BREAD
Next, the cheese. I almost always use mozzarella cheese because it melts perfectly. It also does not have a strong flavor so you can add garlic and actually taste it. For this Jalapeno Popper Cheesy Bread, I went with a combo of cheddar and mozzarella along with the chopped jalapenos and it is fantastic! Cheddar and jalapenos go so well together that I think this addition works perfectly here.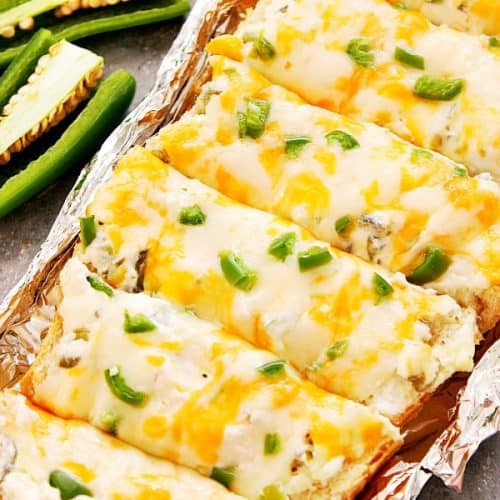 Cheesy Jalapeno Popper Bread Recipe
Crispy baked bread topped with jalapeno popper mixture, cheese and fresh chopped peppers. Perfect appetizer for parties and gatherings!
www.crunchycreamysweet.com
Ingredients
1

loaf of French bread

½

cup

unsalted butter melted

1

teaspoon

garlic powder

4

oz

cream cheese softened

½

cup

sour cream

2

fresh jalapeno peppers

chopped

¼

teaspoon

salt

⅛

teaspoon

black pepper

¾

cup

shredded mozzarella cheese

¾

cup

shredded cheddar cheese
Instructions
Preheat the oven to 400 degrees F.

Line a large baking sheet with parchment paper.

Cut the bread lengthwise and place both parts face side up on the sheet.

Brush both pieces with melted butter. Sprinkle with garlic powder.

Cover with a piece of aluminum foil and place in the oven.

Bake for 5 minutes.

In the meantime, remove seeds and chop the jalapeno peppers. Reserve 2 tablespoons to sprinkle on top.

In a medium mixing bowl, mix together cream cheese, sour cream, chopped jalapenos, salt and pepper.

Remove the bread from the oven. Uncover.

Spread the jalapeno dip mixture on the bread, dividing equally between the two pieces of bread.

Top with cheese.

Sprinkle the reserved chopped jalapenos over the cheese.

Place bread back in the oven for 2 to 4 more minutes, to melt the cheese. (see note)

Remove from the oven and place on a cutting board. Let cool for few minutes.

Slice and serve.
Nutrition
Calories:
638
kcal
|
Carbohydrates:
48
g
|
Protein:
19
g
|
Fat:
41
g
|
Saturated Fat:
24
g
|
Cholesterol:
116
mg
|
Sodium:
831
mg
|
Potassium:
216
mg
|
Fiber:
2
g
|
Sugar:
3
g
|
Vitamin A:
1360
IU
|
Vitamin C:
6.8
mg
|
Calcium:
295
mg
|
Iron:
3.2
mg