Cranberry Pomegranate Smoothie - power smoothie that's packed with antioxidants! Use the seasonal fruits and whip up this tasty sipper!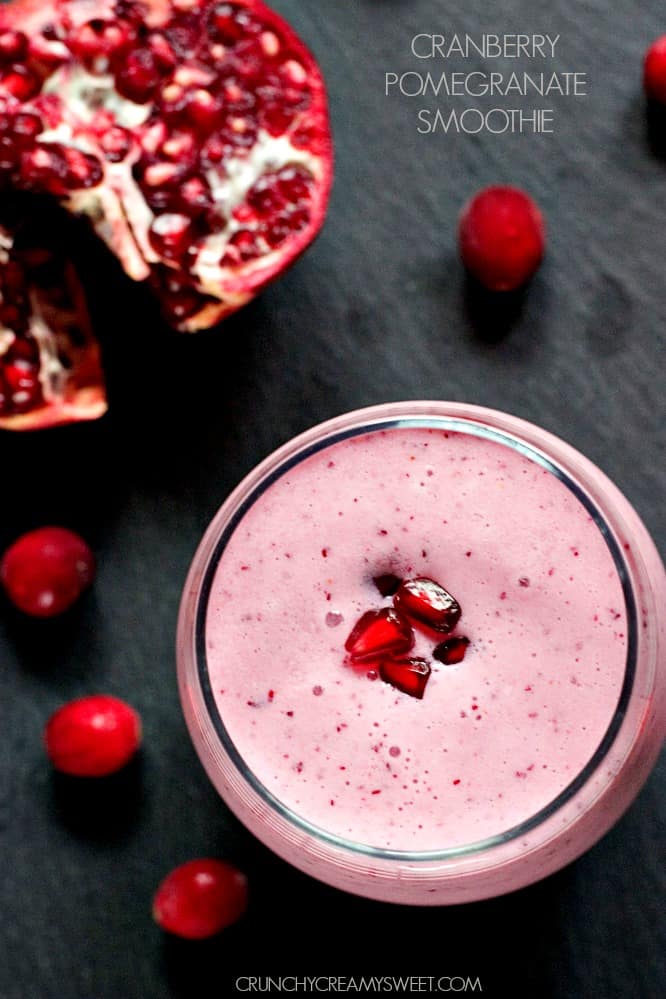 You guys, I am so excited to share this smoothie with you today!
Few reasons: it's super healthy, it has my favorite fruits of this season and it's absolutely delicious! I've been drinking this smoothie every other day for the past two weeks and I love it!
Pomegranates just showed up in my local market and as soon as I saw them, I knew I had to grab a few. I had this smoothie idea in my head for a while now and was waiting for both pomegranates and cranberries to show up in stores.
I absolutely adore pomegranate! Do you know how to select the right one? Weigh it! Yes, grab two pomegranates and choose the one that's heavier. Compare to few more from the lot and choose the ones that are the heaviest. They will have the most juice in them! Cool, huh? 🙂 The color of the skin won't tell you much but the weight will. Just a tip!
Look at this beauty!
It was so much fun to photograph this fruit. It's gorgeous and so unique! The vibrant color is quite mesmerizing, wouldn't you say?
I chose the two super foods for this smoothie. Pomegranate and cranberries - what a power combo! They are both packed with antioxidants, which we all know are super important! Cranberries have tons of Vitamin C and fiber. The pomegranate has even more Vitamin C! This combo is great to boost your immune system, especially now, when the flu season is upon us. The pomegranate arils are sweet and cranberries are tart and together they make one tasty smoothie. I added Greek yogurt for protein and a splash of milk to make it easier for all of the ingredients to blend together. There is really nothing else you need in this smoothie. It's perfectly balanced when it comes to flavors.
I used my trusted Blendtec blender to whip up it all up to a smoothie perfection! You can strain it after blending to make it super smooth. The arils will leave tiny bits in the smoothie - just a warning. You could of course use the pomegranate juice, but I wanted to use the fresh fruit.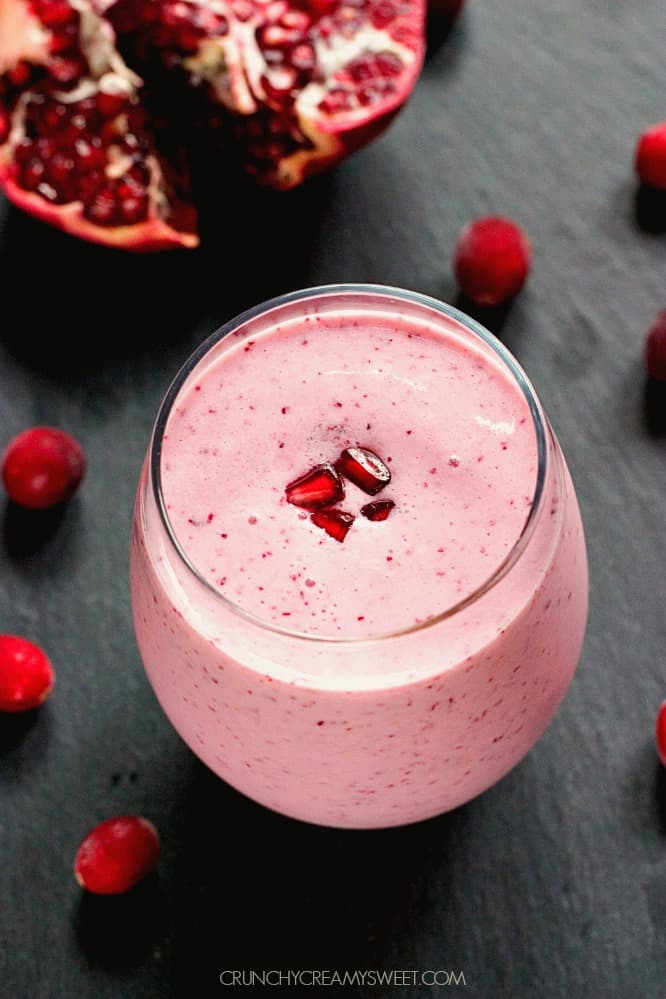 I used frozen cranberries and they made this smoothie frothier than thawed cranberries would.
This smoothie is kid-approved since all of our kids (3, 5 and 8 years old) absolutely loved it! Yay!
Enjoy!
For condensed instructions and printable recipe please click button below

Related recipe posts: