Skillet Rolls – buttery rolls baked in a skillet for a fun pull-apart effect. Perfect with a bowl of soup or pasta!
We love these rolls as an appetizer or with a big bowl of Potato Soup or Chicken Alfredo Pasta.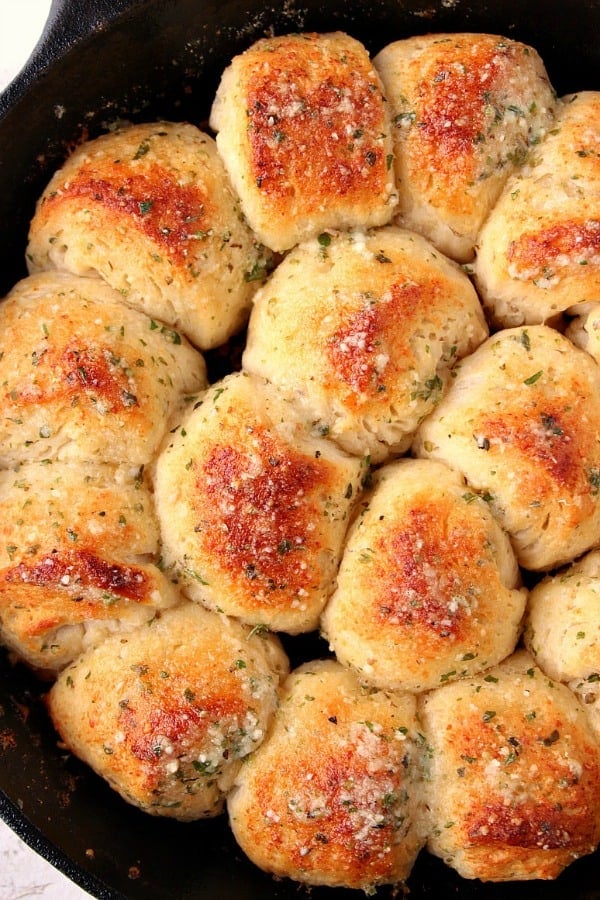 SKILLET ROLLS
Forget plain rolls. Sometimes you just need an easy idea to take the boring out and bring in some flavor. For example, these rolls. Dipped in garlic and Parmesan butter, arranged in a skillet and baked together into a golden pull-apart bread. Serve with a big bowl of soup or creamy pasta for a comfort food filled dinner. Or serve for brunch alongside bacon, sunny side up eggs and fresh fruit. Whenever I have a can of biscuit dough, I want to do more than just pop them out onto a baking sheet and bake. I fill them with cheese, or stuff them and tie into a knot. Dipping them in cheesy garlicky butter is probably my favorite way to jazz them up. So why not arrange them in a skillet and bake into a pull-apart bread?