Our Favorite Sunday Waffles aka The Best Waffles Ever - join us for breakfast! It's Waffles Sunday!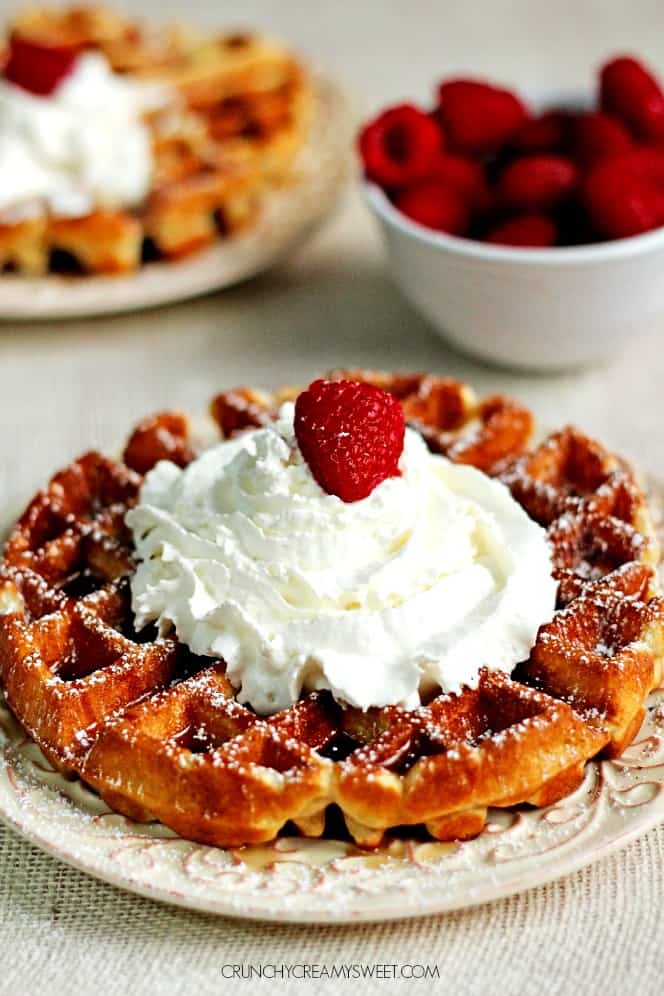 Sundays are very special in our family. It's our favorite day of the week and also extra delicious. And it all starts with a late breakfast.
Our Sunday breakfast is one of those traditions that my Husband and I were dreaming of having with our children, before they were born. I was thought by my parents that you always need to sit down to your meal and that you should never eat alone. I am carrying it into my own family. Our dinners happen around our dinner table, with everyone sitting and talking. Weekend breakfasts are different, since we homeschool and my Husband and I get up very early and have breakfast together, our oldest gets up before her siblings and has her breakfast first. But when the weekend rolls in, it's important for us to have a long breakfast together. Saturdays are eat-what-you-like mornings. But Sundays are everyone's favorite: waffles and pancakes!
I shared our favorite pancake recipe before and I still make it, sometimes with different add-ons. Today I am sharing our favorite waffle recipe, that makes crispy on the outside and fluffy on the inside waffles that you can top with anything your heart desires. It usually depends on the season and cravings. During spring it's jams and preserves, in summer it's a lot of fresh fruit and fall always makes us crave caramel and sauteed apples. Winter waffles are topped with berries, segments of citrus, whipped cream and a dusting of powdered sugar.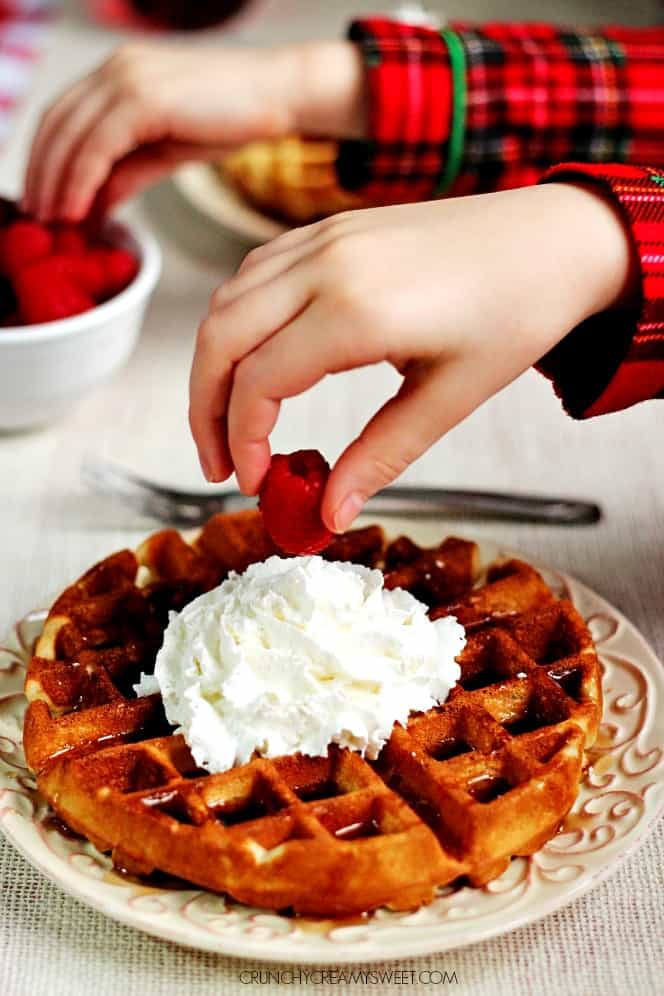 Since our tradition of Sunday waffles started, I have been trying to get our recipe just right. I tinkered with my standard recipe but they just weren't the best. Then I remembered that my Mom used to make fantastic waffles as a special occasion breakfast! I gave her a call and she happily shared her secret with me. It appeares that separating the eggs and beating the egg whites until stiff is the secret to crispy waffles!! Now, when our daughter asked me why do we need to do that instead of whisking the whole eggs into the batter like we do for pancakes, I share the same secret with her. It's the extra step that makes all the difference.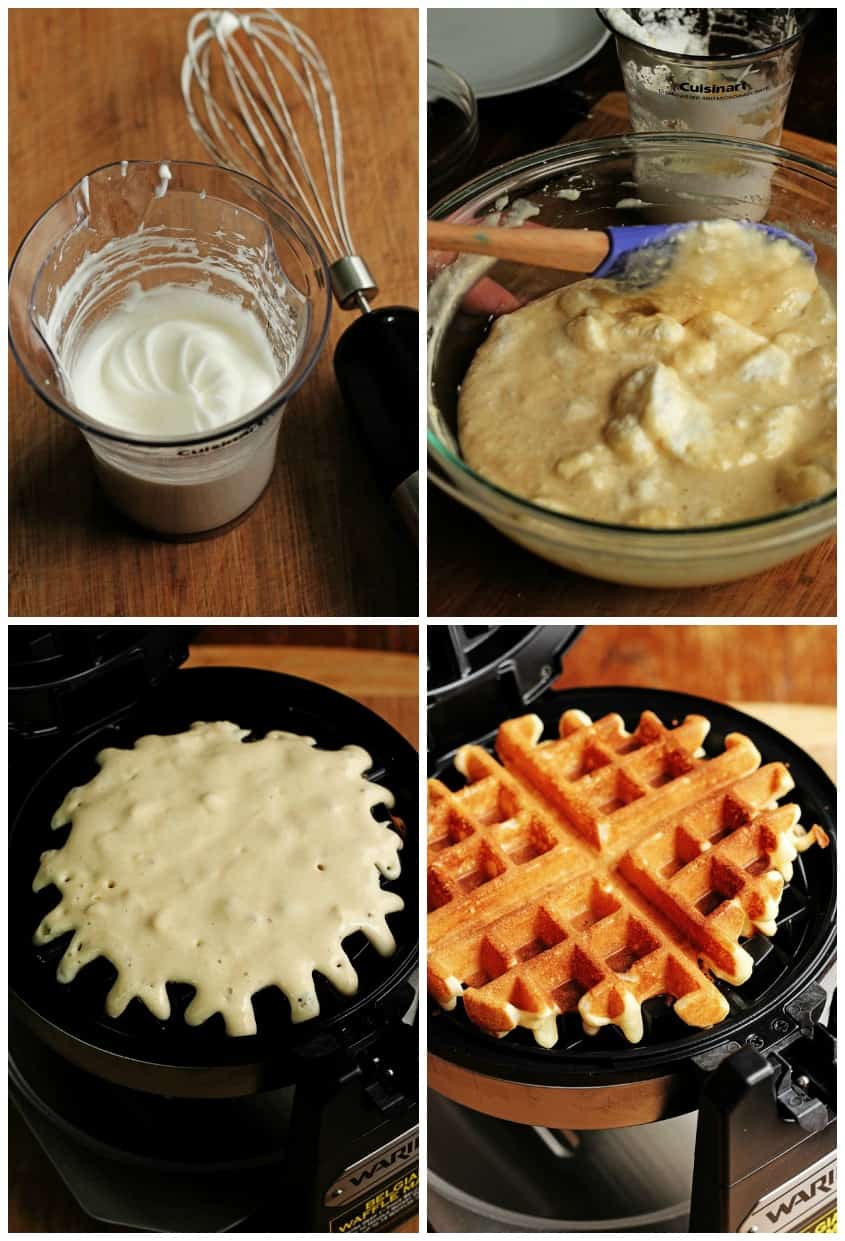 Seeing how everyone is excited every Sunday to enjoy the late and long breakfast, top these fantastic waffles with their favorite toppings and talk about everything and anything - it makes my Husband and I appreciate what we have and hoping that our kids will carry the tradition into their families in the future.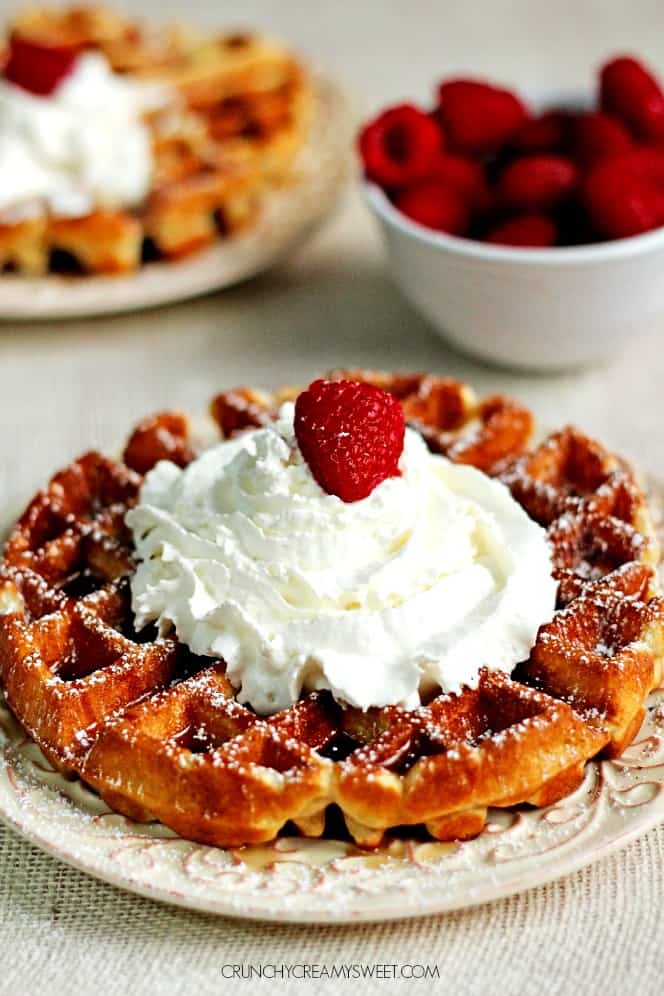 Our Favorite Sunday Waffles
Crispy and light, these waffles are the best for a special Sunday breakfast.
Ingredients
2.25

cups

all-purpose flour

3

Tablespoons

granulated sugar

2

teaspoons

baking powder

½

teaspoon

baking soda

¼

teaspoon

kosher salt

2

large egg whites

2

large egg yolks

2

cups

whole milk

3

Tablespoons

vegetable oil

2

teaspoons

pure vanilla extract
Instructions
In a large mixing bowl, whisk together the dry ingredients (flour, sugar, baking powder, baking soda and salt).

In another mixing bowl, whisk together egg yolks, milk, oil and vanilla. Add to the dry ingredients and stir in.

In another mixing bowl, whip the egg whites with an electric mixer (I used a hand stick blender with a whisk attachment) until stiff peaks form.

With a rubber spatula, gently fold in the whipped egg whites to the batter. Stir until no white streaks remain.

Preheat the waffle iron and fry ¼ cup of batter at a time until the waffles are golden brown.

Serve immediately.
Nutrition
Calories:
400
kcal
|
Carbohydrates:
56
g
|
Protein:
11
g
|
Fat:
14
g
|
Saturated Fat:
9
g
|
Cholesterol:
87
mg
|
Sodium:
293
mg
|
Potassium:
378
mg
|
Fiber:
1
g
|
Sugar:
12
g
|
Vitamin A:
260
IU
|
Calcium:
197
mg
|
Iron:
2.9
mg
~~~~~~~~~~~~~