Mini Powdered Sugar Pumpkin Donuts - these pumpkin donuts in a mini form are coated in powdered sugar and make for one adorable treat!
As you may know, my girls are taking ballet classes. This year our youngest started on an elementary level and she loves it. Usually, I sit in a waiting room and wait for her and then her sister that has longer classes. I noticed something funny this week. Usually I see moms coming to the school to drop the kids off for their classes or like me, wait for them. Us moms love the idea of our kids taking ballet classes, from dressing them up in their leotards and helping them tie their ballet shoes to carrying their duffle bags with them, probably secretly wishing we were doing it too! This week I noticed a lot of dads, awkwardly carrying the pink bags and walking behind their daughters! It was a cute and funny view! They were looking around hoping no one is noticing them and their daughters were walking proudly having their dads carrying the pink bags. Us moms were just smiling at them and giggling quietly. 🙂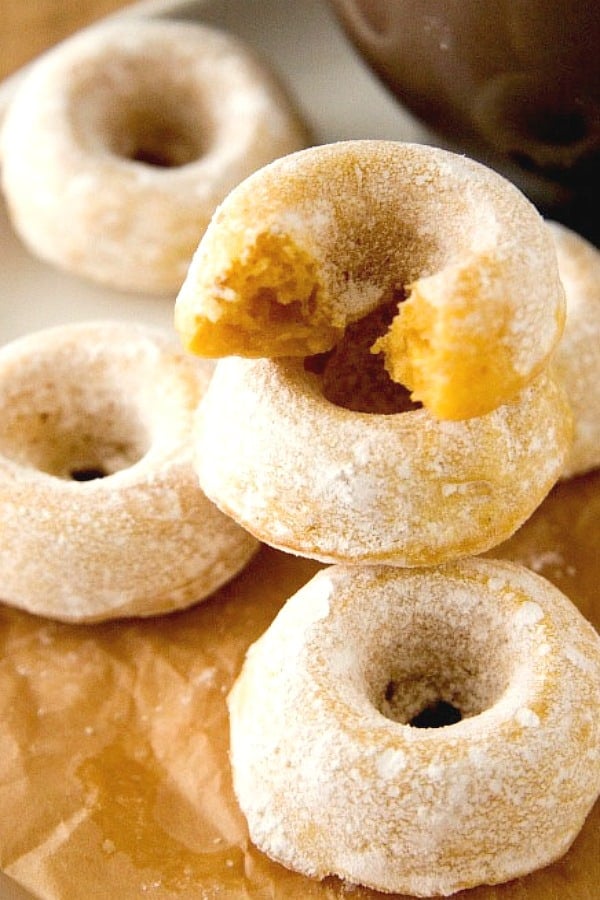 But let's talk about these mini donuts!
How cute and adorable are they? I was in love with the regular size donuts I shared recently, but these mini ones are just too cute! Since it's fall and hello, first day of October (!!!), I am allowed to make treats like these. I love fall and fall baking and it gets my creative juices flowing like crazy. I want to make so many recipes, I probably won't have time to share them all!
But these had to be shared. These mini donuts are so easy to make and make for one cute treat. I have been obsessed with baking donuts since I got the donut pans. By the way, these are the ones I use: regular size and mini size.
I skipped the egg from the regular recipe and replaced it with the pumpkin puree. It worked perfectly! The donuts baked in into moist and fluffy little rounds. I love the color and the spice flavors so I went with powdered sugar for a coating. Simply toss them into a ziploc bag with powdered sugar and shake till they are nicely coated! Easy peasy!
Don't you just want to pop a dozen of these right into your mouth? 🙂
Mini Powdered Sugar Pumpkin Donuts
Mini Powdered Sugar Pumpkin Donuts - these pumpkin donuts in a mini form are coated in powdered sugar and make for one adorable treat!
Ingredients
1.25

cup

all-purpose flour

½

cup

granulated sugar

1.25

teaspoon

baking powder

1

teaspoon

pumpkin spice

¼

teapoon salt

¾

cup

buttermilk

¼

cup

pumpkin puree

not pie filling

1

teaspoon

vanilla extract

1.5

Tablespoon

vegetable or canola oil

¼

cup

powdered sugar

for coating
Instructions
Preheat oven to 425 degrees F.

Spray mini donut pan with non-stick cooking spray. Set aside.

In a medium mixing bowl, whisk together flour, sugar, baking powder, and salt.

In a large measuring cup, whisk together buttermilk, pumpkin, vanilla and oil.

Add the wet ingredients to the dry ingredients and whisk until combined. Do not overmix.

Place the batter in a ziploc bag and close. Snip one corner of the bag.

Pipe the batter out into the prepared pan, filling the donut cavities ⅔ full.

Bake the donuts for 8 to 9 minutes (for me the magic number was 9). The bottom of the donuts should be golden brown and the tops should be light.

Cool the donuts in the pan for 10 minutes. Transfer onto a cooling rack.

Cool completely before coating.

Place the powdered sugar in a ziploc bag. Place donuts inside the bag and shake until coated.

Store in an air tight container in a room temperature for up to 2 days.
Nutrition
Calories:
102
kcal
|
Carbohydrates:
20
g
|
Protein:
1
g
|
Fat:
1
g
|
Saturated Fat:
1
g
|
Cholesterol:
1
mg
|
Sodium:
16
mg
|
Potassium:
75
mg
|
Sugar:
11
g
|
Vitamin A:
820
IU
|
Vitamin C:
0.2
mg
|
Calcium:
36
mg
|
Iron:
0.6
mg
Related posts: