Lightened Up Chili Cheese Fries - this reinvented version of chili fries is incredibly easy to make and better for you than the original! Also, check out our lighter versions of dinner classics that everyone will love!
I know what you are thinking. How can such cheesy dish be called "lightened up"? Right? Thanks to Alexia's All-Natural Oven Fries, our homemade turkey chili and shredded cheese sprinkled on top. We are skipping fat-loaded deep fat-fried potatoes, beefy chili and the cheese sauce,yet, this dish is still delicious and satisfying. And that's what today's post is all about: lighter choices in our favorite meals!
When Alexia Foods asked us to create five balanced meals that would be great for week days, we jumped on it! We love Alexia's fries for two reasons: they are all natural and they deliver in size and taste. I've never seen such perfect onion rings or waffle fries from a package, bought in a freezer section in our store. They are huge and bake up to a crispy perfection! Every.single.time.
Since it's fall and football season, it means that we are craving comfort foods and our favorite snacks. Why not make them healthier? It's all about the right ingredients that still can do the job.
My Hubby and I both love chili this time of year. As soon as the weather turns cold, we make a big pot of it. This time, we skipped the ground beef and used ground turkey. We also skipped the cheesy sauce and sprinkled the cheese right over the chili and fries. Few minutes in the oven and the cheese melted into one glorious gooey goodness!
You will love our Lightened Up Chili Cheese Fries!
Lightened Up Chili Cheese Fries
Lightened Up Chili Cheese Fries - this reinvented version of chili fries is incredibly easy to make and better for you than the original! Also, check out our lighter versions of dinner classics that everyone will love!
Ingredients
1/2

pkg Alexia Oven Fries with

1.5

c

turkey chili

(see note for a quick recipe)

1/2

cup

shredded mozzarella cheese

3/4

cup

shredded colby cheese

green onions

, for garnish
Instructions
Preheat oven to 420 degrees F.

Spray your cast iron skillet with non-stick spray.

Place potato wedges in the skillet, arranging as desired.

Place the skillet in the oven and bake potatoes for 10 to 12 minutes.

Remove skillet from the oven.

Pour turkey chili over the fries.

Top with shredded mozzarella, then colby cheese.

Bake 3 to 5 minutes or until the cheese is melted.

Remove from the oven and let cool 10 to 15 minutes before serving.

Garnish with green onions and serve.
Notes
For a quick turkey chili: in a medium saucepan, combine cooked ground turkey meat, 1 can low-sodium chili beans, 2 Tablespoons tomato paste, 1 Tablespoon chili seasoning, 1 can low-sodium diced tomatoes. Cook together until bubbly.
Nutrition
Calories:
247
kcal
|
Carbohydrates:
12
g
|
Protein:
14
g
|
Fat:
16
g
|
Saturated Fat:
9
g
|
Cholesterol:
50
mg
|
Sodium:
739
mg
|
Potassium:
392
mg
|
Fiber:
4
g
|
Sugar:
1
g
|
Vitamin A:
665
IU
|
Vitamin C:
1.7
mg
|
Calcium:
285
mg
|
Iron:
3.5
mg
Skinny Egg Salad Sliders
Our kids love egg salad. We created these sliders for them and served Alexia's waffle fries on the side. They loved it! The egg salad has Greek yogurt in place of mayo. A tablespoon of Dijon mustard, salt, pepper and chopped green onions finish the salad giving it lots of flavor. These mini sandwiches disappeared quickly!
Sweet Potato Fries and Veggies Hash with Fried Egg
I love sweet potatoes and could eat them all year long! When creating a dish with Alexia's sweet potato fries, I wanted to think outside the box and make something unexpected. I chopped them up and sautéed them in a saucepan with onions, orange peppers and garlic. I added a fried egg on top and garnished the whole dish with chopped green onions and pomegranate arils! It was absolutely delicious! It's a quick vegetarian meal, perfect for meatless Mondays or whenever you want a satisfying yet quick and easy dinner!
Skinny Turkey Meatball Subs
The next dish is another favorite with our kids. Just like any other kids, ours love meatballs. We lightened up the dish by using ground turkey and organic spaghetti sauce. A sprinkle of shredded mozzarella cheese and few minutes in the oven to melt it and we had one delicious dinner that was kid-approved! We served Alexia's waffle fries, baked to crispy perfection, on the side.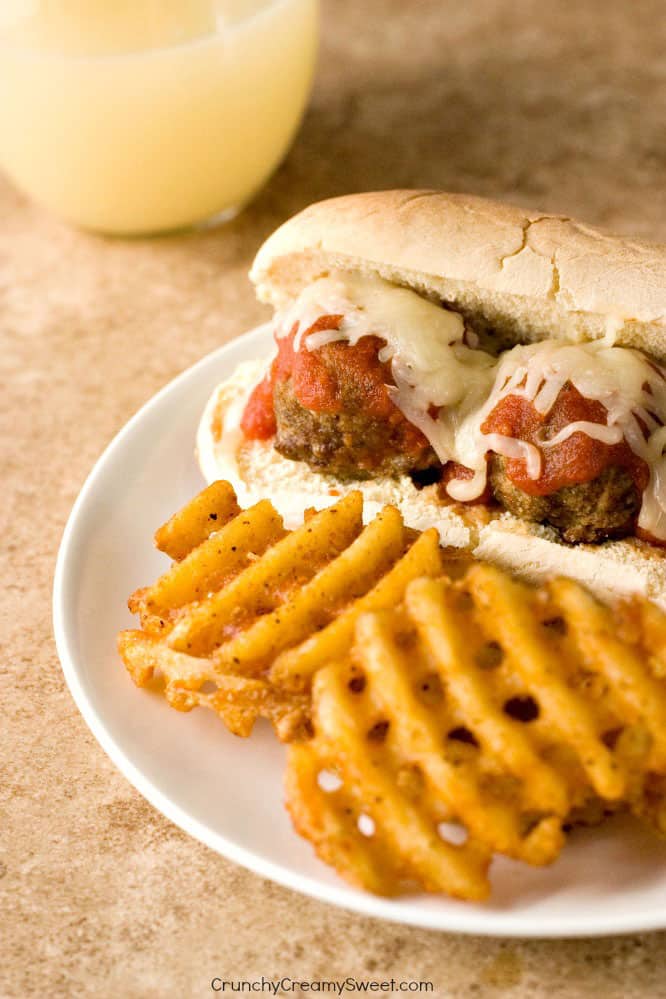 Turkey Burger with Onion Rings
This one is my Hubby's favorite in this round up. I took his favorite dinner, hamburgers, and lightened it up. I used ground turkey for the patty and whole wheat bun for the sandwich. I layered it with Romaine lettuce, fresh plump tomatoes, sliced and red onion slices. I used Alexia's onion rings with panko breading and sea salt in the burger and on the side. They are so big and bake so well, they were just asking to be used in a man-friendly meal like burgers. It was a huge hit!
For more recipes and inspirations, check out the recipe section on Alexia's site, here. Sign up for their emails and get exclusive deals!
Follow Alexia Foods on Facebook and Pinterest.
Alexia frozen sides are a delicious addition to any weeknight meal! They are that little something extra to help create a balanced meal with real ingredients and an exceptional taste!
Sign up for the Alexia Club 350 newsletter to be the first to hear about new products & promotions, get recipes and tips from other members and even contribute your own ideas!
This is a sponsored conversation written by me on behalf of Alexia Foods. The opinions and text are all mine.