For all of you, pumpkin lovers and waste-haters, a solution for all of the leftovers of Fall's favorite fruit.
Frozen Pumpkin Cubes.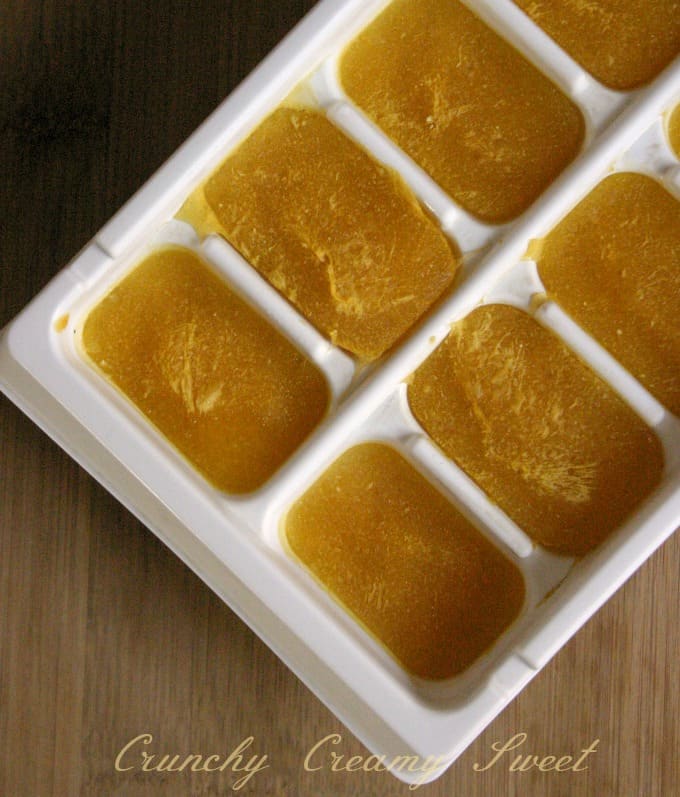 This is for the pumpkin puree ( either homemade or the store-bought ), not a pie filling. There are no spices added, which makes it great for savory and sweet dishes. Simply fill the ice cube tray with leftover pumpkin, freeze it and store the cubes in a ziploc bag. They will be ready whenever you need them. Add a boost of Vitamin A and beta-carotene to your meals and drinks everyday this season.
Here is a list of 10 ways to use frozen pumpkin cubes:
1. Add to your morning smoothies. Add a cube or two with the rest of ingredients and whip it up!
2. Make a homemade pumpkin latte. Like this one.

3. Add to your standard mac and cheese. Add few cubes to the ready sauce and let melt. Stir until smooth and add to pasta.

4. Add to meatballs. Defrost three cubes per ½ lb of ground meat.

5. Stir into your morning oatmeal. Use frozen before cooking your oatmeal or stir in defrosted.

6. Make this granola.
7. Add to chili. No need to even defrost the cubes. Simply add with the rest of ingredients and cook in a slow cooker.

8. Add to pasta sauce. See nr.3.

9. Add to pancake or waffle batter. Defrost two or three cubes and stir into your batter.

10. Spread over crepes. Mix defrosted pumpkin with brown sugar, allspice, nutmeg and cinnamon with few tablespoons of softened cream cheese and spread over fresh batch of crepes.
Are you enjoying pumpkin this season?
xoxo,
Anna