Easy Skillet Dinner Rolls with Citrus and Herbs - soft and fluffy dinner rolls baked in a skillet and packed with citrus and herbs!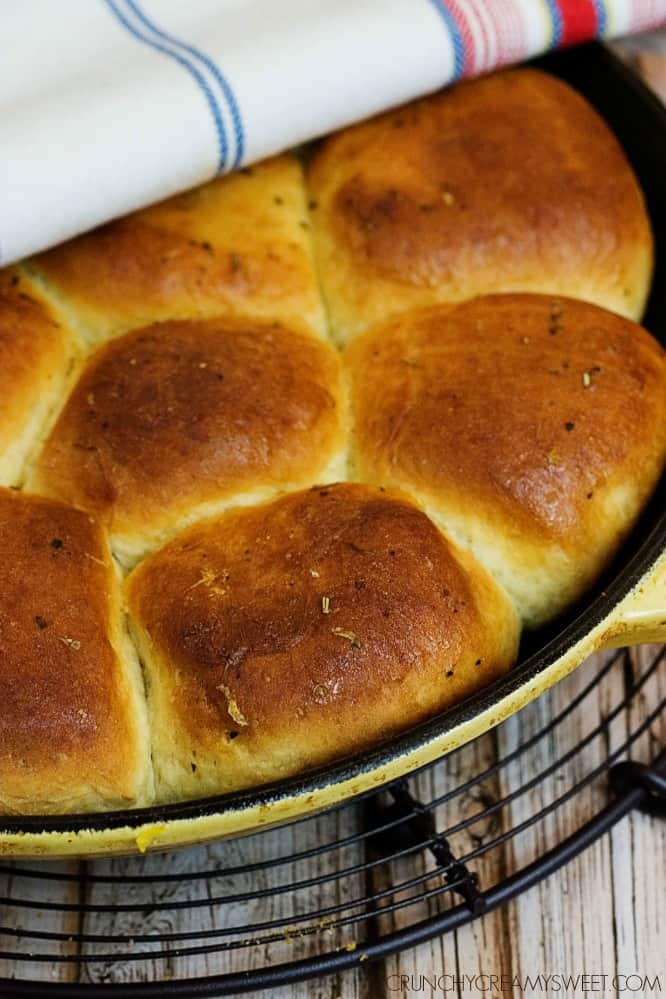 Dinner rolls - one of my favorite things to bake with yeast. Right next to pizza of course, although that's more of my Hubby's department. I adore dinner rolls! I always offer to make them for holiday dinners with family. I just enjoy baking with yeast! There is just something fun about seeing how beautifully your dough has risen and how even more beautifully it bakes up!
I've made my focaccia, our pizza dough, brioche buns and muffin bread so many times, that I've learned how to work with yeast. I am here to tell you that you can do it and it's actually fun!
HOW TO MAKE SKILLET DINNER ROLLS?
For the longest time, I was always intimidated by yeast. It's a living organism after all! It's used to leaven the dough and develop gluten. But if you have never baked with yeast, it's important to know a few things about handling it or you may run into problems, like un-risen dough. The number one mistake people make when using yeast is using too hot liquids that can kill the yeast. You should never use a liquid that's too hot to the touch. It's should be very warm - between 100 degrees F to 130 degrees F, depending on the yeast. Another important thing to remember is to find a warm and draft-free place for the yeast dough to rise. For a long time, I would use the microwave. I would heat up a cup of water until bubbly, move it into the corner of the microwave, place the covered bowl with dough inside and close the microwave. It works like a charm! When I made my focaccia for the first time, I was looking for ways to simplify the recipe and the oven method was born. This is the method I use now and it's perfect! I preheat the oven to 220 degrees F, turn it off, place the covered metal bowl, skillet or baking pan with yeast dough and close the oven. The dough will rise in about 20 minutes! I know so many of you that make my focaccia recipe love this method as well.
WHAT IS RAPID RISE YEAST?
This dinner roll recipe from Fleischmann's® Yeast is very easy. It uses their RapidRise® Yeast which lets you to eliminate one step: proofing the yeast. Usually, when baking with yeast, you need to activate them. It is done by sprinkling the yeast over warm water and letting the mixture sit for 5 minutes until the yeast creates a foam. In this recipe, it is not necessary, because of the type of yeast, which is added to the dry ingredients mixed in, combined with liquids and formed into a dough ball. After a quick rest, the dough is divided into 12 pieces, places in a greased cast iron skillet (you can use a round or square baking pan) with space between each ball of dough, left to rise until doubled in size and baked.
HOW TO ADD FLAVOR TO DINNER ROLLS?
To jazz up the recipe and give it some flavor, I combined one of my favorite scents of late - citrus. I mixed lemon zest with Italian seasoning and added it to the dough. I reserved about 2 teaspoons of it, combined with melted butter and brushed the rolls just before baking. The flavor and the smell of these rolls is incredible! It takes the dinner rolls to the next level! These rolls would be perfect on any festive holiday dinner table. And they will disappear in a flash! So grab a package of Fleischmann's® Yeast and bake up these beautiful rolls! It's easier than you might think!
EASY SKILLET DINNER ROLLS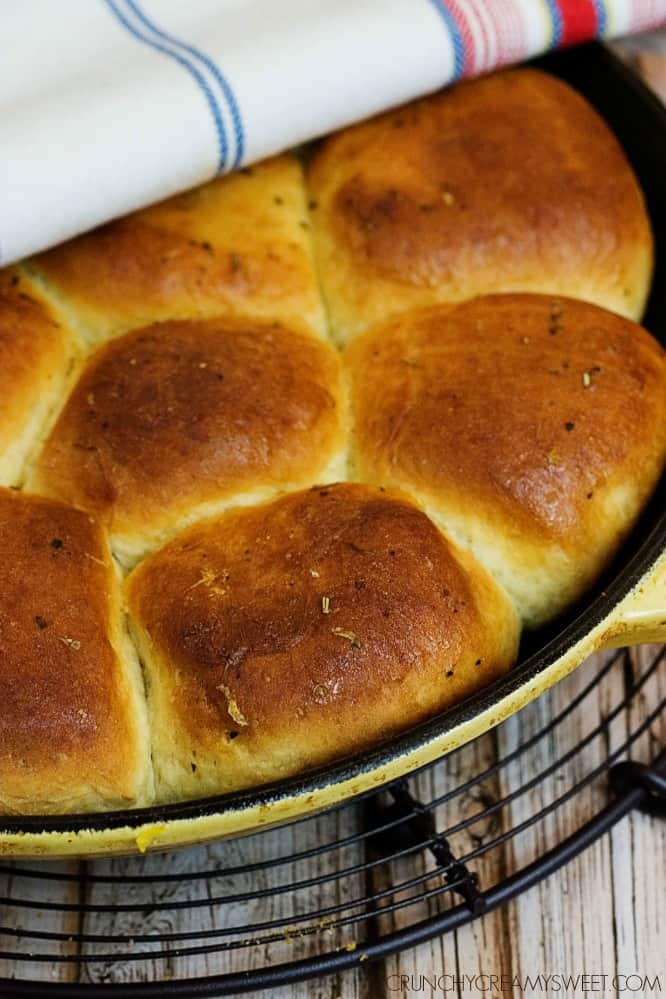 Easy Skillet Dinner Rolls with Citrus and Herbs
Easy Skillet Dinner Rolls with Citrus and Herbs - soft and fluffy dinner rolls baked in a skillet and packed with citrus and herbs!
Ingredients
2

cups

all-purpose flour

2

tablespoons

sugar

1

packet Fleischmann's® RapidRise Yeast

½

teaspoon

salt

½

cup

milk (whole

2%, 1% OR skim)

¼

cup

water

2

tablespoons

butter OR margarine

zest of 1 small lemon

3

teaspoons

Italian seasoning

2

Tablespoons

butter
Instructions
Place ¾ cup of flour in a large mixing bowl. Add sugar, salt and yeast and whisk together.

In a small bowl, stir together lemon zest and Italian seasoning.

In a medium saucepan, combine milk, water and 2 tablespoons of butter. Heat up just until very warm (about 120 degrees F), the butter might not be completely melted. Remove from heat.

With the mixer on low, add the liquids to the flour and yeast mixture, drizzling slowly on the side of the bowl. Mix well. Once all liquids are added, add ¼ cup of the remaining flour and beat the mixture on medium to high speed for 2 minutes.

Add the remaining flour and ¾ of the citrus and herb mixture and knead the dough until it forms a ball.

Transfer the dough onto a lightly floured surface and knead for about 6 minutes. Form into a log, cover with a clean kitchen towel and let rest for 10 minutes.

Preheat the oven to 220 degrees F (see note).

Cut the dough into 12 equal pieces.

Roll each piece into a ball and arrange in a greased cast iron skillet. Leave space between each ball so the dough has room to rise. Cover the skillet with a kitchen towel and place the skillet in the warm oven, until the rolls double in size (about 20 minutes).

Remove the skillet from the oven. Preheat the oven to 375 degrees F.

Melt 2 tablespoons of butter in a microwave safe dish. Stir in the remaining lemon zest and herb mixture.

Brush rolls with melted butter mixture.

Place in the oven and bake for about 20 minutes, or until the tops are nicely brown.

Let the rolls cool to room temperature. Serve from a skillet or a serving plate.
Nutrition
Calories:
249
kcal
|
Carbohydrates:
37
g
|
Protein:
5
g
|
Fat:
8
g
|
Saturated Fat:
5
g
|
Cholesterol:
22
mg
|
Sodium:
270
mg
|
Potassium:
84
mg
|
Fiber:
1
g
|
Sugar:
5
g
|
Vitamin A:
285
IU
|
Calcium:
45
mg
|
Iron:
2.3
mg