One Pot Cheesy Sausage Penne Recipe – hearty and satisfying one pan pasta dinner. Italian sausage, quick tomato sauce and penne pasta with cheesy topping is perfect for busy weeknights.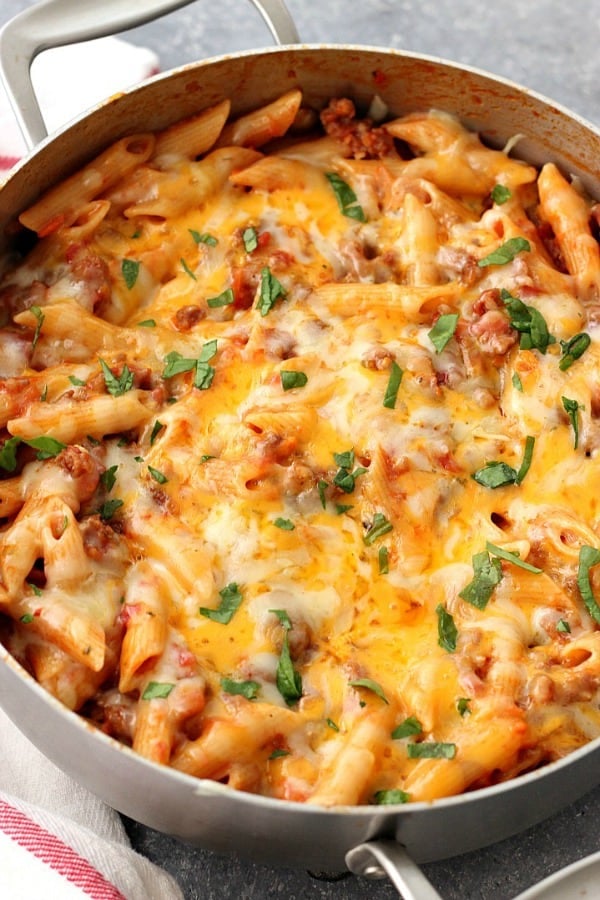 Busy weekdays are upon us, as the school gradually goes back into session. And don't get me started on the holiday season slowly creeping up on us. Things will get busy fast! Quick and easy dinners will save your day! Especially one pot pasta dinners with a ton of flavor and of course, a cheesy topping. My family loves my One Pot Meatballs and Tortellini with a side of Garlic Bread. One vegetarian nights, I make One Pot Mushroom Spinach Pasta with Beans. But when we need a really hearty meal, I go with Italian sausage and penne combo.
This one is another big winner! You can get this One Pot Cheesy Sausage Penne on the table in under 30 minutes. Bonus, no pile of dishes to clean up afterwards! Just one skillet and plates.